July 14-17 2022 - North Routt County, CO
Event Writeup and Photo Gallery Coming Soon.
Thanks to everyone who came out.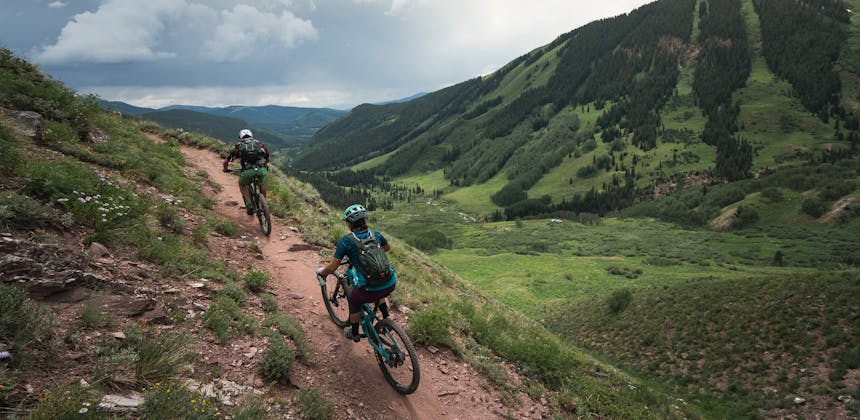 Yeti Gathering Returns
For the 21th Annual Yeti Gathering we've nestled ourselves 35 miles north of Steamboat Springs in Medicine Bow-Routt National Forest. The high-alpine, pine strewn area sits at 8,117-ft above sea level with peaks topping 10,000-ft offering gorgeous high-alpine riding.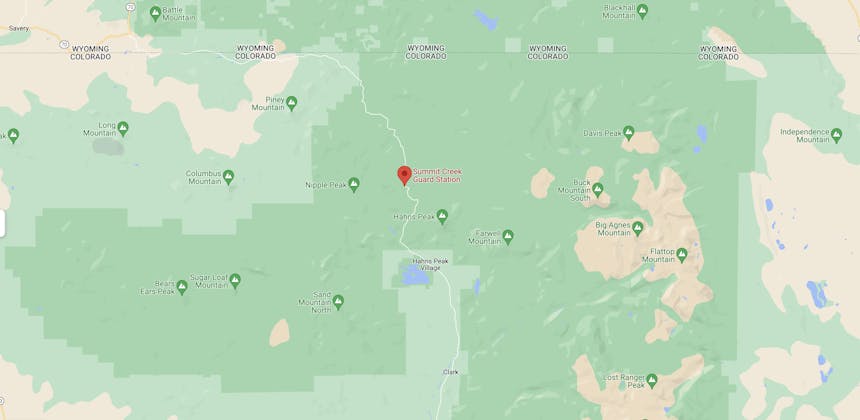 Location: North Routt County, Colorado
Signage will guide you to the camping location. Look for the Turq Yeti signs with Yeti hands and you'll get where you need to go. 
Google Map Link
We're off the grid this year
Yeti has arranged portable toilets, drinking water and a commercial generator along with Goal-Zero charging stations for phones and devices. It's still a good idea to bring your own water and supplies and be prepared to camp for the weekend. We likely won't be able to charge E-MTB batteries, so please keep that in mind. The Mayo clinic suggest 3.7L of water per day – but we will be at elevation and exerting ourselves so many people will require more water than that. The combination of elevation and dry climate work together to actively promote dehydration – due to the low RH you may not notice you are sweating; the dry air also sucks moisture from your lungs with each exhalation. Drinking water is one of the best things you can do to help avoid/mitigate altitude sickness. Be prepared to camp for the weekend and manage a wide variety of weather. A shelter that can provide shade from an unrelenting sun as well as thunderstorm is recommended. We also recommend sunscreen and a wide variety of layers as temperatures can swing wildly from blazing hot to cold throughout the day. Appropriate gear will make you much more comfortable and safe thru the weekend.
EMS Unlimited Support
We will have an EMS provider on each of our rides aboard the Yeti 160e E-MTB so that they can get to a situation quicker if needed. Yeti will also have ride leads and sweeps that will be carrying first aid kits. Please remember that any event in remote country will be complicated and slow – its best not to take chances that increase the risk of needing assistance. As a company of mountain bikers who frequently venture in the backcountry, Yeti employees are also a great resource for assistance, those with first aid training will have small medical kits that are appropriate to their training and/or tool kits for bike first aid should your bike need trailside assistance. Despite the numerous folks out there willing to help – we can't control where you or they are so we recommend you plan on being self-sufficient and prepared to navigate and finish the ride as you would if you were out on your own. Both EMS and Yeti ride leads and sweeps will have Spot Trackers and Garmin connects to enable us to communicate with more advanced support if the need arises.
Bikes
A long ride thru this beautiful country can quickly become a very long walk. 100 feet into the first decent is a bummer of a time to discover your brake pads are roached or your suspension needs servicing. We highly recommend you thoroughly inspect your bike and equipment before arrival, this includes a normal bolt check along with brake pad wear, brake bleed, tire wear, suspension and drive chain. A clean and dialed bike will insure more miles of shred induced smiles. A surprise rainstorm can quickly push functioning but tired equipment past the breaking point – for many of you these descents will be longer than what is available to you in your home trails. This will help insure maximum fun and safety.
Personal Locators & Trackers
We are in a remote area, without cell service. If you have a personal locator (Spot Tracker or Garmin InReach), it would be a great idea to bring it along.
Colorado Search and Rescue Fund
The dedicated volunteer search and rescue (SAR) professionals, across Colorado, are ready to mobilize to help those in the Colorado backcountry. our Colorado Outdoor Recreation Search and Rescue (CORSAR) contribution supplies reimbursements to SAR teams for costs incurred while conducting search and rescue operations, and to provide funding for the purchase of search and rescue related equipment. Because of your support and the tremendous generosity of our search and rescue responders, Colorado is a safer place to play.
Read more about how this program works. It's $3 for a year and $12 for a 5-year card:https://cdola.colorado.gov/funding-programs/search-and-rescue-fund
Wildlife & Dogs
We will be on sheep grazing land where livestock protection dogs are in use. If you come across one of these dogs, please respect the grazing animals and remember that by nature, these working dogs bond with their sheep & provide 24-hr protection from predators. If you see these dogs, keep calm, do not approach and if you're on your bike, dismount and proceed with you bike between you and the dogs. Calmly walk past them while keeping a distance. There are also Moose, Bears, Deer and other wildlife on the land around our campground. If you choose to bring your dog, it must be on a leash and well behaved.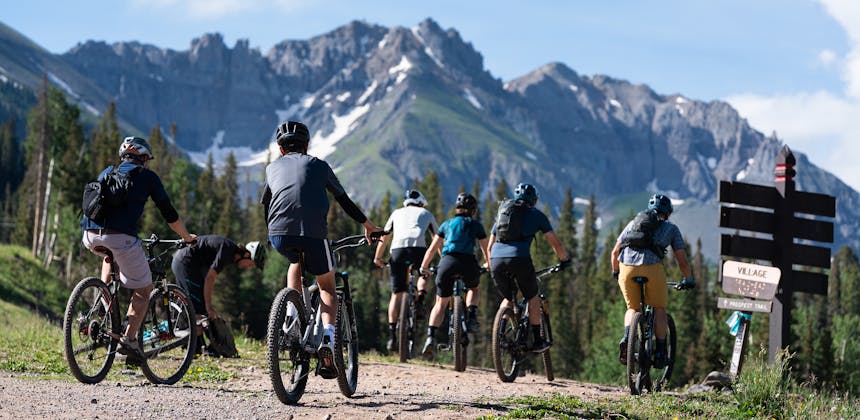 SCHEDULE OF EVENTS
Thursday, July 14
2:00pm - 6:00pm: Early Check-In Begins
Friday, July 15
8:00 am–6:30 pm: Check-In, Parking, Tent/RV Set Up
9:00 am–12 noon: VIDA Clinic
3:00pm–6:00 pm: Apparel store open
5:00pm–9:00pm–Beer is served: 10Barrel and StormPeak Brewing
6:00–7:30pm: Dinner
Saturday, July 16
7:00am: Coffee
7:30am: 9:30 am: Breakfast
8:00 am–10 am: Apparel StoreOpen
8:30 am: Group 1 departs: Advanced and Intermediate
9:00 am: Group2 departs: Advanced and Intermediate
9:30 am: Group 3 departs: Advanced and Intermediate
10:00 am–1:00 pm: On Course Aid-Stations
3:00 pm–5:00 pm: Apparel Store Open
5:00 pm–9:00 pm: Beer is served: 10Barrel and Storm Peak Brewing
6:00 pm–7:00pm: Drinks Presentation,and Dinner
7:30 pm: Group Photo
7:45 pm–9:00 pm: Festivities, Games, and Music
Sunday, July 17
7:00 am: Coffee
7:30 am–9:30 am: Breakfast
8:00 am–10:00 am: Apparel Store Open
Then we kick you out...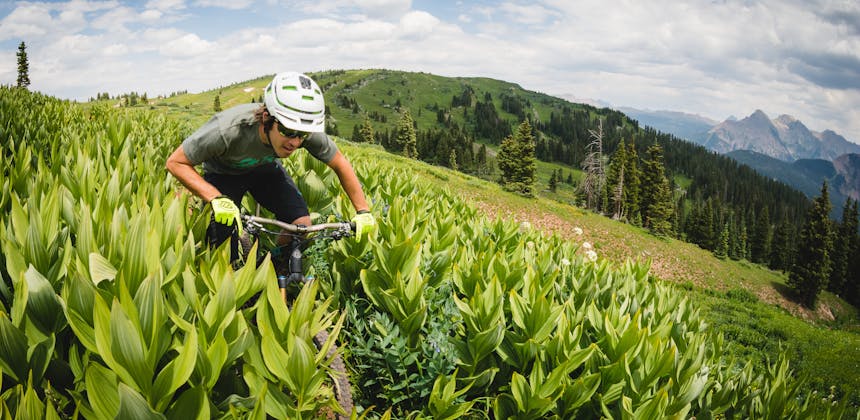 THE RIDE
You have two ride options this year, both offering beautiful views of the Northern Colorado mountains. While similar in length, the two routes differ in technical difficulty and total elevation. 
Expert—CHECK OUT THER ROUTE HERE
If you're from the Colorado Front Range you won't be surprised with the first climb. If you're not, come prepared for a steep and sustained 2.5 mile climb out of camp that kicks off this year's Epic. After the initial climb we'll end up at a more manageable 2.6 mile ridgeline pedal with varied terrain of rocks and roots. We then make our way towards a more leisurely 2.3 mile downhill where, alas, the real work begins. The first 7.5 miles are just the warm up. The next 5.5 miles is mostly taken up by steep climbs that quickly rack up the elevation meter. 12.9 miles in you will be at your first summit where you can relax and prepare for what is mostly a 5.7 mile technical downhill. You're almost there. You just have to climb another 3 miles to the final summit where you can then start thinking about a blissfully rocky, 5.1 mile descent down to camp where you can eat and drink to your heart's delight.  
*The expert ride is e-bike friendly! Yep, you read that right. We will provide more information on ride departure times as we get closer to Gathering.
Advanced/High Level Intermediate — CHECK OUT THE ROUTE HERE
Similar in length and about 1,000 foot shorter in elevation, this ride starts at camp and climbs 3 miles up a short and steep single-track trail where you'll find a leisurely, 2.5 mile descent through a high-alpine meadow. The double track continues upwards for another 1.5 miles where the lollipop begins. The beginning of the lollipop is the start of a 3.4 mile ridgeline climb up to 9,600-ft. From there you'll descend 5.2 miles of fun and playful singletrack where you meet back up with the double track and continue downwards for another 1.5 miles. Finally, a short and punchy 1.5 mile climb will get you back to the top of the black where you can rip the final 3 miles back to camp, and infamous Hoogaritas.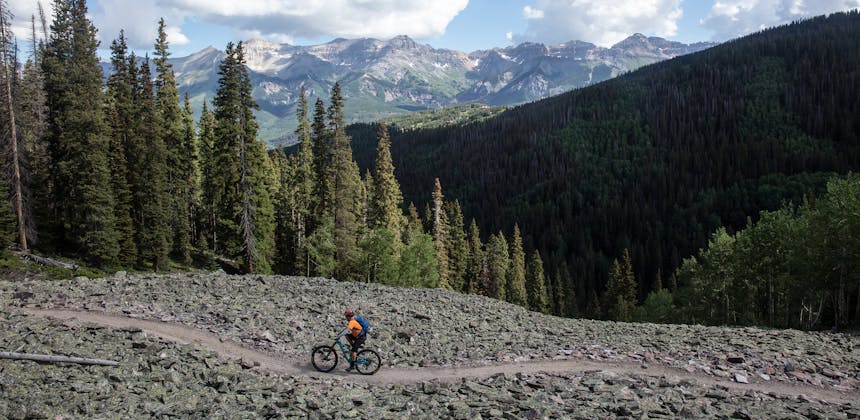 Refund Policy:
We typically aren't big fans of policies, but with past gatherings, we have sold out in less than two weeks, had a big waitlist, and had some folks canceled late enough that we couldn't fill the spots. So, with that as the backdrop, here's how we'll handle it this year. Of course, call us if you need special consideration.
- Over 21 days before the event: full refund, less $25 administration fee.
- 7 to 21 days before the event: 50% refund.
- Seven or fewer days before the event or "no show": no refund.
If you have questions about what pass you should purchase, email info@yeticycles.com before taking the plunge.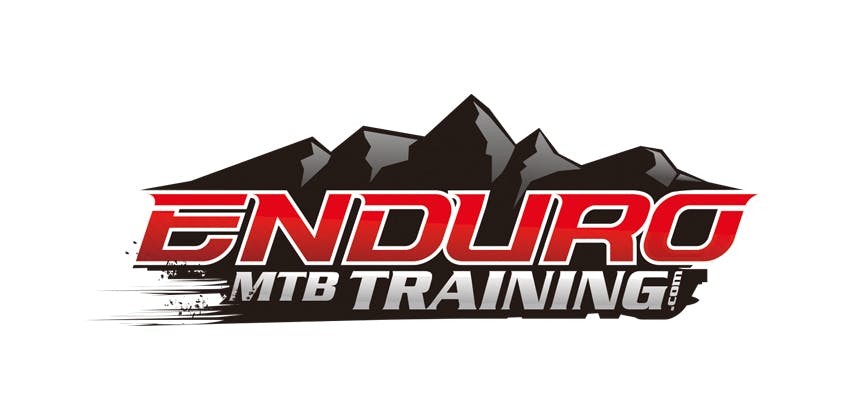 TRAINING PROGRAM
This year we partnered with a long-time friend of the brand, Dee Tidwell to provide a 90-day ready-to-race training program to get you ready for the big ride. Sign-up with the link below and enter the code: YETIturqride to receive this program for only $35.
Register For The Training Program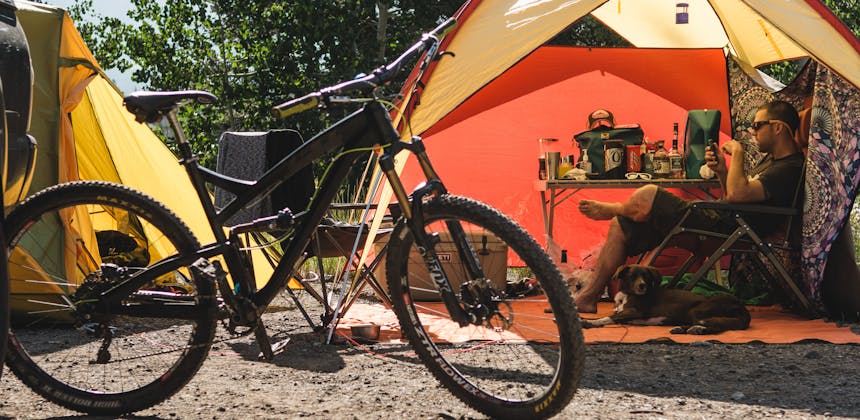 Camping and Parking
Space will not be an issue this year but we do need to be respectful of the US Forest Service land we are on this year. 
Please be considerate of the environment when you chose to set up camp.
Listen to Yeti employees about where not to park — we have worked closely with the USFS to get this special spot and we need to respect their directions and wishes. Thank you! 
Showers
Nada. Zip. Zilch. Unless you bring your own shower, we will not be providing showers this year. Steamboat Recreation Center is about a 45min drive and that will be your closest option.
Camping Arrival & Departure
You may start showing up at 1 pm on Thursday, July 14. Please don't arrive before. The USFS has asked us to depart the area by Sunday evening, July 17. There are plenty of dispersed camping spots in the area that you can move to and use if you want to stay longer. Note that if you choose to arrive earlier than Thursday, July 14 a Yeti employee will likely ask you to move if you're in the way of key Gathering set equipment, as we will be actively preparing for the weekend.
No fires are allowed in campsites
We will have a fire ban for the entirety of the event. This is a hard rule and will be enforced. Thanks in advance for the understanding. We are in a mega-drought and don't want to start a forest fire.
Finally, Leave No Trace
Read more about the 7 principles of Leave No Trace and help us make this an event that creates as little impact on the land as possible:https://www.nps.gov/articles/leave-no-trace-seven-principles.htm
As a reminder...
-Yeti bike ownership is required to attend Yeti Gathering
- Passes are required for all attendees 8 years old and up
- Kids are welcome, this is a family-friendly event
- Pets are welcome at this year's Yeti Gathering
And most importantly...
Thanks to all the Yeti freaks out there that drive us to build kick-ass mountain bikes
See you in July.