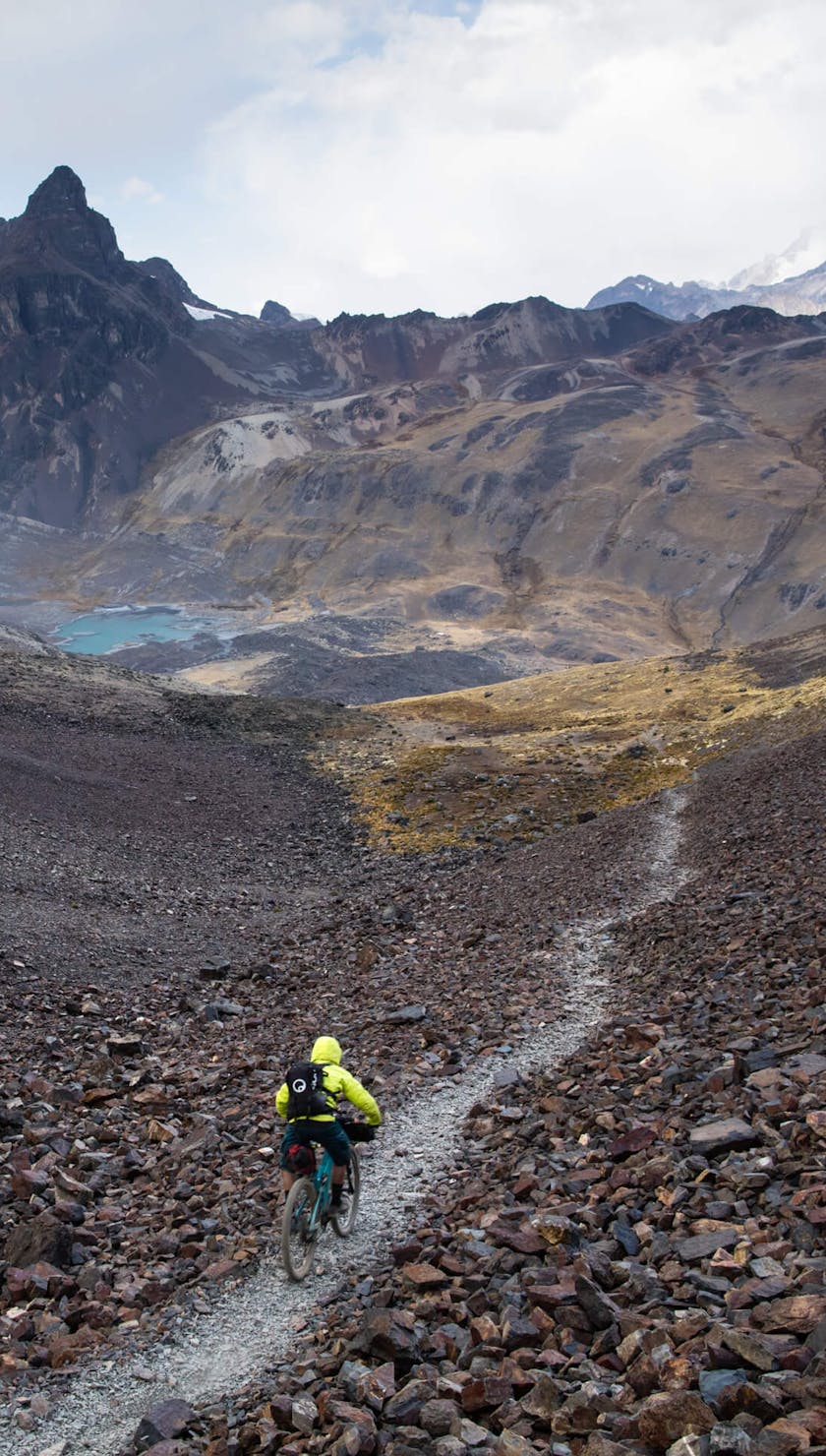 stories
SIPPING AIR
IN BOLIVIA
THE OBJECTIVE: COMPLETE THE FIRST EVER MULTI-DAY BIKE TRAVERSE OF THE CORDILLERA REAL'S WEST SIDE.
This past summer a crew of four Yeti ambassadors – Nate Hills, Thomas Woodson, Carston Oliver, and Joey Schusler, set out on a 2-week bikepacking trip to Bolivia. The objective was to complete the first ever multi-day bike traverse of the Cordillera Real's west side following llama trails, open scree fields, and primitive trekking paths. These mountains proved to be one of our greatest challenges to date.
OUR ROUTE'S LOWEST ELEVATION WAS 15,500 FT AND WE WOULD NEED TO BE SELF SUPPORTED FOR 11 DAYS IN THE WILDERNESS.
We left the town of Sorata at the northern end of the Cordillera and would have to make it over big mountain passes each day. Our route's lowest elevation was 15,500 ft and we would need to be fully self supported and sufficient for 11 days in the wilderness. Battling the elevation was quite the challenge, but there is something rewarding about finding your limits and slowly inching past them.
WE CAME ACROSS SECTIONS WHERE THE TRAIL DISAPPEARED AND FORCED US INTO CRUEL AND UNUSUAL HIKE-A-BIKE'S.
Day after day, we marched over passes to find faint tracks down to the next valley. Sometimes we came across sections where the trail disappeared and forced us to into cruel and unusual hike-a-bike's. For the most part, we hardly exchanged words during the day. Spaced apart, out of earsight, like tiny ants aimlessly marching higher and higher. That is until we would encounter some beautiful descents, then we would reconvene and let our imagination guide us down vast scree fields and developed trekking trails.
BEING DISCONNECTED FROM THE INTERNET AND FROM FRIENDS AND FAMILY BACK HOME, REALLY HELPS ONE FOCUS ON THE SURROUNDINGS.
Being disconnected from the internet and from friends and family back home, really helps one focus on the surroundings. We would meet some wonderful characters along the way – potato farmers, fishermen, llama herders, people living a simple life off the land. These villagers were impressed by our insanity of this attempted route via bicycle, and excited to teach us about their way of life. We spotted one man ripping trails on a beautifully classic bike, covered in stainless steel, cruiser bars and intricate mud flaps over the narrow tires.
FOLLOWING THE REALIZATION WE WERE ON A ONE PASS PER DAY PACE INSTEAD OF TWO… WE DECIDED TO PULL THE PLUG.
At the end of an all day gravel grind it left us scratching our heads at the date. Did we really miscount our meals? What day did we even start on? Following the realization we were on a one pass per day pace instead of two… The dream of returning to the comfort of a city starting to take hold. We decided to pull the plug. Less than halfway down range we had our bail out option that would set us up for an interesting two-day route back to La Paz, sleeping in ditches or farmland as the landscape gradually became more urban.