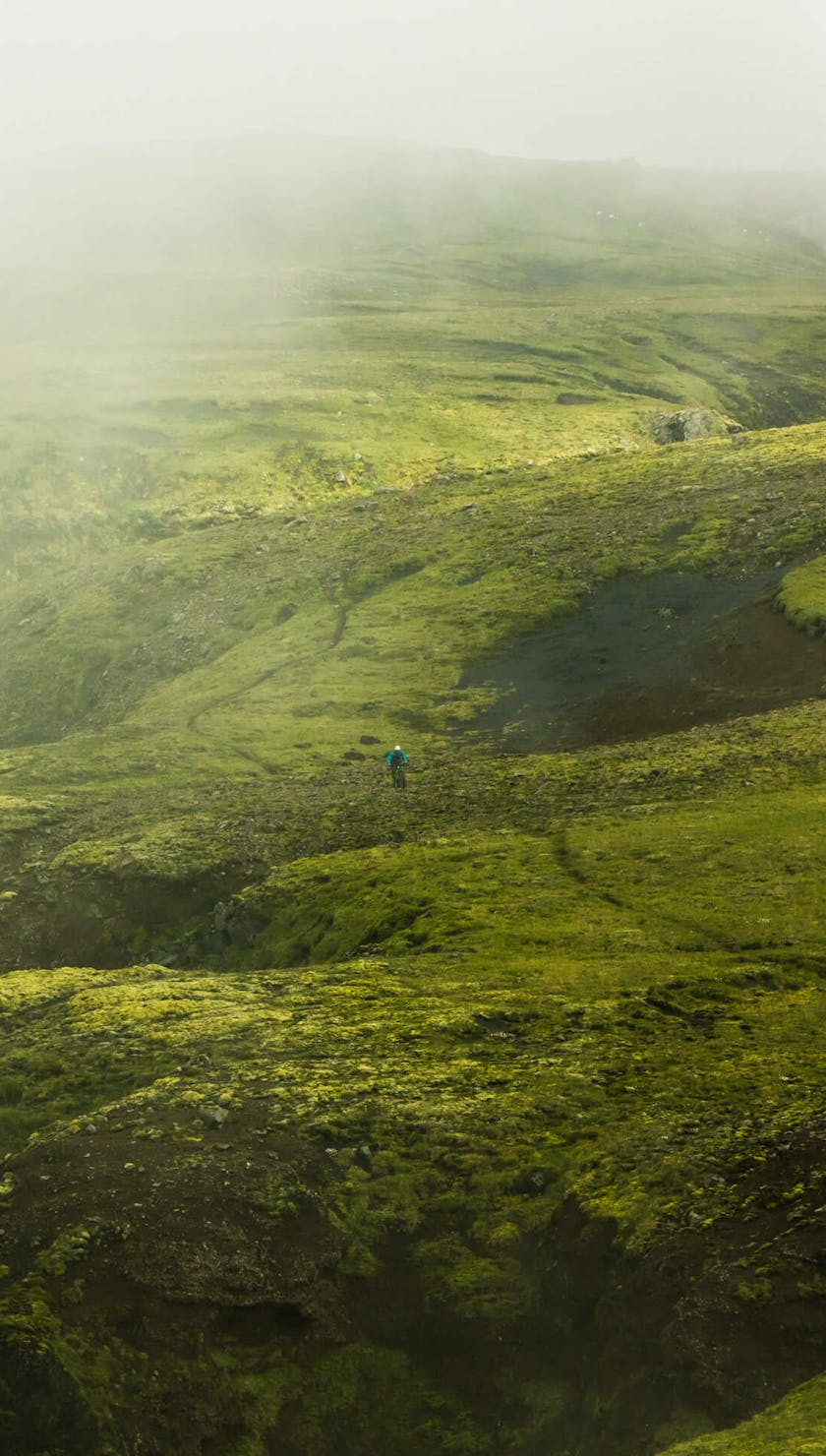 THIS STRANGE LAND IS LITTERED WITH AWE-INSPIRING TRAILS HIDDEN AMONG ICY WINDS AND SNOWCAPPED PEAKS.
I realized while sitting atop a grassy pinnacle, overlooking braided rivers that worked their way down from massive glacier tongues, that Iceland doesn't feel like another country, it feels like another planet. This strange land is littered with awe-inspiring trails hidden among icy winds and snowcapped peaks. The primordial terrain and variable weather made it an ideal setting for us to shred the SB4.5c.
WE LEARNED QUICKLY THE SUN NEVER REALLY SETS AND WHILE IT MESSES WITH YOUR SLEEP PATTERNS, IT HAS ITS PERKS — WE RODE ALL DAY.
Our crew arrived just outside of the capital city of Reykjavik and we were greeted by the eerie perma-dusk that would stay with us our entire three week mission. Our goal was simple: hunt down and ride some of Iceland's best trails. We learned quickly the sun never really sets in Iceland and while it messes up your sleep patterns, it has its perks — we could stay out riding until late into the evening.
NOT FAR OUTSIDE OF THE CAPITAL CITY OF REYKJAVIK LIES TRAIL WORTHY TERRAIN.
Not far outside of the capital city of Reykjavik lies trail worthy terrain. After shaking off the last bit of jet lag, we explored the mountainous areas and found good use of the local trails and enjoyed the few rays of sunshine that shone through all week.
OUR JOURNEY CONTINUED AS WE TRAVELED TO THÓRSMÖRK. OUR SAD LITTLE JEEP BARELY SURVIVED THE NUMEROUS FJORD CROSSINGS.
Our journey continued as we traveled south into the Thórsmörk region. Our sad little Jeep barely survived the numerous fjord crossings required to get there. As glacial runoff floods the Krossá River that snakes across the basin leading up Thórsmörk. We pitched our tents and looked up the trail — it headed straight up a ghastly and gnarled drainage with neon grass contrasting the blackest rock I've ever seen.
THE NARROW BENCH-CUT TRAIL GAVE WAY TO A WIDE BUFFED-OUT DESCENT MARKED BY TACKY BROWN DIRT AND AN EXPOSED RIDGES.
Once settled in, we saddled up and hit the trail. The narrow bench-cut trail gave way to a wide buffed-out descent marked by tacky brown dirt and an exposed ridge that dropped away on both sides. Without warning, our downhill was interrupted by patches of knife-edge, forced off our bikes we had to hopscotch over the rocks. When we got down to camp and looked back up at where we had come from, all I could think was how few tires have ever rolled where mine just did.
LANDMANNALAUGAR IS FULL OF RAINBOW HILLTOPS, ANCIENT LAVA FIELDS AND IS ENVELOPED IN A DANK SULFUR SMELL.
Next our crew headed even deeper into the highlands to the volcanic region known as Landmannalaugar. As the crow flies, the two regions are close, but as the Jeep rolls it was a different story. Despite their geographical proximity, the regions were distinctly different. Thórsmörk is marked by its lush greenery, towering cliffs, and crackled glaciers while Landmannalaugar is full of rainbow hilltops, ancient lava fields and is enveloped in a dank sulfur smell.
THIS BECAME THE NORM — BIG RIDES, SORE MUSCLES AND LONG SOAKS IN THE BOUNTIFUL NATURAL HOT SPRINGS.
Unlike Thórsmörk, Landmannalaugar's rolling scree hills were marked by drawn-out climbs and descents following flowy ridge tops. We rode long ridgelines at full speed and plunged into sharp, deep corners that caught our tires perfectly. After childishly hopping our way through the igneous playground, we sought out a hot meal and warm soak. This became the norm — big rides, sore muscles and long soaks in the bountiful natural hot springs that surrounded the trails.