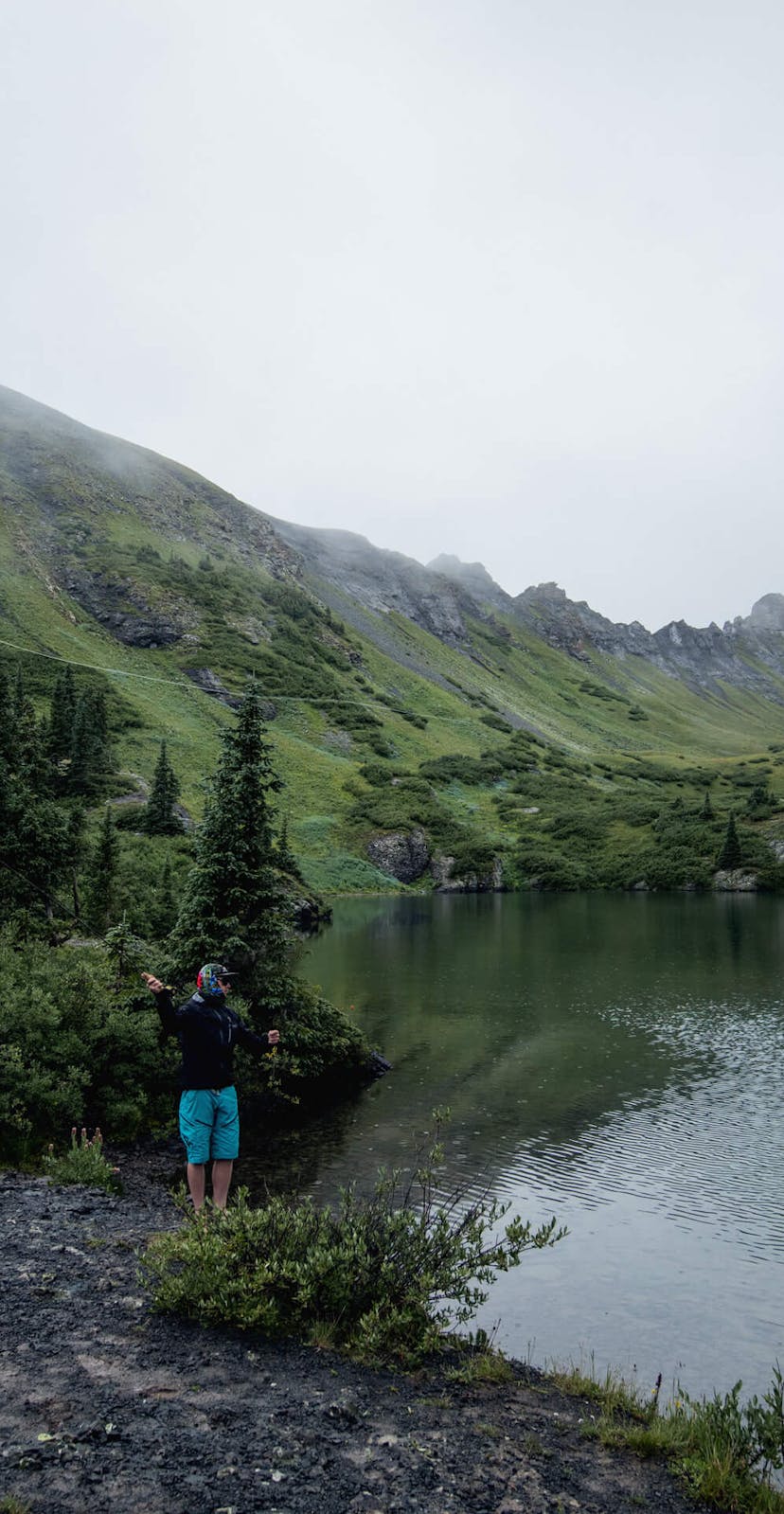 stories
HIGH ALTITUDE
LINES
THE GOAL WAS TO BIKEPACK FOR 10 DAYS THROUGH THE SAN JUANS, FISHING ALPINE LAKES AND STREAMS ALONG THE WAY.
This adventure was something I'd wanted to do for a long time. The goal was to bikepack for 10 days through the San Juans, fishing alpine lakes and streams along the way—and buddies from the Yeti Tribe made the perfect team for it. The San Juans are my backyard—and the ultimate playground for people seeking adventure, solitude, and scintillating singletrack. It was the perfect formula for a mountain biking and fly fishing exploit.
We started our journey in Telluride, bikepacking a big loop to Silverton and then off the Colorado Trail and Continental Divide, ending our trip back in Silverton and hitching a ride back to Telluride. We quickly realized our trip through the mighty San Juans wasn't going to be easy.
WITH EVERY LABORED PEDAL STROKE FORWARD, MOTHER NATURE SEEMINGLY FOUGHT BACKWARD WITH EQUAL MIGHT.
The hills were steep, the rain relentless, and hike-a-bikes grueling. It was as if the mountains didn't want us there. With every labored pedal stroke forward, Mother Nature seemingly fought backward with equal might. For almost the whole trip, the weather was especially bad. Instead of Colorado's typical powerful but short storms, we got pounded with chronic bad weather.
The team was deep on biking experience—all of them had raced on some level—but a couple of them were lighter on the fishing experience. Justin Reiter and I had been fishing since we were kids. He's an Olympic snowboarder and shreds on his Yeti. Sam Simmons has raced all sorts of bikes, but never caught a fish. Dylan Stucki, a master mechanic and seasoned trail slayer, was basically born on a bicycle, but had never rigged up a rod.
I'm a big fan of tent chilling, but being cooped up with Sam for hours on end when I could be fishing a beautiful alpine lake, is a tough pill to swallow. Occasionally the boredom would reach unbearable levels, and we would attempt to fish in the cold rain. We didn't catch anything, but the feeling of casting a fly rod produces more euphoria than listening to Sam's dumb stories and snores
THE SKELETAL REMAINS OF ABANDONED MINES REMINDED US OF A GENERATION OF PEOPLE THAT WAS RIDICULOUSLY TOUGH.
On our two-wheeled steeds through puddles, and streams and past dramatic cirques we pedaled on our way up. As we climbed a beautiful glacial valley, the skeletal remains of abandoned mines reminded us of a generation of people that was ridiculously tough. Beyond tough. Even though we were perpetually soaked, uncomfortable, and not catching fish, at least we weren't hauling tons upon tons of lumber and steel up mountainsides for the fleeting chance of striking it rich. Nothing like little sobering perspective to keep you going.
WE FINALLY CAUGHT A BREAK IN THE WEATHER, AND MADE AN EARLY MORNING ATTEMPT AT AN UNNAMED, 13,000-FOOT PASS.
We finally caught a break in the weather—and the fishing—and made an early morning attempt at an unnamed, 13,000-foot pass that would eventually lead us to Silverton. Steep, winding, relentless switchbacks guided us through the dark as we laboriously pushed our bikepacking rigs up the mountain. There is something about predawn alpine starts that seems to intensify the sense of adventure. Maybe it's the cool air, or the rough transition from deep sleep to mouth breathing exertion.
OUR BIKES BOUNCED OVER LOOSE VOLCANIC ROCK, AND OUR TIRES DUG DEEP INTO THE TACKY SOIL.
With a newfound sense of motivation and energy, we dropped into what would be the most glorious section of trail on the trip. Our bikes bounced over loose volcanic rock, and our tires dug deep into the tacky soil. Hootin' and hollerin', we blazed through a blur of wildflowers and sub alpine fir. With a little help from gravity, we eventually made our way into the historic mining town of Silverton.
WE LOCKED OUR BIKES UP TO HIKE INTO THE WILDERNESS OUTSIDE SILVERTON—WHERE THE FISHING REALLY GOT GOOD.
We locked our bikes up to hike into the wilderness outside Silverton—where the fishing really got good. We got hailed on and watched lightning come and go, and finally started reeling them in. The gnarly weather made the brief moments of clear alpine skies even more precious during our last days on the trail.
THE THRILL OF SENDING A STEEP LINE DRAWS SIMILAR FEELINGS TO THOSE THAT ARISE FROM FIGHTING A SAVAGE TROUT.
Both mountain biking and fly fishing ignite emotions of triumph and dismay. The frustration of fixing a flat in the rain closely parallels the feeling of untangling a line snagged in a tree. The thrill of sending a steep line draws similar feelings to those that arise from fighting a savage trout. But most importantly, both sports are a catalyst for adventure, excuses to get out and enjoy the glory of the mountains with your best friends.