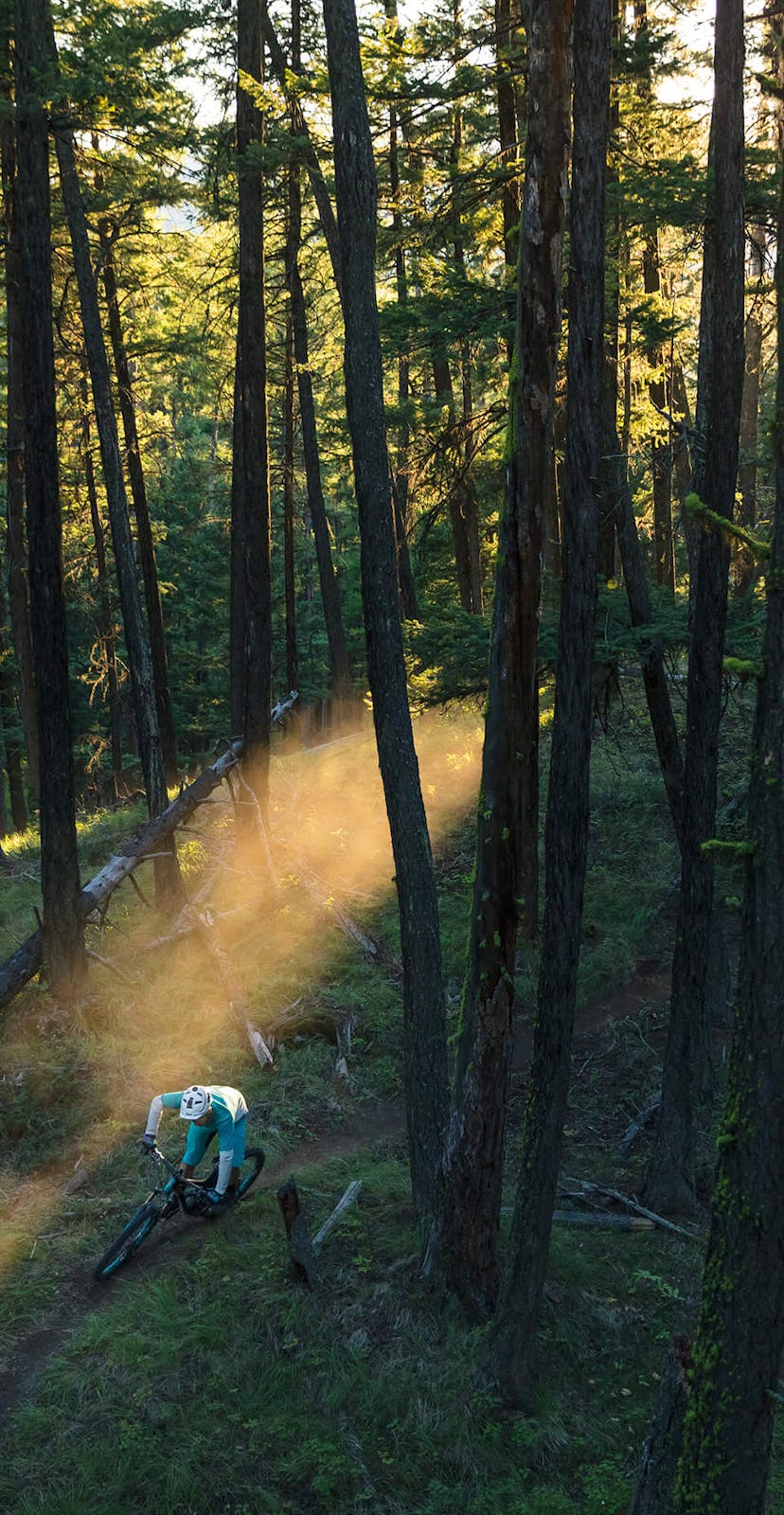 stories
FRINGE OF
WHITEFISH
AS MOUNTAIN BIKERS IT'S OUR NATURE TO EXPLORE AND GET LOST IN THE WOODS IN SEARCH OF THE NEXT STRETCH OF SINGLETRACK.

Some Person
As mountain bikers it is our nature to explore and get lost in the woods in search of the next prime stretch of singletrack. Riding in Whitefish and the surrounding Flathead Forrest of Montana, there are opportunities abound for us to fulfill this inner desire. Whitefish Mountain Resort is the hub of riding activity with purpose built park jumps and rugged natural, mountain lines linking together a lift-serve experience that rivals any park in the country. We spent many an afternoon testing the limits of our trail bikes there. Venturing outside of town limits and into the fringes of this sparsely populated state, miles of trails were revealed.
THE HIGH RIDGE-LINES OF THE ALPINE TRAIL NETWORK PROVIDE DISTANT VIEWS OF GLACIERS AND ENDLESS TURNS.
The high ridge-lines of the Alpine Trail network provide distant views of glaciers and what felt like endless turns. Further west, strewn between the lakes region, we found untracked dirt veiled by seasons of pine needle decay. After a week exploring the region, we began to question ourselves and ponder relocation to this alcove of like-minded riders, world-class trails, and the plethora of local breweries was an additional draw.
AS THE DAYLIGHT STRETCHED WELL INTO THE EVENING, WE HEADED DEEPER TO MORE REMOTE LOCATIONS.
The long days of the summer months in this northern region led to multiple ride sessions in the day. In the morning, we hit up the local townie flow trails of Spencer Mountain. These would be a central feature of any other riding region, but were just one of the many offshoots from downtown Whitefish. In the late afternoon when the daylight stretched into the evening, we headed deeper to more remote locations, ending our days under the blue glow of the summer night sky.
Is it better to research and ride known commodities of trail or pick a spot and take a chance? Well, the latter was our strategy to explore the lakes region west of town. Late one evening with motivation fading and the Trailforks app listing most trails as "unmaintained", we risked pointing to a spot on the map.
AS OUR KNOBBED TIRES UNCOVERED THESE UN-TRACKED TRAILS, HOOTS AND HOLLERS ECHOED AMONG THE TREES.
Heading out into the unknown, we bush-wacked our way in. With dissension among the ranks and night closing in, our perseverance was rewarded. We found fresh dirt preserved under the cover of past seasons' fallen flora. Nature preserving nature. As our knobbed tires uncovered these un-tracked trails, hoots and hollers echoed among the trees.