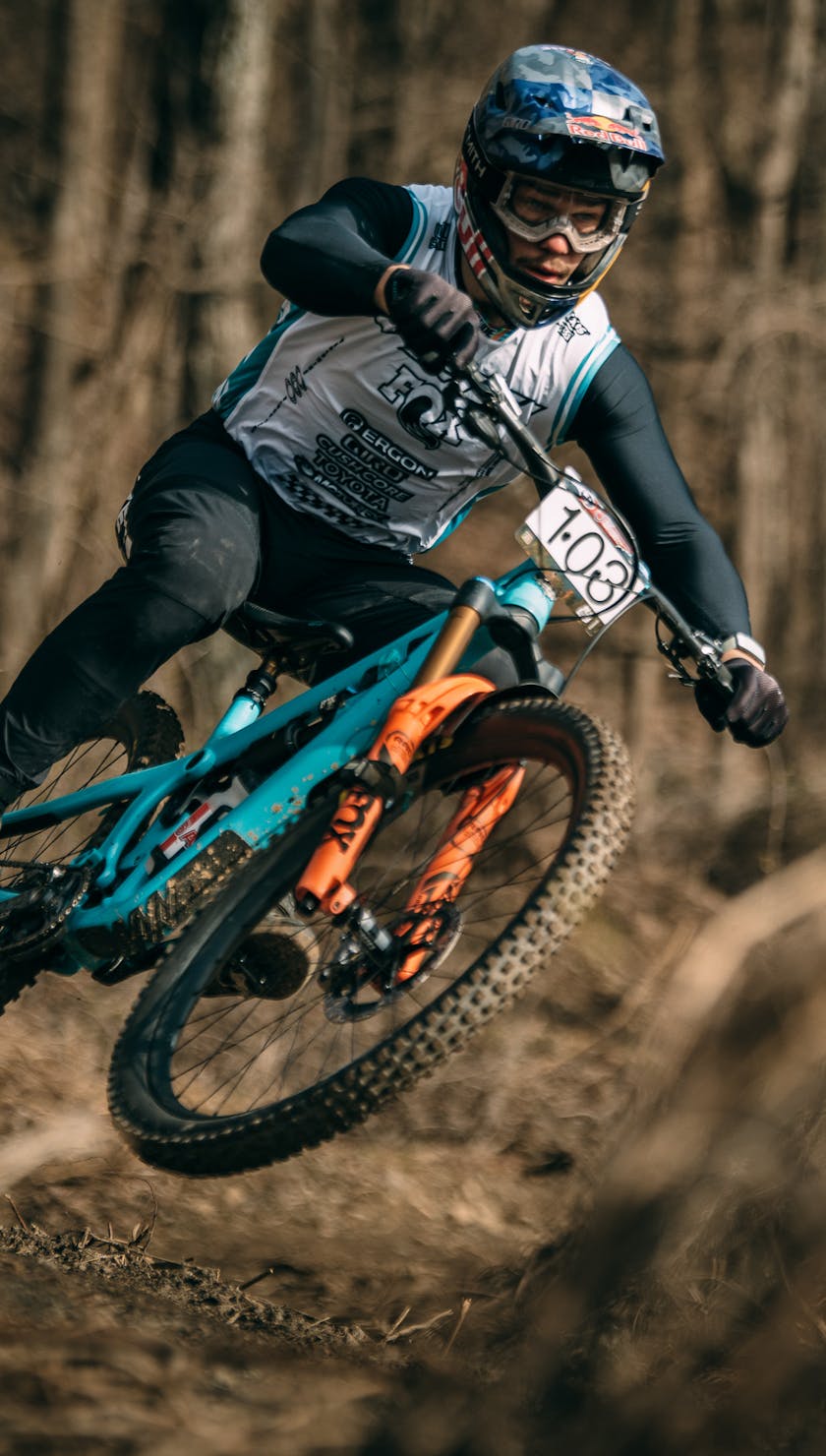 We're officially back between the tape just three months into 2021 and we're doing it Tennessee style — fresh cut, greasy clay with a healthy dose of steeps. We came into the weekend strong, with all of the pent-up energy that the stunted 2020 race season created. Our boys did us proud and claimed the top three podium spots, setting the precedent of relentless speed and tenacity for the rest of the year. 
The Yeti/FOX Race Team spent much of the preceding week practicing on two inches of dust, but as race weekend neared, rain moved into the forecast ahead of the Enduro and left the last couple days of practice a muddy mess. Team Mechanic Mark Hild already had his hands full maintaining a full fleet for four athletes, and the mud created an added level of difficulty.   
Richie Rude had been planning on racing against some of the fastest U.S. names in DH but decided to pull out of the event Saturday morning, "DH practice is great for cross training, but after experiencing my qualifying run in the slick, Tennessee clay, I ultimately decided to put in some additional time practicing the three Enduro stages." 
Rude came out of the gate strong and never let off the gas after opening a 30-second lead over Shawn Neer in stage one. He rounded out the Tennessee National in true Richie Rude fashion— f***ing fast— claiming both stage two and three wins. It's clear he put in the work during the off season and we can expect to see great things from him this year. 
Warren Kniss, a Yeti/FOX Devo team rider from California, felt right at home at Windrock. After stage one, Kniss was third behind teammates Rude and Neer, and felt he had more to give. He left it all on the dirt, taking 11 seconds from Neer on stage two and another 12 seconds on stage three. Warren Kniss earned himself his first ever Enduro podium, right behind teammate Rude. Kniss said after the race, "You kinda gotta shut your brain off and just ride like you know you can. If you know you can do it, then you do it." 
Shawn Neer rounded out the podium, placing third in his first race of the season. "I really just wanted to feel good on the bike. I tried not to worry about the results as much. Knowing what I can do on the bike, being happy with my race craft and being methodical on my runs. Especially on these long stages, you can't just go top gear the whole way." 
First year National Team rider, Quinn Reece, finished an impressive 10th. He's eager to learn and will take this weekend's lessons home, and climb the ranks as the season continues. Reece expects a lot from himself and understands that there's still work to be done.  
If the Tennessee National is any indication, the Yeti/FOX Race Team is a force to be reckoned with this season. Starting out the early season with a top-of-the-box win at Windrock was exactly what this team needed. There's no practice that can quite stack up to time between the tape and the banter that only teammates can deliver. 
Our next race is Big Mountain Enduro – Ironton, MO. See you there.