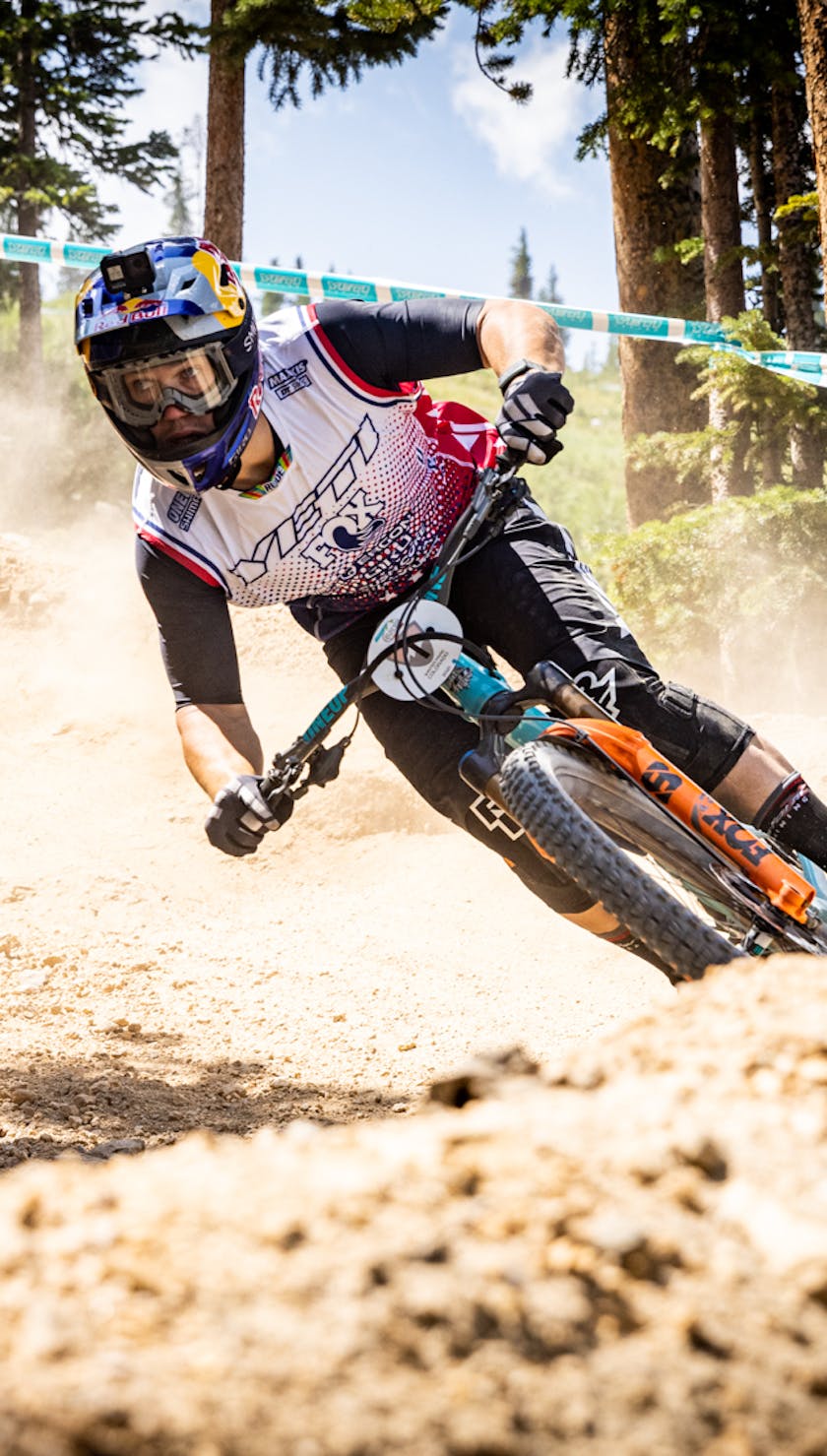 racing
BME.3 '21
WINTER PARK, CO
For the first time in two years, both the Yeti / FOX Factory Team and Yeti / OneUp Pro Team met at the BME Winter Park, a Yeti Race Team homecoming of sorts, to race under the Turq flag. It was a fully stacked international crew this weekend. Richie tacked on another win for a perfect, three-for-three on the 2021 BME season, and Yeti riders took 4-of-5 Pro Men podium spots. The Aussie and Canadian duo, Jared Graves and Kasper Woolley, that is the Yeti / OneUp Pro team raced for the first time together since its creation in 2020. 
It isn't easy, but Richie Rude sure makes it look that way — he's three-for-three for top of the box Big Mountain Enduro finishes in 2021. After taking second to Kasper Woolley in 2020, Rude was eager to reclaim the win, "I gotta beat the homies, can't let the ol' Canadian beat me this time". A man of his word, Rude won three of four stages, taking first place by 16.97 seconds. 
Jared Graves was finally able to make it to a race with the team after a difficult few years and the recent challenges of international travel. "It felt like it was never going to happen after so many events being canceled over the past 18 months, and the 12 months of cancer treatments before that. I definitely struggled with pushing hard after not racing for three years - I rode a bit too smooth and conservatively. I just need more time getting comfortable being uncomfortable." Graves placed 3rd after four stages in a race that heavily favored descending over climbing.  
Yeti / OneUp Teammate Kasper Woolley placed 4th on the day behind Richie and Jared. Although the Winter Park track is not his preferred riding style, he still hammered out an impressive result. Woolley will continue training with Graves here in Colorado until he returns to Europe for the remainder of the EWS season. 
If champagne showers were a stage, Devo rider Quinn Reece would take the win by a landslide. In a day full of highlights, Reece earning his first podium of 2021 might be the crowning jewel. His hard work on and off bike is paying off as he earned himself a 5th place finish in a very stacked field. "I rode naturally, I hit my marks, and it worked out for me. It was really special to stand on the podium alongside Richie, Kasper, and Jared. It all came together for me at my home mountain, especially after not being able to race there due to injury the past two races. Standing next to Jared Graves, who is a huge part of the reason I started biking, is something I'll never forget. A full-circle moment." 
Teammate Jubal Davis earned 7th place despite having to push through a finger dislocation. A few grip modifications from Factory Team Mechanic, Shaun Hughes, kept him on the bike and able to finish all four stages. Lauren Bingham and Warren Kniss placed 10th and 32nd, respectively, in the Pro Women and Pro Men's field. Bingham had an off-day and couldn't quite find her usual race pace. Kniss was fighting for a podium finish until he went down on the final stage. While present in the pits, Yeti / FOX Factory Team rider Shawn Neer incurred an injury while training at home and chose to sit this race out. 
Yeti demo driver, Leah Vanderlinden's breakout race was nothing short of impressive - earning herself a 4th place podium spot in the pro women's field. Yeti Ambassador, Mike West delivered again with a 2nd place finish in the Master's field.  
Looking forward: After the one and only race where the entire crew is present, the team will split ways from here. Richie, Shawn, Jared and Kasper will head off to Europe for the second half of the Enduro World Series. Rude is hot on the title chase, leading the series by just five points. The Nat / Devo Team is bound for the Rockies yet again for the 4th installment of the Big Mountain Enduro at Purgatory. 
Stay tuned, the 2021 race season is heating up.