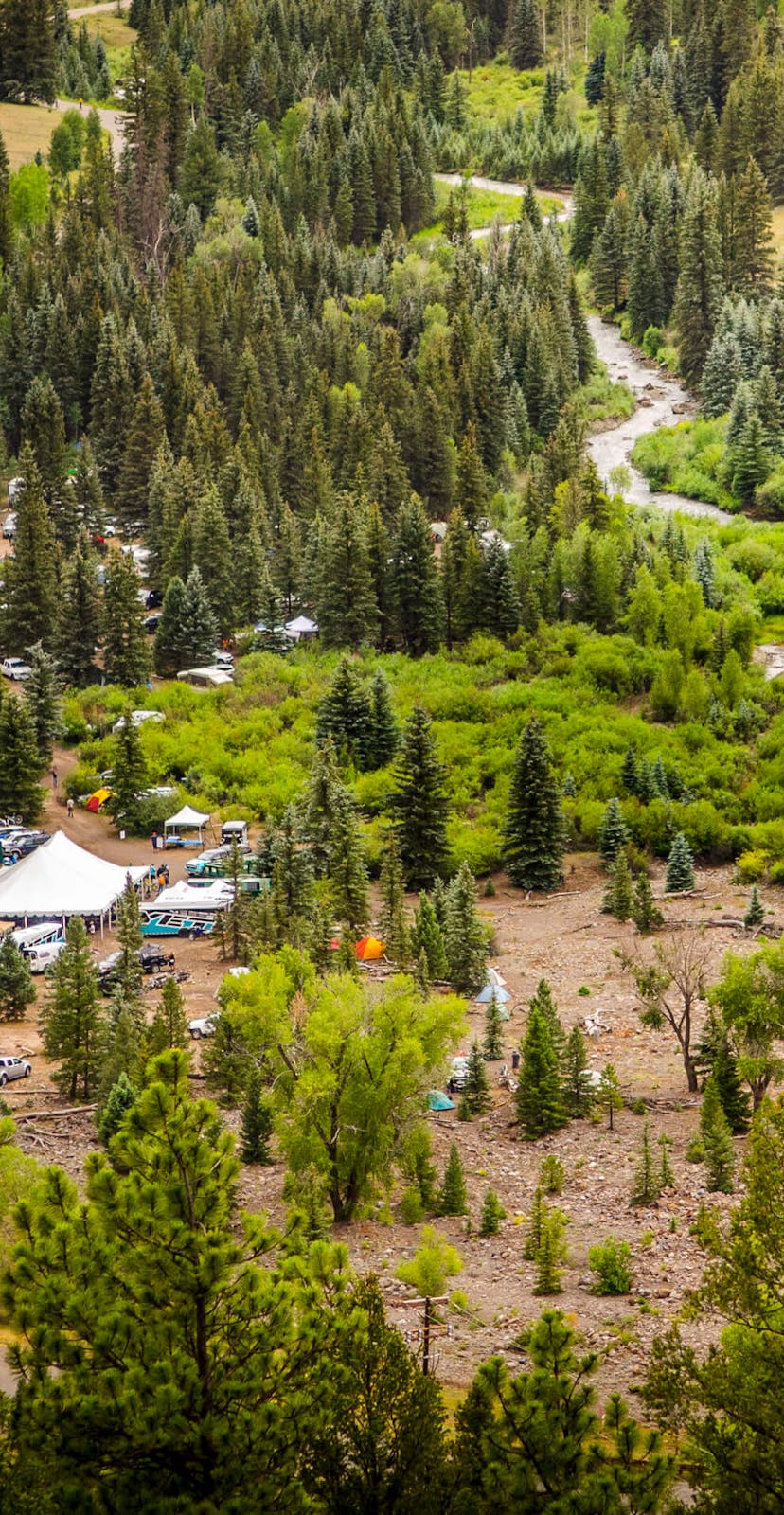 gatherings
YETI GATHERING
TELLURIDE
12TH ANNUAL GATHERING
"You must not be from around here," said the old, bearded dude in a way-too-tight spandex jersey as he pedaled up to us. I was splayed out in the alpine grass next to my bike, cross-eyed and half-bonked from the exertion of riding up to this meadow nearly 12,000 feet above sea level, and my riding partner for the day, Pete from the UK, was rummaging through his pack for some kind of sugary snack to bring us back to life. We were somewhere in the backwoods of Telluride Mountain Resort, having come out there for the annual Yeti Gathering, a yearly meet-up of like-minded Yeti Freaks from across the globe. A typical gathering consists of camping near one of the many awesome Colorado resort towns, feasting on a bunch of insanely decadent catered meals, drinking copious amounts of beer and whiskey, and competing in various events like kids' bike races, wheelie contests, and rodeo-esque barrel races. And oh yeah, there's an epic group ride scheduled for Saturday morning.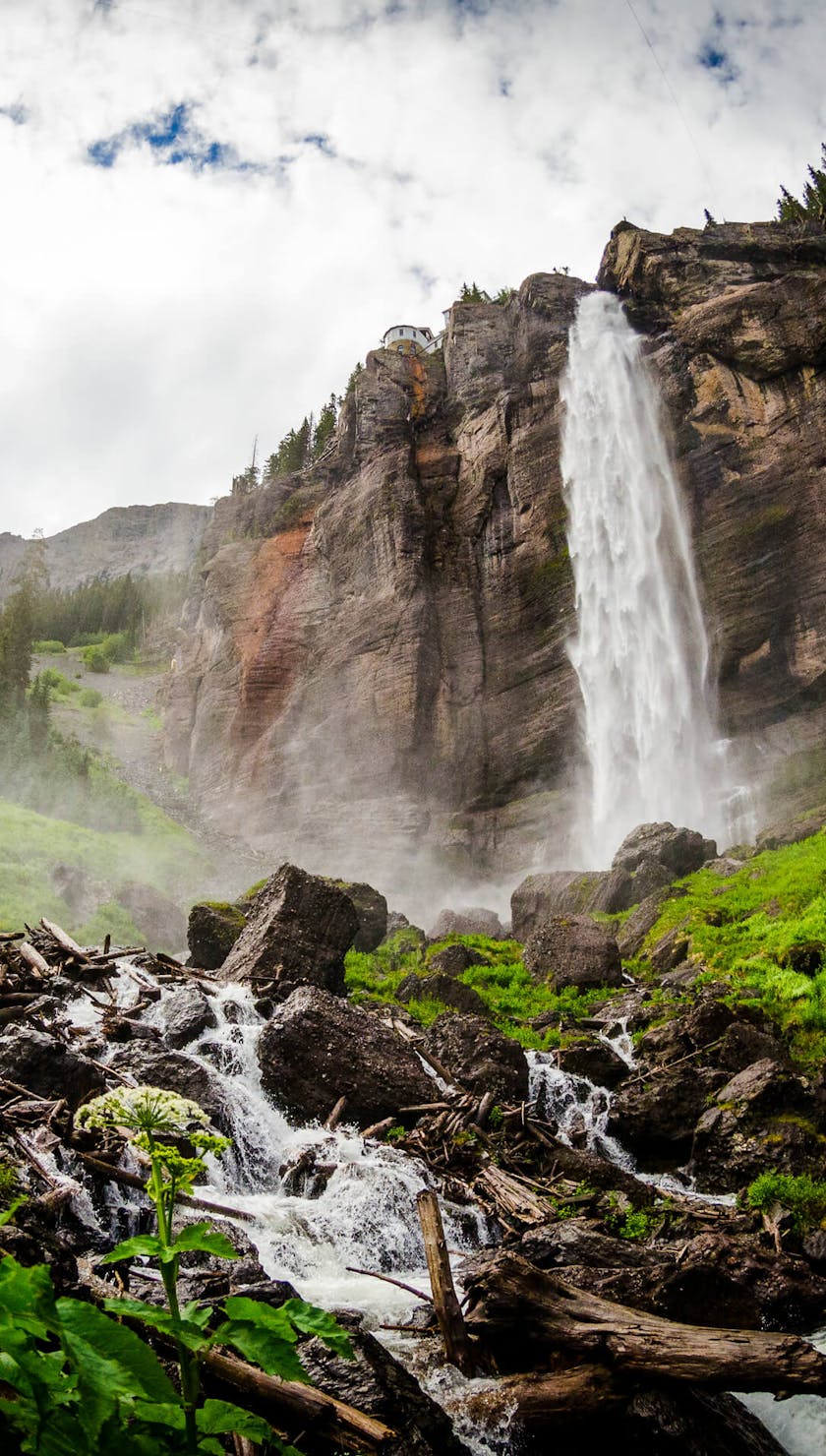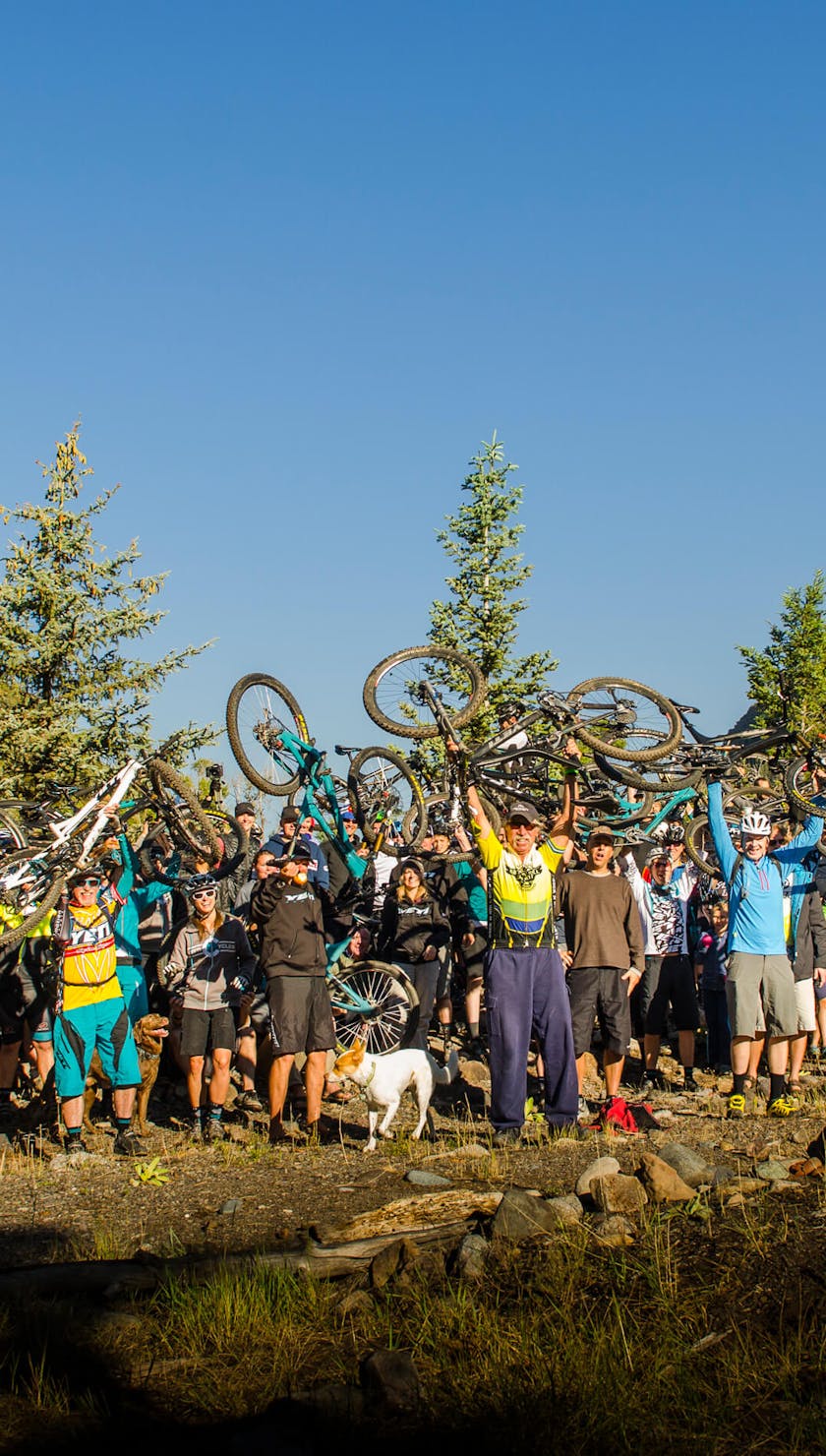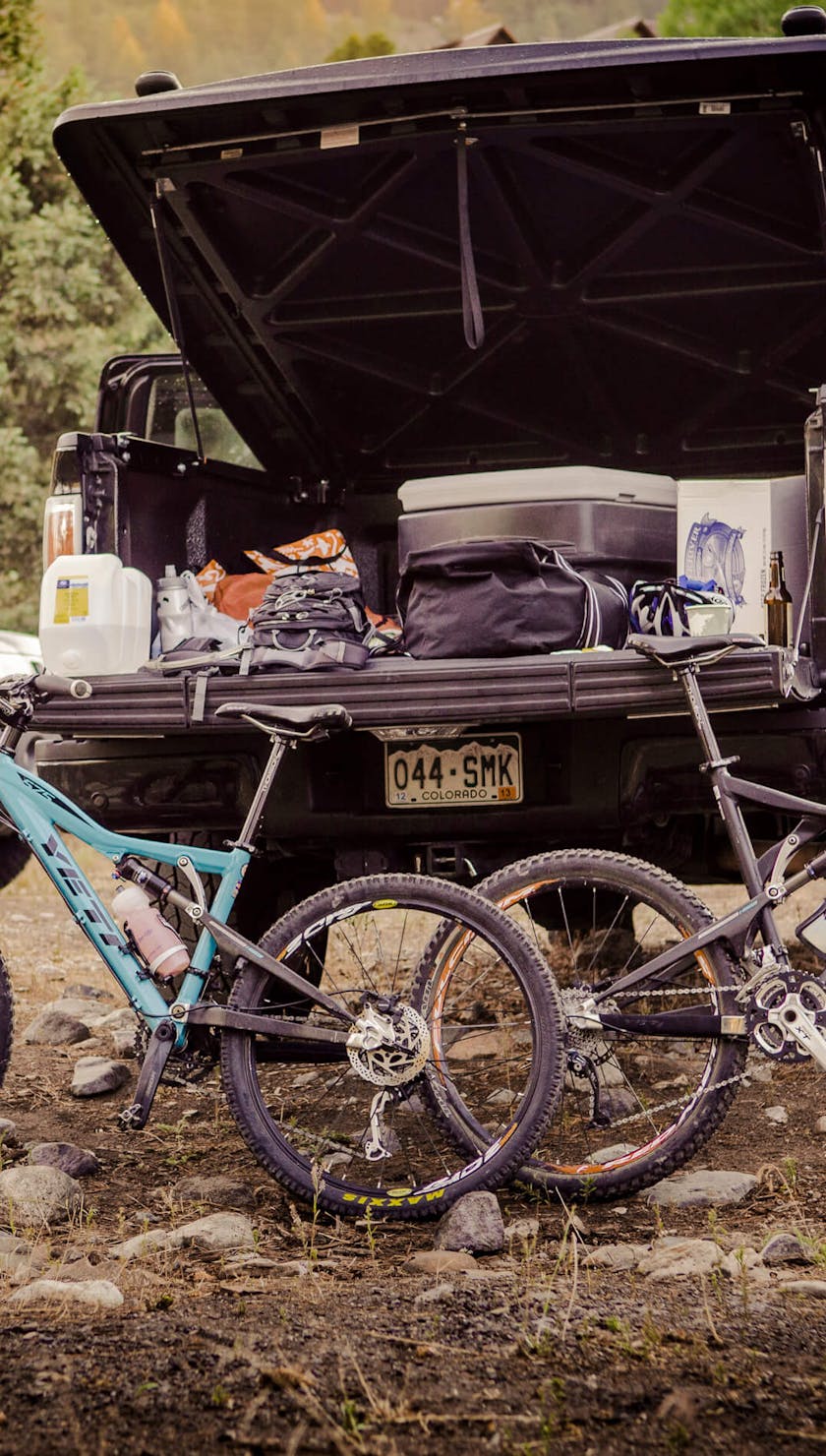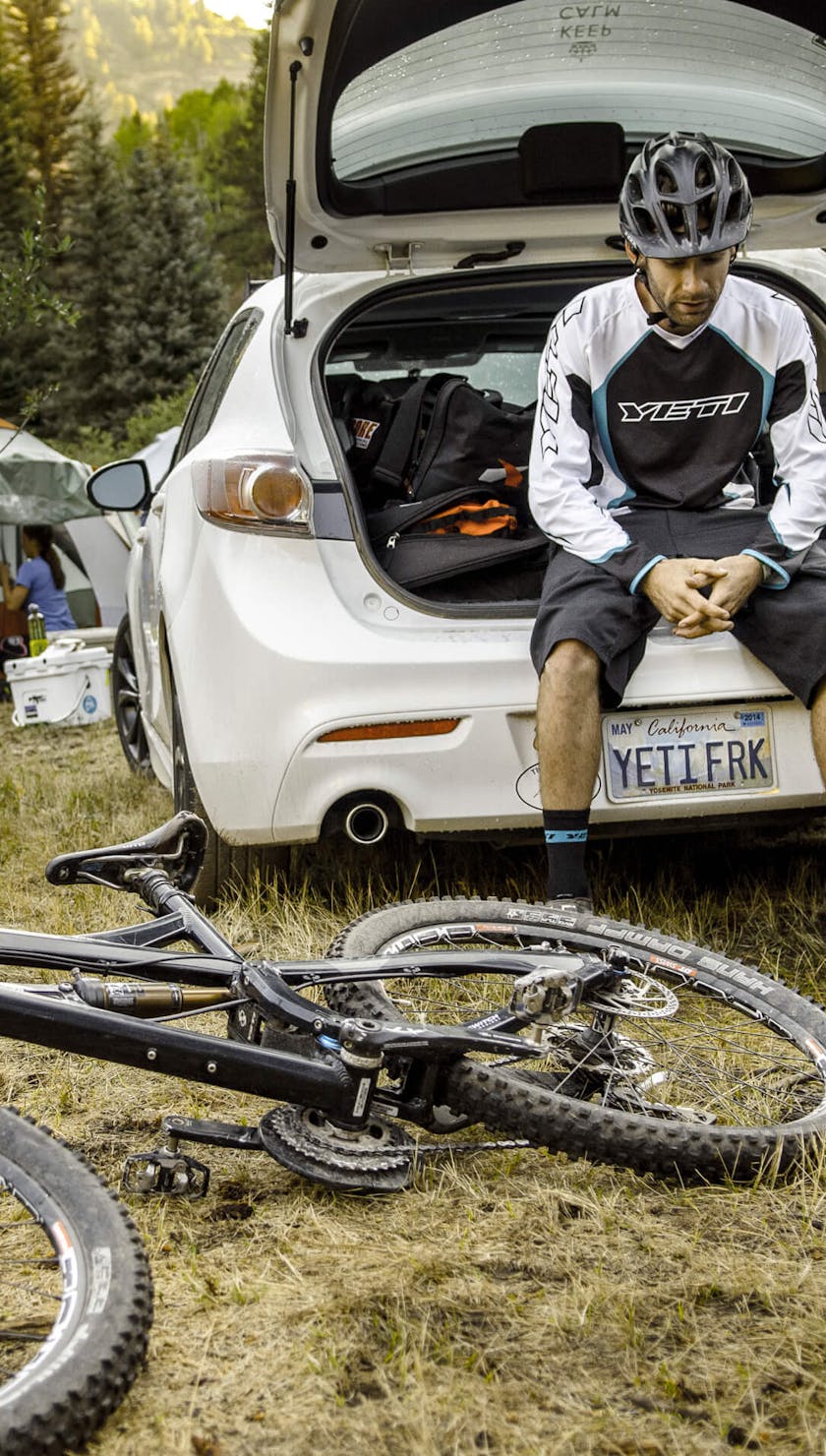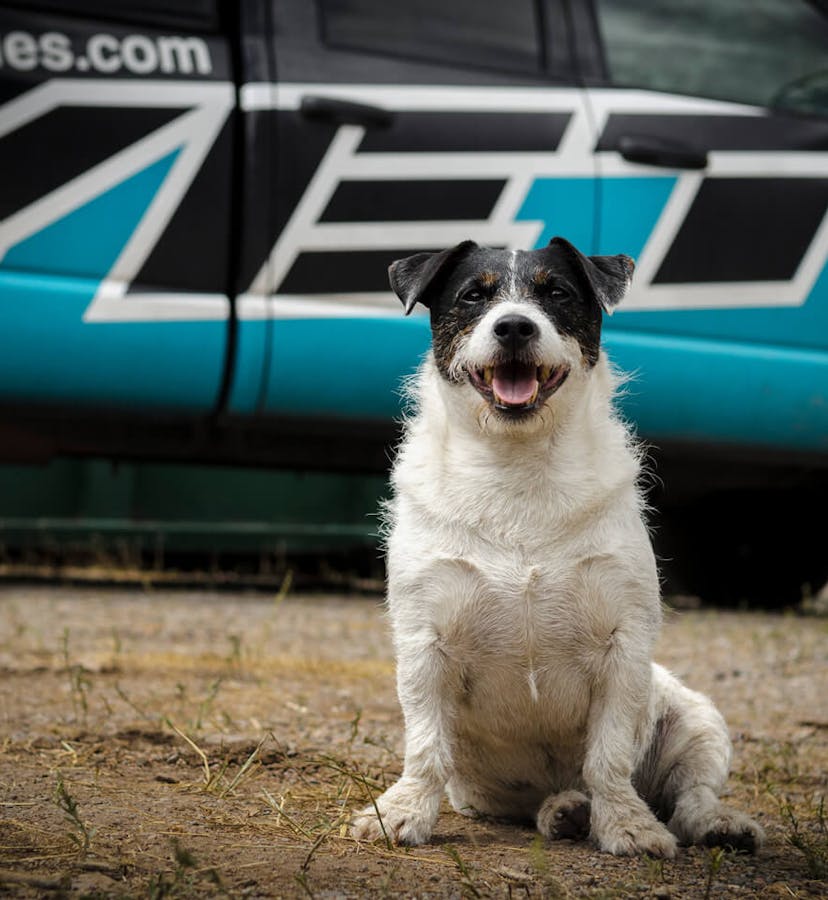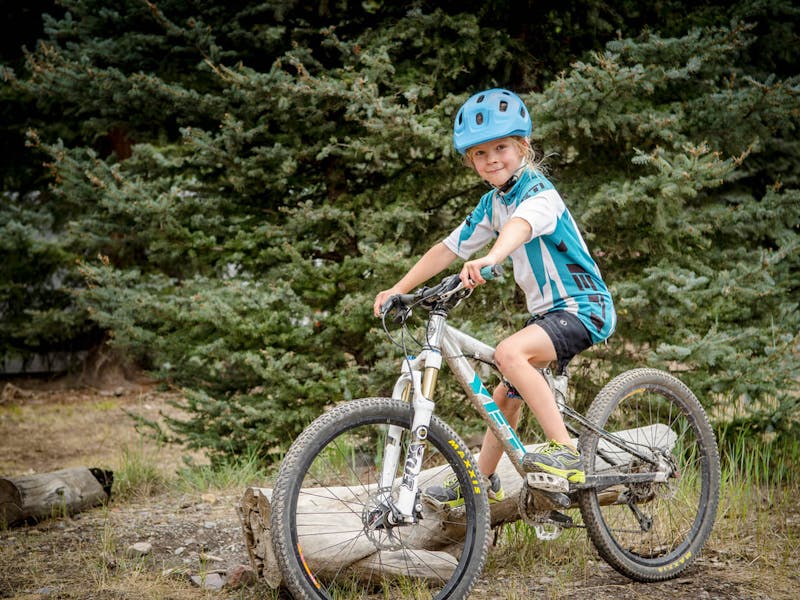 I FAILED TO REALIZE IS THAT AFTER THE GONDOLA RIDE UP, THERE WAS STILL A SIGNIFICANT AMOUNT OF CLIMBING AND TRAVERSING TO BE DONE TO GET YOU TO THE DESCENT
12TH ANNUAL GATHERING
This year's ride – on paper – looked pretty do-able. We'd do a long but gentle climb up an old railroad bed to the outskirts of Telluride, then hook into some fun singletrack along the river that brought us right into downtown. From there, we'd use the Village Gondola to ascend a couple thousand feet to some trails that would eventually lead us to a crazy-long downhill back to our camp. What I failed to realize is that after the gondola ride up, there was still a significant amount of climbing and traversing to be done to get you to the descent – all of which was in the razor-thin air above 10,000 feet. The fact that my previous night's carbo-loading included a six-pack of Pabst didn't help matters. Pete, who handles marketing for our UK distributor, and I had driven over from Denver the day before with our NZ distributor, Kashi Leuchs, and two of our pro riders – Rosara Joseph and Jared Graves. Between the three of them, they had competed in something like 6 Summer Olympics, and had literally won more national championships than they could recall. Needless to say, Pete and I saw them at the beginning of the ride and at the end, but nowhere in between.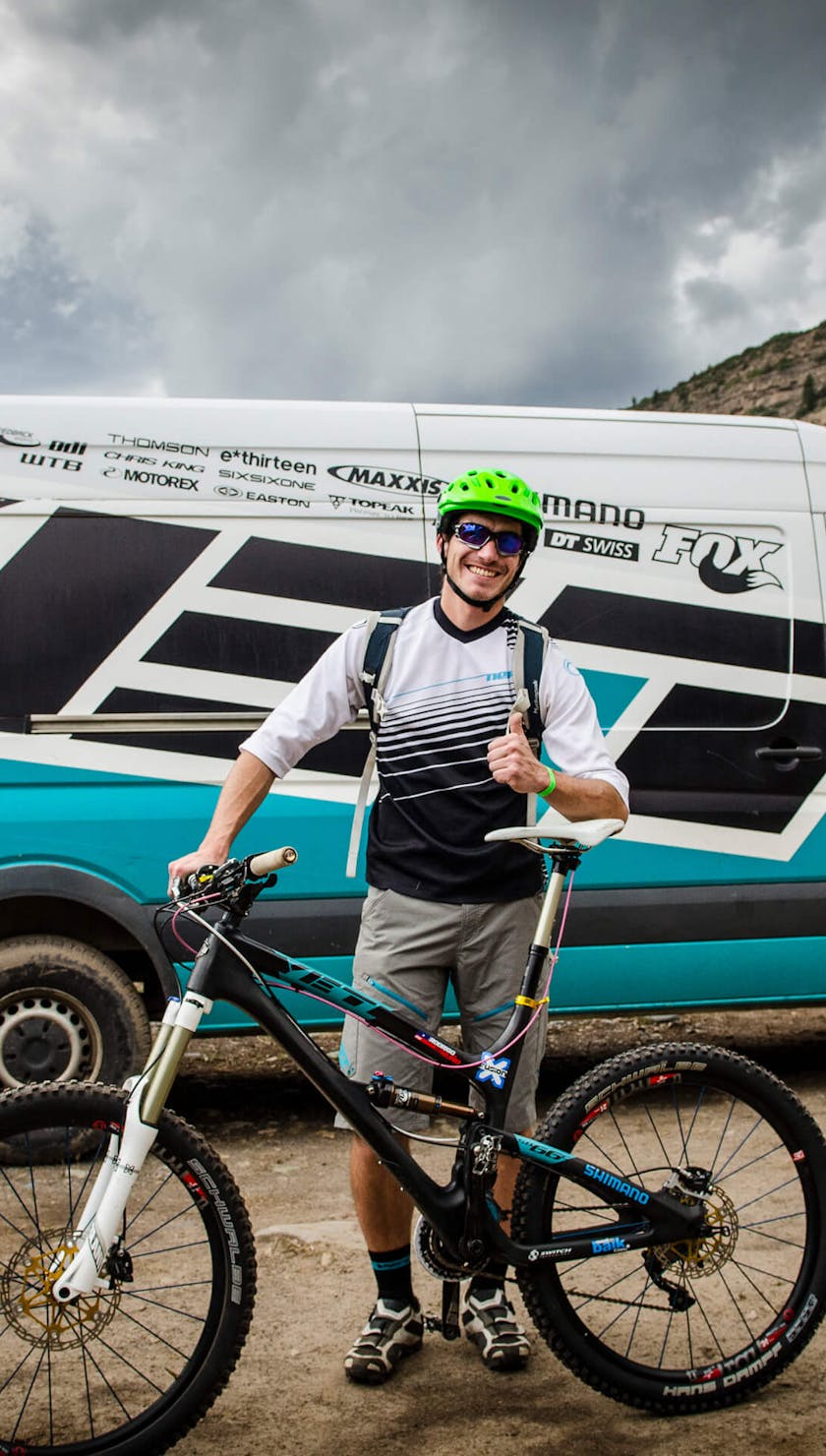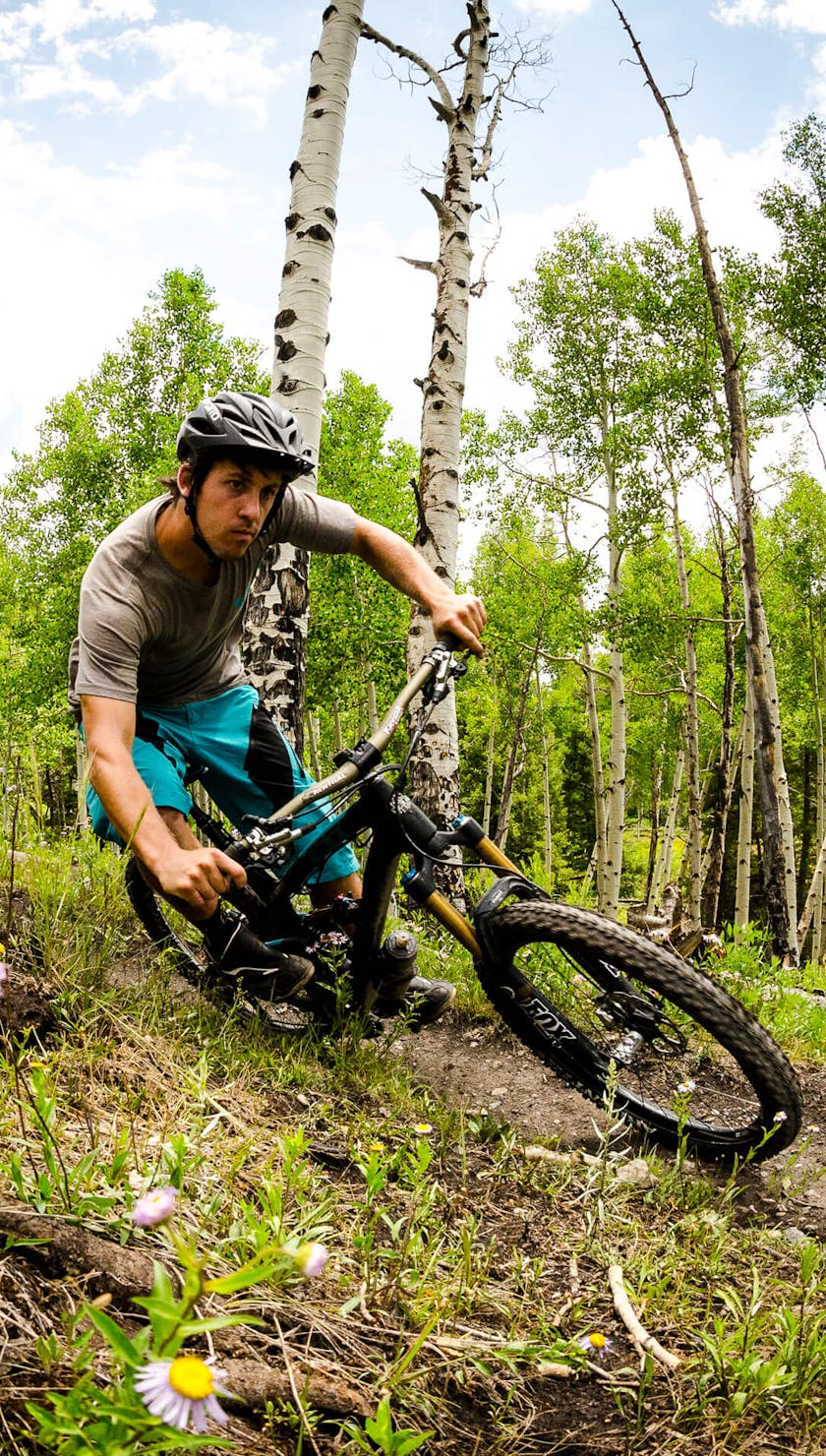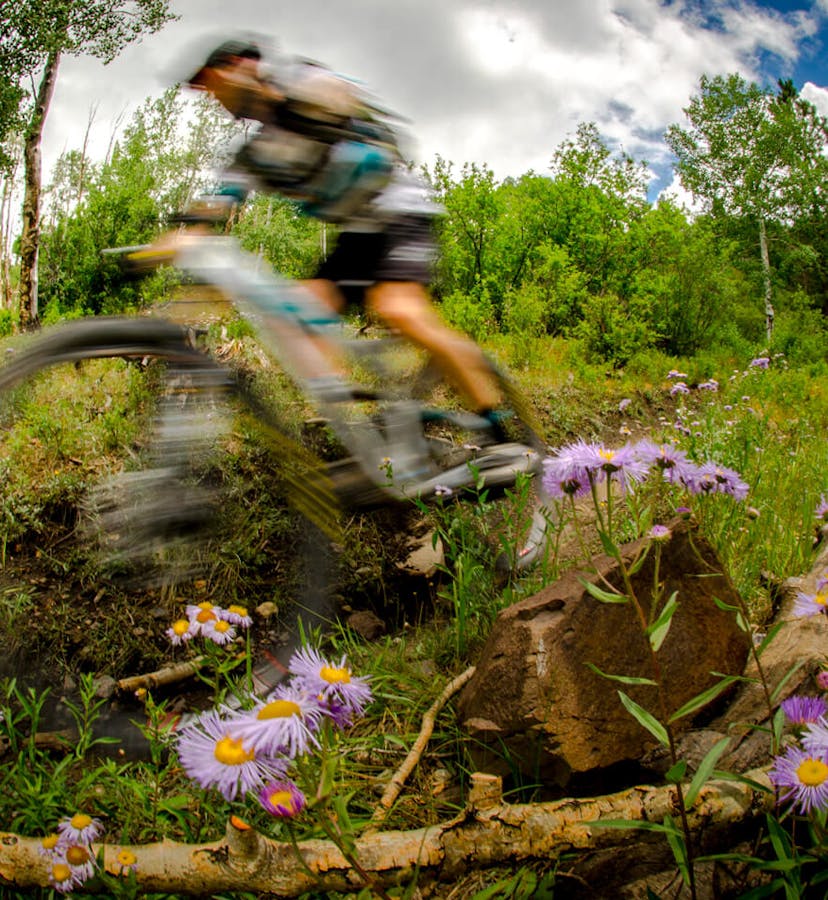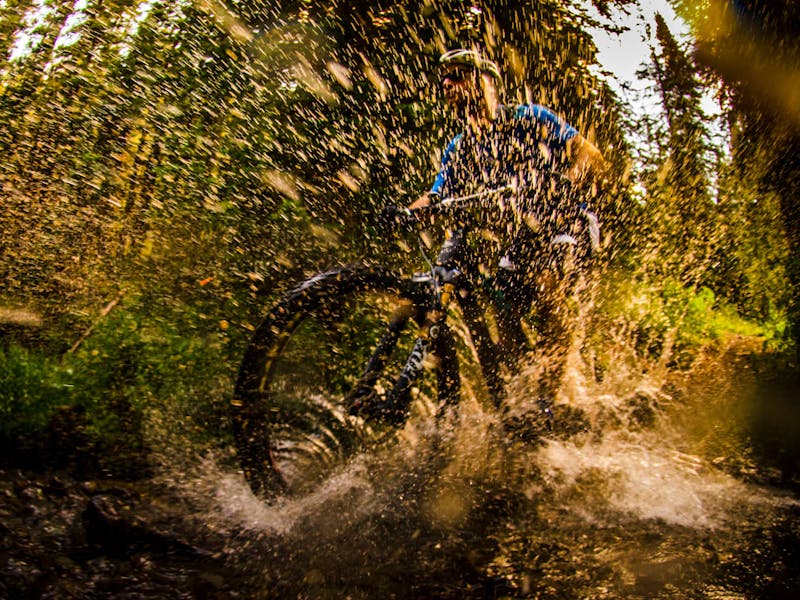 AS HE SAT THERE ON A STUMPJUMPER THAT LOOKED LIKE IT MAY HAVE BEEN ON LOAN FROM THE LOCAL HISTORICAL SOCIETY, HE SKETCHED OUT A NEW, "BETTER" ROUTE FOR US.
12TH ANNUAL GATHERING
The old Mountain Man who had happened upon us asked which way we were heading, and when we gave him a vague description of our plans, he advised us to scrap those ideas immediately. As he sat there on a Stumpjumper that looked like it may have been on loan from the local historical society, he sketched out a new, "better" route for us, which started with the following instructions: "A few miles up, stay right at a fork and ride a ways until you see a 'brown sign'. From there, turn around, go back the way you came, and you'll see a small two-track on your left. Follow that for a ways until you see a singletrack off to the left of it, then work your way down through a bunch of unmarked trails back towards your camp." I was distantly reminded of the scene on This Is Spinal Tap in which the band gets hopelessly lost backstage due to bad directions from a janitor ("Hello Cleveland!").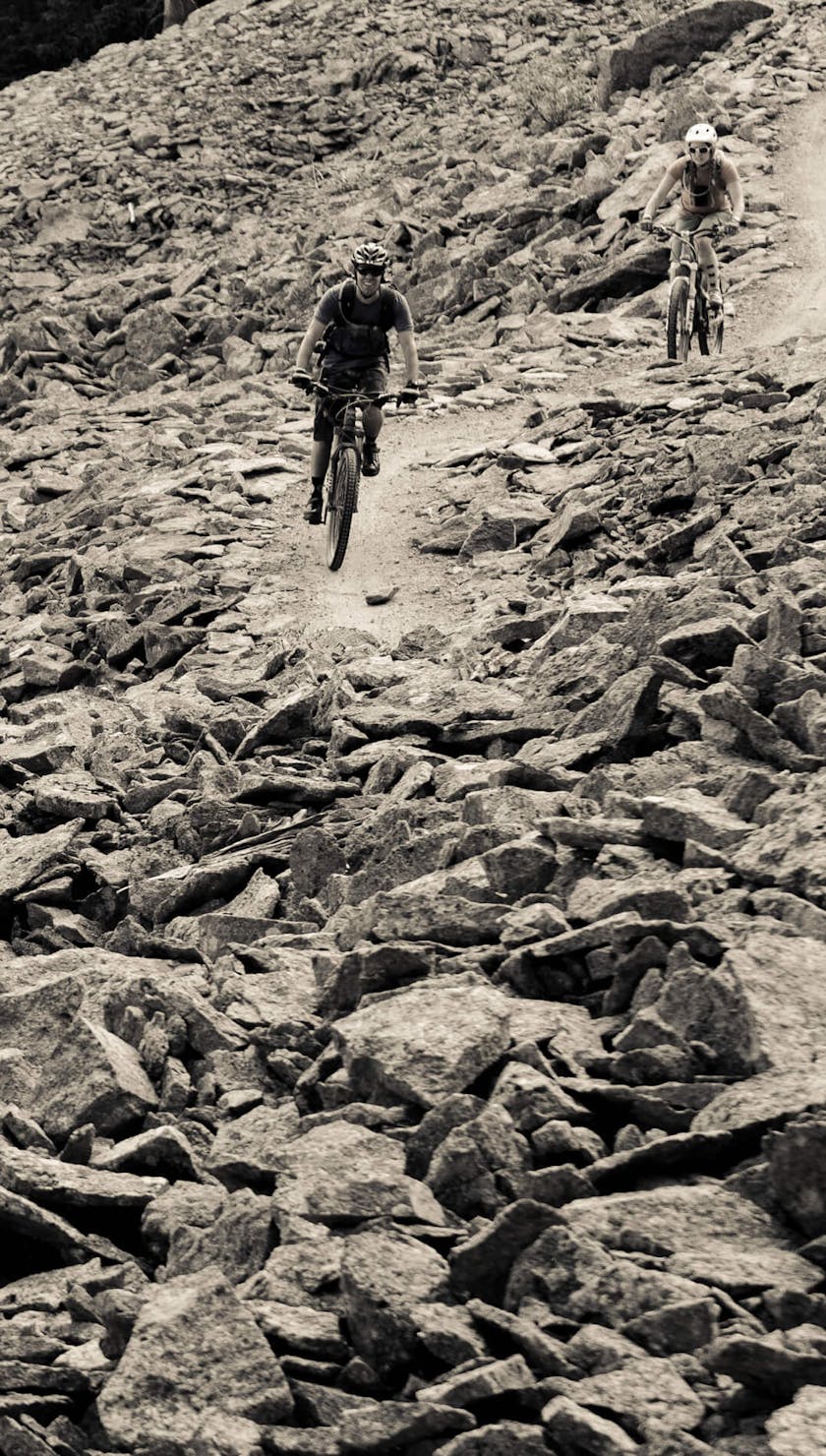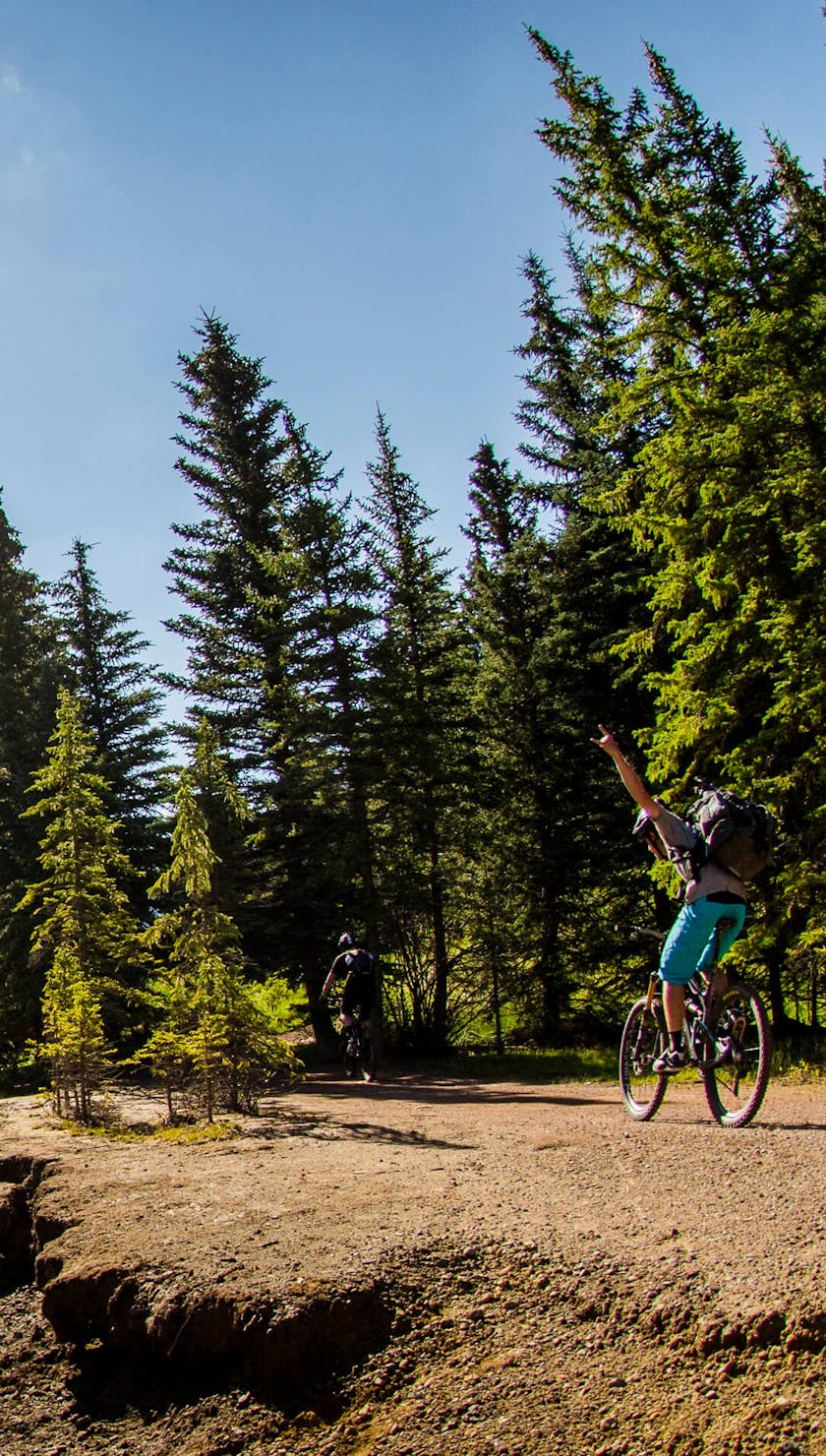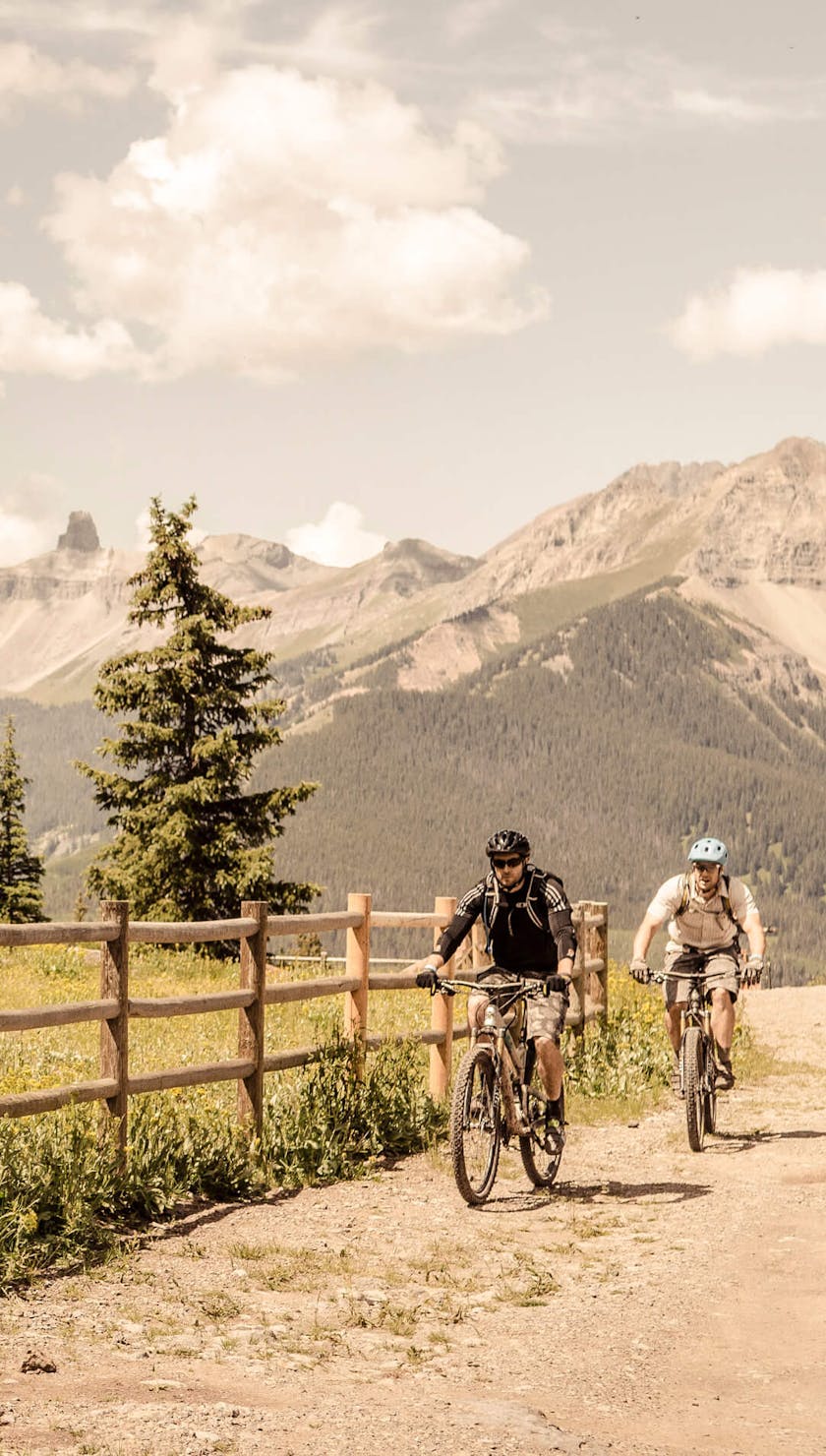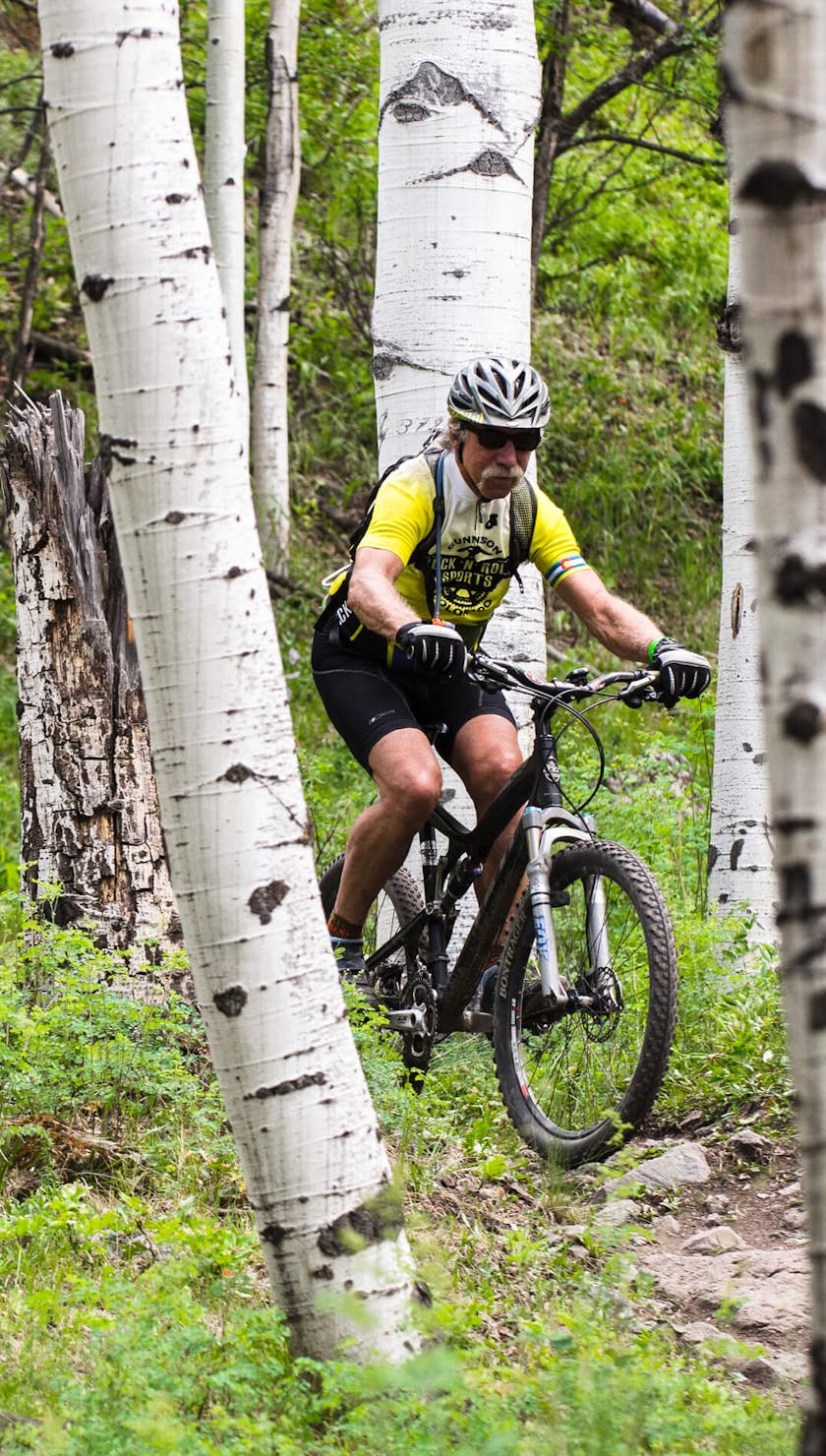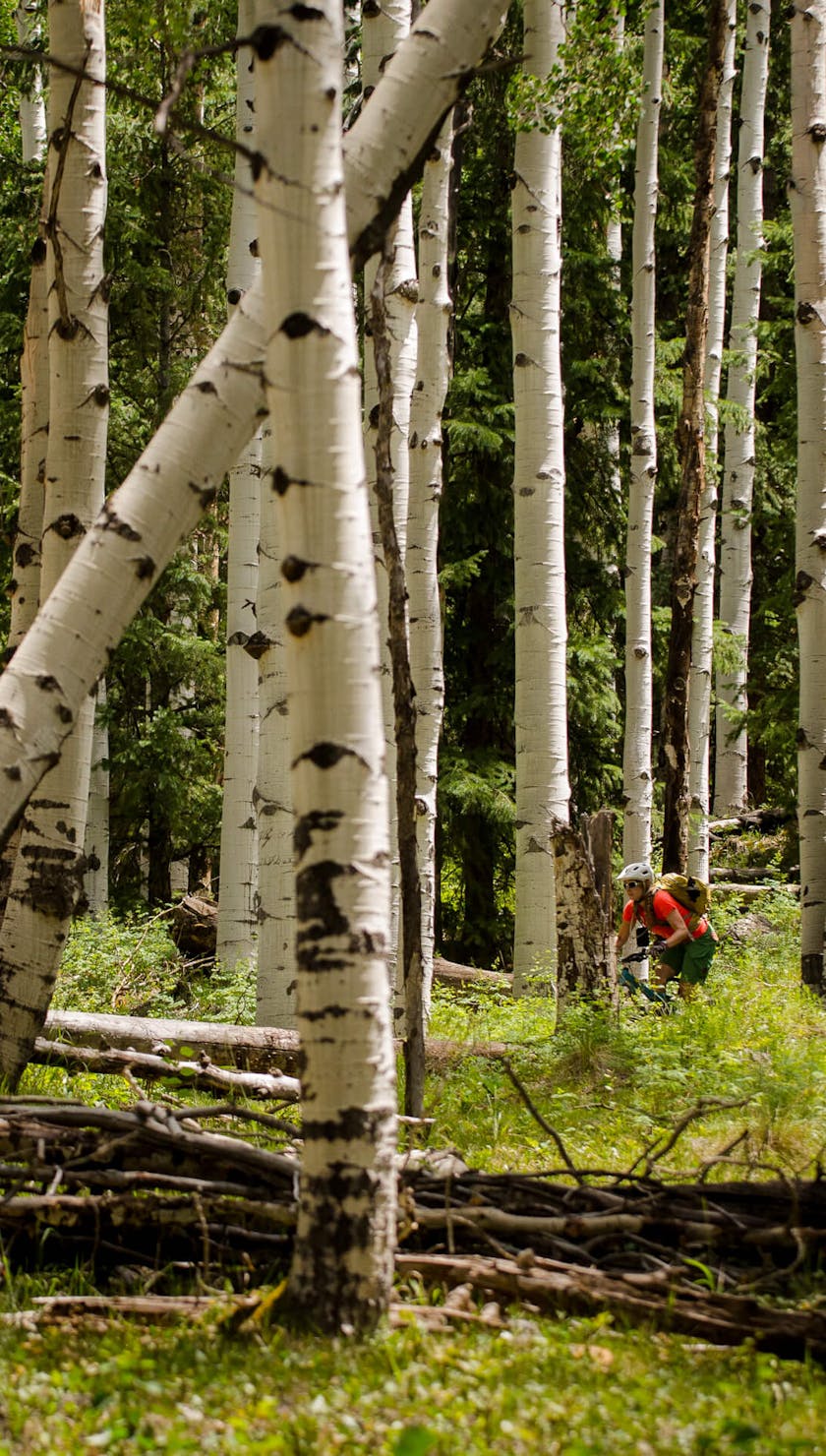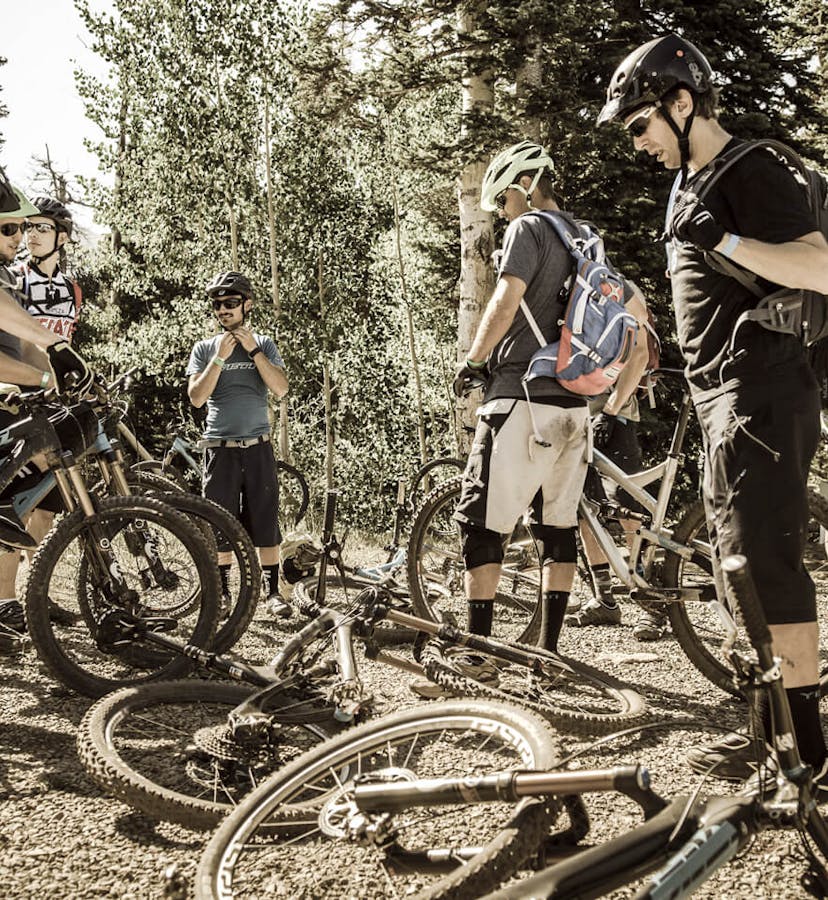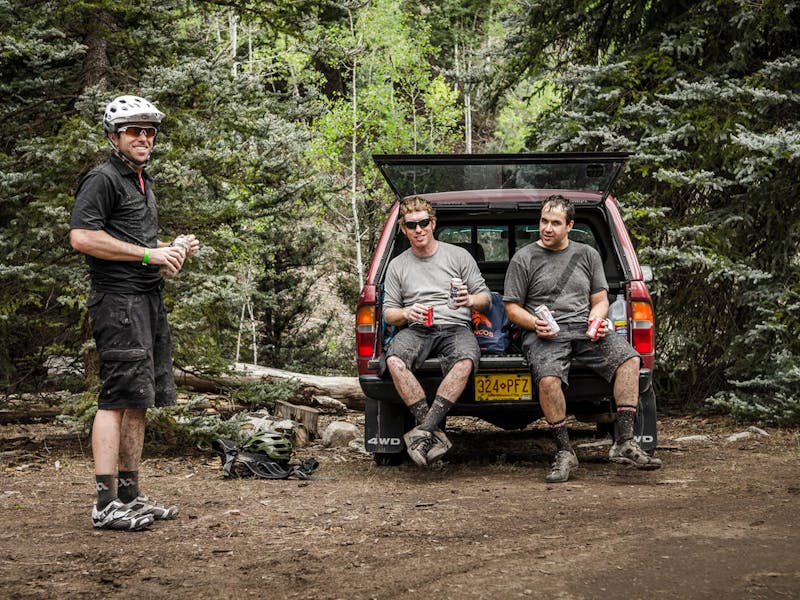 THE RIDE FINISHED WITH AN INSANE NATURAL SLALOM COURSE THROUGH A STAND OF ASPENS AND FINALLY DUMPED US ON A GRAVEL ROAD FOR A SHORT PEDAL BACK TO THE CAMPSITE AND COLD BEER.
12TH ANNUAL GATHERING
And what incredible luck it turned out to be. As we headed down into Mountain Man's prescribed route, the trail greeted us with grippy loam, banked turns, and rolling undulations that you could double-up with the right speed. Pete and I caught our second wind and let out whoops and shouts as we threaded between spruce trees and zipped past blooms of wild columbines. Eventually, the route became steeper and more rugged, and this is what we were waiting for. We were both riding SB66 Carbons built for big mountain riding, so we attacked the chutes and washouts, wheelie-ing through creeks, roosting turns, and hopping over downed limbs. The ride finished with an insane natural slalom course through a stand of Aspens and finally dumped us on a gravel road for a short pedal back to the campsite and cold beer.
ANOTHER GREAT YETI GATHERING WAS IN THE BOOKS, AND WE'LL HAVE TO WAIT UNTIL NEXT YEAR TO SEE WHAT KIND OF LUCK WE MIGHT FIND OUT ON THE TRAILS.
12TH ANNUAL GATHERING
Later that night, after another epic meal and too many drinks, Pete and I recounted the day and our incredible luck for having met Mountain Man. We had heard from others that the 'official' Gathering ride was tons of fun, but it paled in comparison to the sweet trails we had ridden down from the top. The weekend wrapped up the next morning with a big breakfast and some hearty farewells. Another great Yeti Gathering was in the books, and we'll have to wait until next year to see what kind of luck we might find out on the trails.