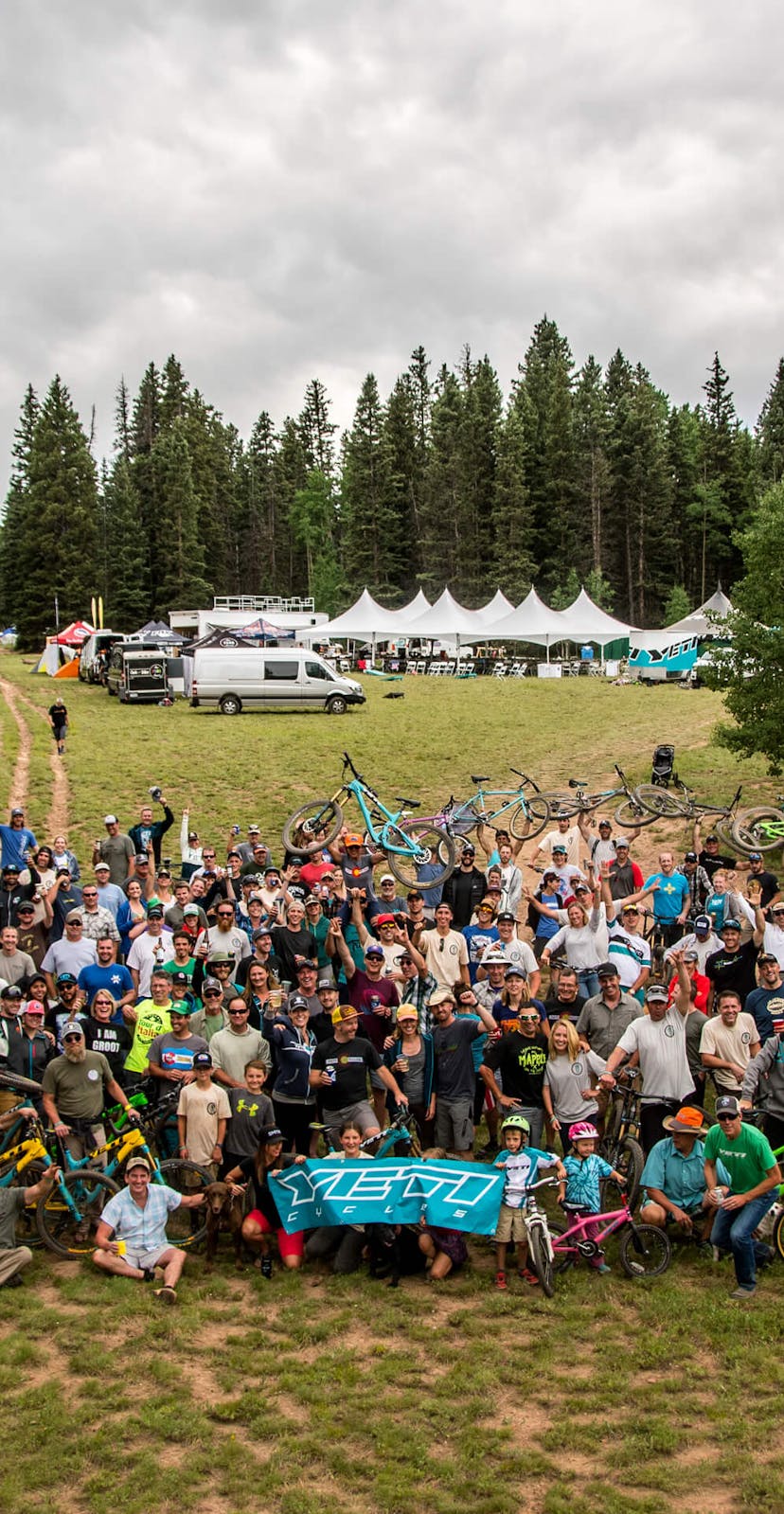 gatherings
YETI GATHERING
MONTROSE
FOR OUR 15TH ANNUAL YETI GATHERING, WE HEADED TO MONTROSE AND LAID OUT OUR TENTS ACROSS A MEADOW SHADED WITH ASPEN TREES ON THE UNCOMPAHGRE PLATEAU.
15TH ANNUAL GATHERING
There are aspects of the Yeti Gathering that we want to feel similar from one year to the next. But we are fortunate to call Colorado home— a state diverse with landscapes from alpine peaks to pristine meadows to rocky deserts. From one year to the next, Gathering locations can feel as different as night and day. For our 15th Annual Yeti Gathering, we headed to Montrose and laid out our tents across a meadow shaded with aspen trees on the Uncompahgre Plateau.
RIDES FROM CAMP SKIPPED THROUGH THE HIGH ALPINE FILLED WITH WILD FLOWERS, PEAK-TO-PEAK VIEWS, AND AMPLE SHADE FROM PINE AND ASPEN TREES.
15TH ANNUAL GATHERING
Rides from camp skipped through the high alpine filled with wild flowers, peak-to-peak views, and ample shade from pine and aspen trees. We formed small motley crews of fellow freaks we met at camp, ripped around the trails with pit stops back at camp for a cold brew between laps. Our neighbors, about 400 head of sheep, watched us ride by wild-eyed.
WE GOT AIR, GLIDED THROUGH CHUNDER, DRUG OUR BARS IN CORNERS, AND GENERALLY SHOWED OFF.
15TH ANNUAL GATHERING
Saturday's epic took us through changing ecosystems from the high alpine trails encompassing camp to the lowland desert. We got air, glided through chunder, drug our bars in corners, and generally showed off. The climb out was grueling and hot — just the way we like it.
AT THE TRAIL'S END, WE WERE MET WITH THE SHUTTLE RIG AND COLD BEER. BACK AT CAMP, THE USUAL STUPID HUMAN GAMES ENSUED.
15TH ANNUAL GATHERING
At the trail's end, we were met with the shuttle rig and cold beer. Back at camp, the usual stupid human games ensued. "Big Joe" passed around his muffler flask filled with the nectar of the gods. Kids rode kiddie bikes, adults rode kiddie bikes, and then we saw who could toss a kiddie bike the farthest.
AS WE LAUGHED UNDER THE STARS AND WARMED OURSELVES NEXT TO THE BONFIRE, WE KNEW WE WERE WITH OUR PEOPLE — OUR FELLOW FREAKS.
15TH ANNUAL GATHERING
As we laughed under the stars and warmed ourselves next to the bonfire, we knew we were with our people — our fellow Freaks.