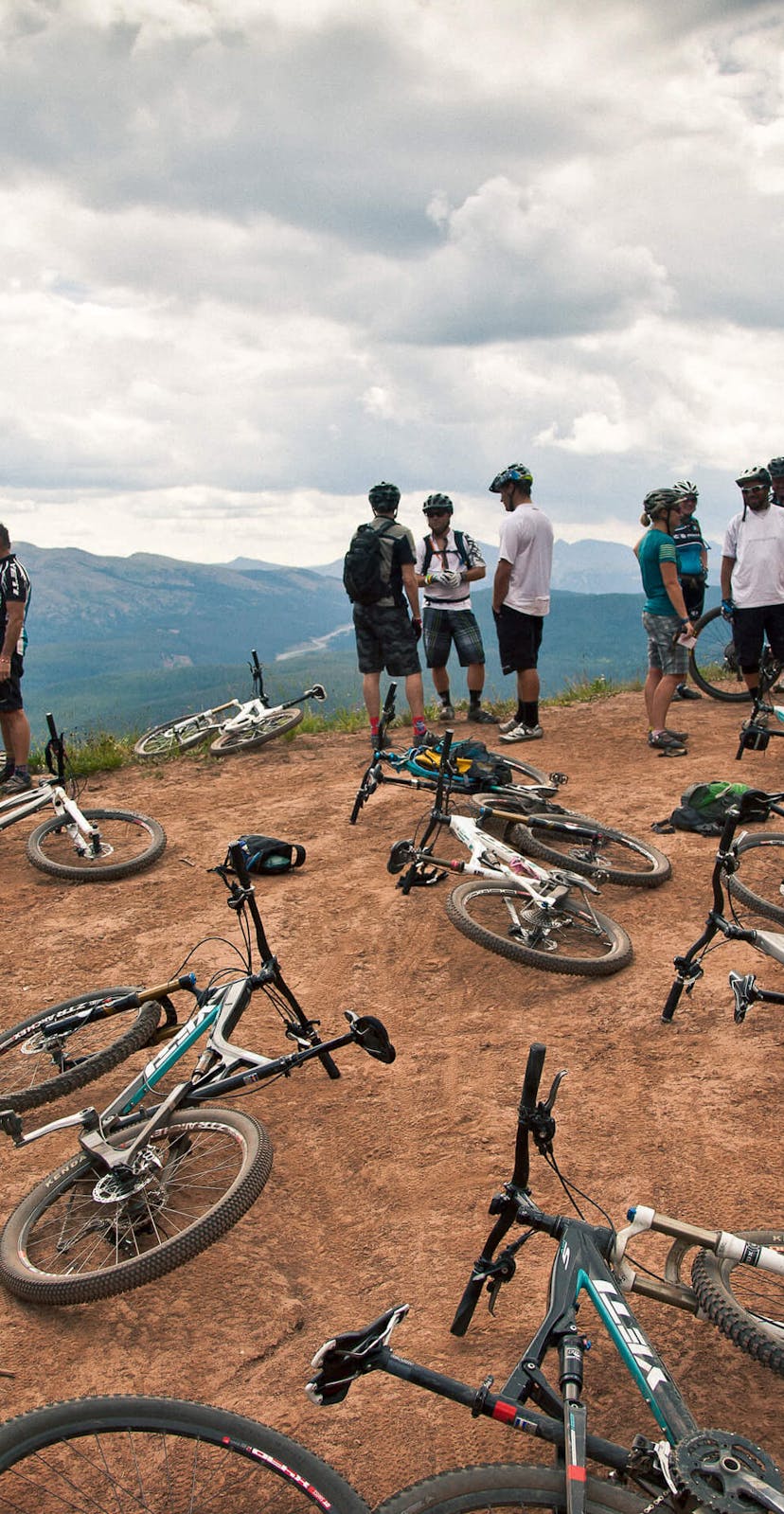 gatherings
YETI GATHERING
MINTURN
WE WERE IN VAIL FOR OUR 11TH ANNUAL YETI GATHERING, AND WE WERE ALMOST TO THE PEAK OF THE SKI RESORT, HAVING SPENT THE LAST COUPLE OF HOURS GRINDING OUR WAY UP AN ACCESS ROAD.
11TH ANNUAL GATHERING
"As we rounded the last bend and saw the view open up before us, we finally allowed ourselves a small sigh of relief. We were in Vail for our 11th annual Yeti Gathering, and we were almost to the peak of the ski resort, having spent the last couple of hours grinding our way up an access road. Sure, a shuttle bus had delivered us to the halfway point of this climb after a vertigo-inducing ride up a bumpy dirt path, but when your ride starts at 10,000 feet and caps out around 14,000, it's still a hell of a lot of work.
WE SPLIT A COUPLE OF CLIFF BARS, TOOK A FEW PHOTOS, THEN HOPPED BACK ON OUR BIKES TO CONQUER WHAT WE ASSUMED WOULD BE THE LAST SMALL RISE TO THE PEAK
11TH ANNUAL GATHERING
A small group of the faster riders were already at the overlook, and as I pulled up and dismounted, I took in a stunning view of Vail Pass with I-70 winding its way through the valley. Shortly thereafter, my partner-in-pain for the day and Yeti's UK distributor, Darren, rolled up as well. We split a couple of Cliff bars, took a few photos, then hopped back on our bikes to conquer what we assumed would be the last small rise to the peak, followed by a couple hours of descending through Vail's back bowls. We were in for a rude awakening. The climb not only continued much longer than we'd anticipated, it got steeper; much steeper. Towards the top, we finally cried uncle and dismounted to push our bikes up the last few inclines, cursing our false hopes and Mother Nature's endless ability to screw with us.
When we finally reached the true peak, a massive grassy valley spread out before us. We could see ribbons of orange-brown singletrack threading their way endlessly across some gigantic traverses, so we eased off the breaks and dove right in. What a payoff! For the next couple of hours, we bombed through aspen-dotted meadows and small stands of fir trees, not believing that a trail could descend for so long. Many of the corners were bermed up, making the ride seem more like an endless bobsled run than a backcountry trail ride, so we blasted into blind turns and over small downed trees.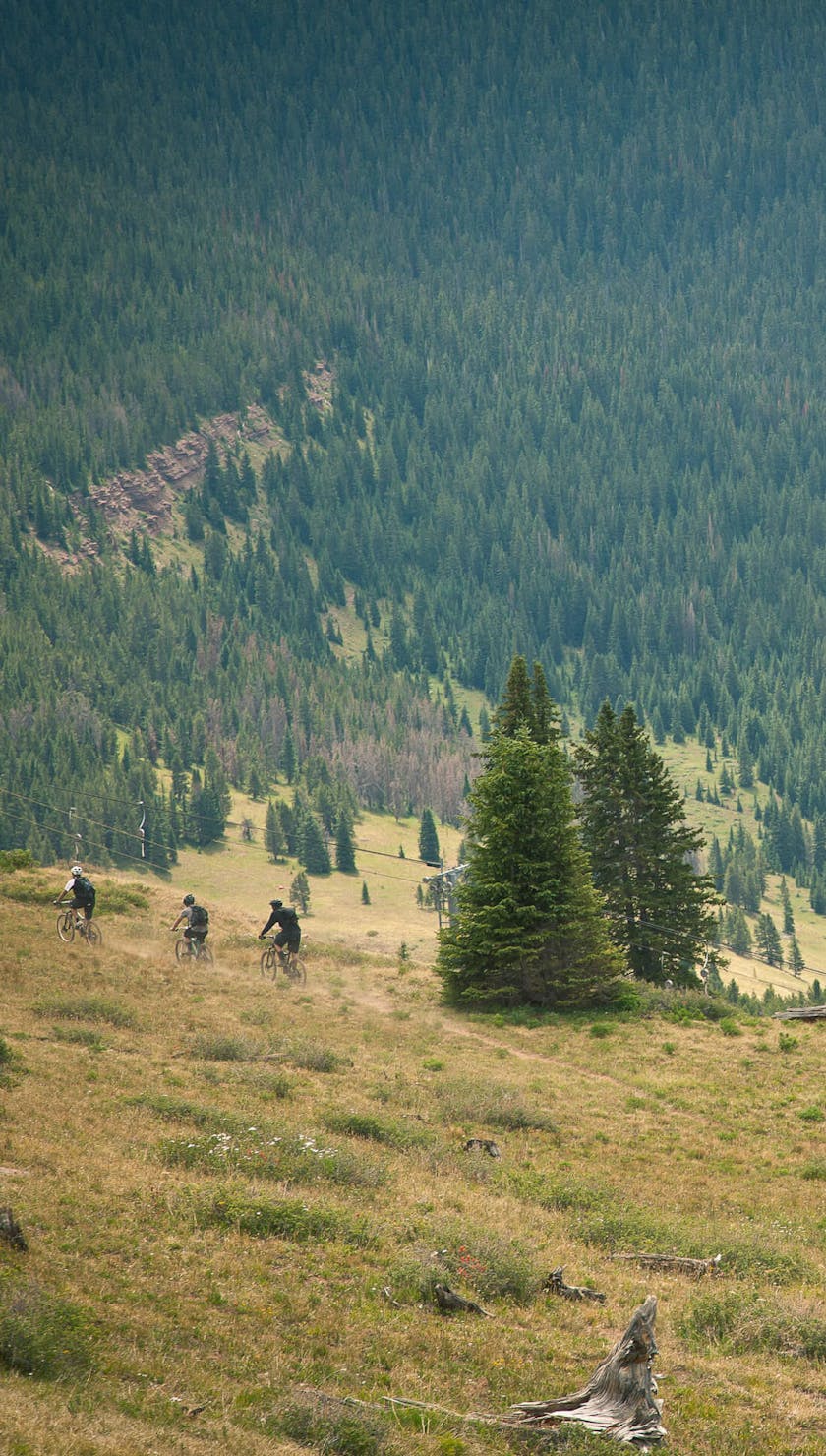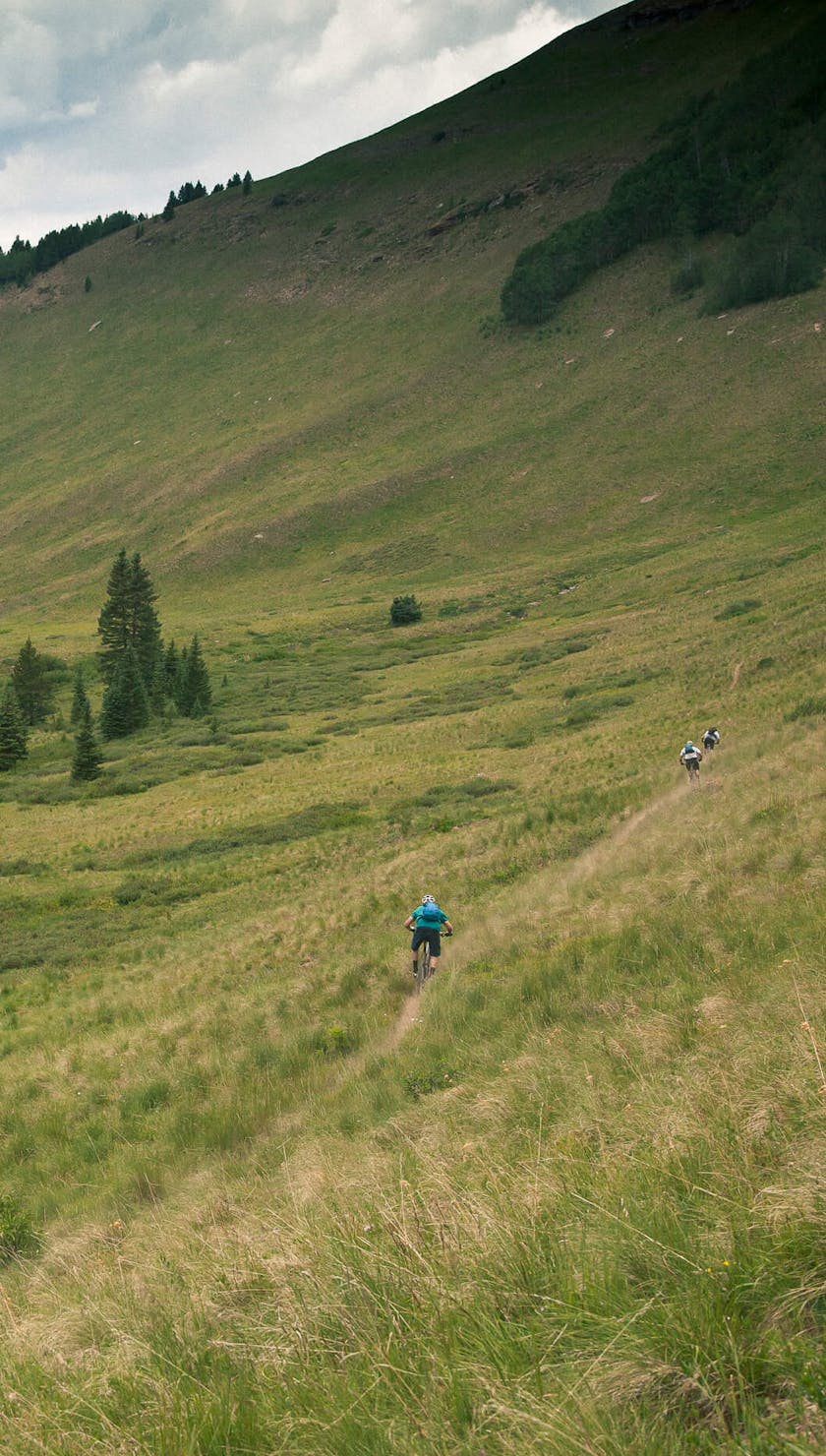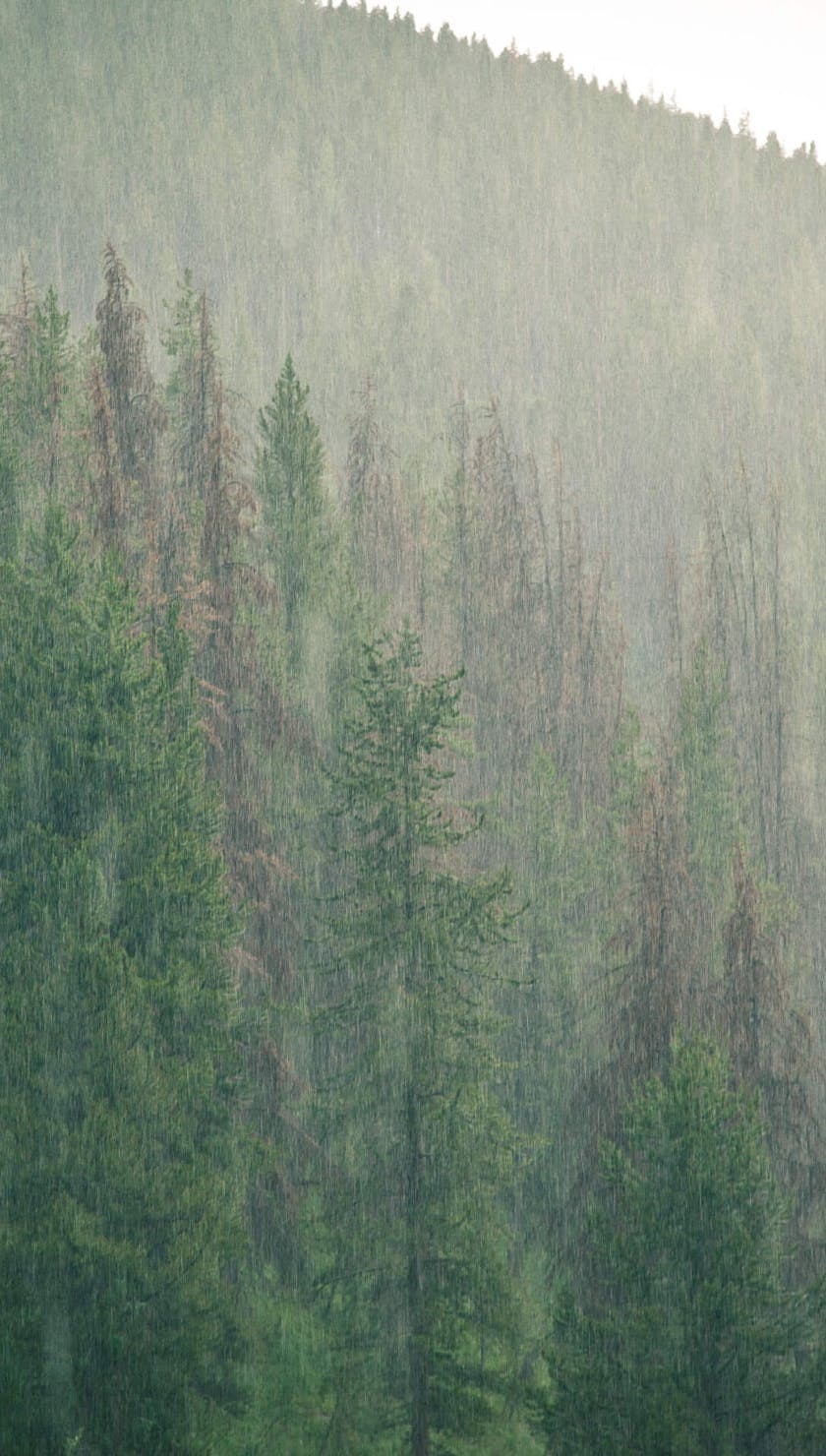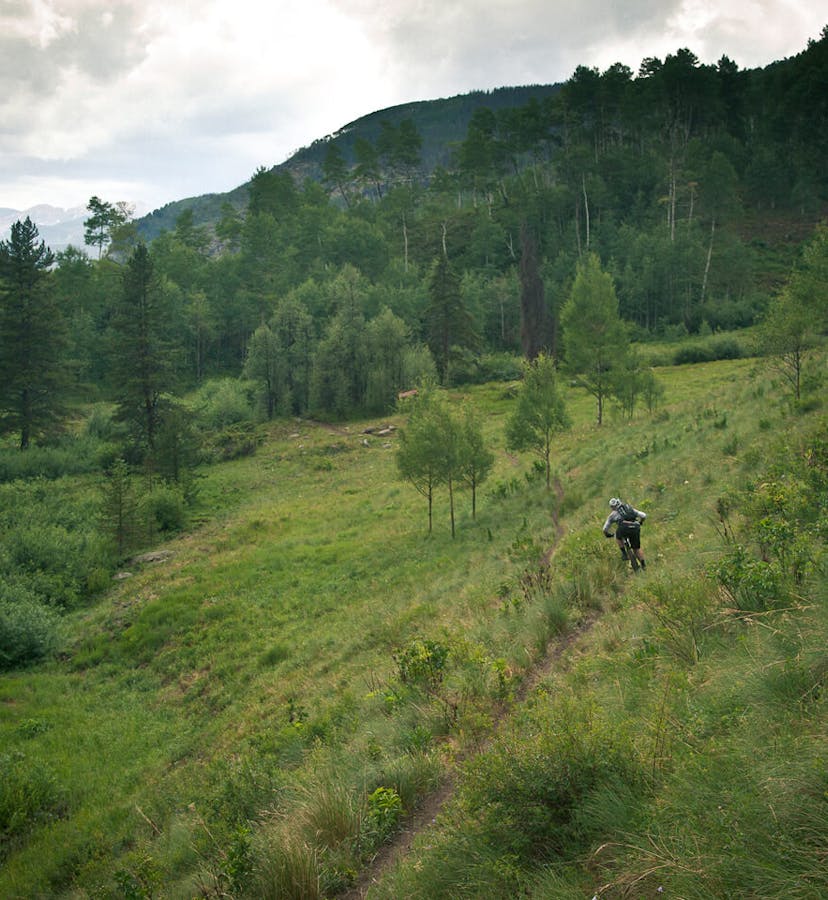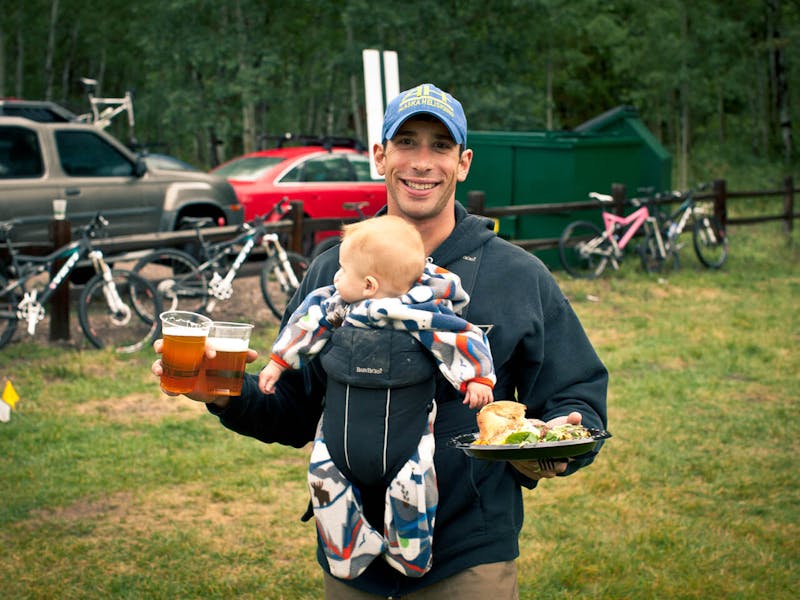 THE RIDE DUMPED US OUT DOWN IN MINTURN, AND WE ALL SPUN THE LAST COUPLE MILES BACK TO CAMP WITH BIG SMILES AND EXHAUSTED LAUGHS.
11TH ANNUAL GATHERING
About halfway down, a pretty heavy storm blew in, forcing a dozen of us to take shelter under a ski lift loading area. The timing couldn't have been better, as most of us were already suffering from arm pump and grumbling stomachs due to the effort already expended. As soon as the storm lifted, we were back on our bikes and roosting down the trail. By this point, the trail had joined up alongside a mountain stream, and the last few miles were spent drifting wet turns, hopping exposed roots, and launching off small rock drops. The ride dumped us out down in Minturn, and we all spun the last couple miles back to camp with big smiles and exhausted laughs.
THE COMBINATION OF A NEARLY BOTTOMLESS SUPPLY OF BOOZE, A BUNCH OF ROWDY YETI FREAKS, AND AN OPEN MICROPHONE ON A HAS THE POTENTIAL TO WREAK SOME SERIOUS HAVOC.
11TH ANNUAL GATHERING
Later that night, we had a huge meal catered in and partied a little too hard. Turns out, the combination of a nearly bottomless supply of booze, a bunch of rowdy Yeti Freaks, and an open microphone on a high-powered PA system has the potential to wreak some serious havoc. When we finally climbed into our tents and RV's at the end of a very long day of riding and revelry, there were some well-deserved snores heard drifting through the campground. Another successful Yeti Gathering was in the books, and we were already looking forward to next year.