WE HAVE A PRETTY SIMPLE PHILOSOPHY. WE BUILD BIKES WE WANT TO RIDE.
IN 1985 MOUNTAIN BIKING WAS IN ITS INFANCY AND AT THE HEART WAS YETI, PRODUCING NO FRILLS BIKES FOR CORE RIDERS.
Before mountain biking was even considered an industry, racers became the backbone of our product development efforts. Soon our factory was outpacing the biggest companies with cutting edge race-specific designs. The knowledge gained from R&D testing on the track led to invaluable knowledge in materials, frame geometry and suspension designs.
Over the years Yeti developed one of the most widely recognized race teams in mountain bike history and has become known for fielding such greats as Juli Furtado, John Tomac, Jimmy Deaton, Miles Rockwell and Missy Giove to name a few. Numerous World and National Championship titles followed and those names have gone on to become legends of the sport.
AS MOUNTAIN BIKING EVOLVED AND THE FIRST WORLD CHAMPIONSHIPS TOOK PLACE IN 1990, JOHN PARKER AND CREW FLED CALIFORNIA FOR DURANGO. WHAT LIE AHEAD WERE SOME OF THE MOST GLORIOUS YEARS IN OUR HISTORY.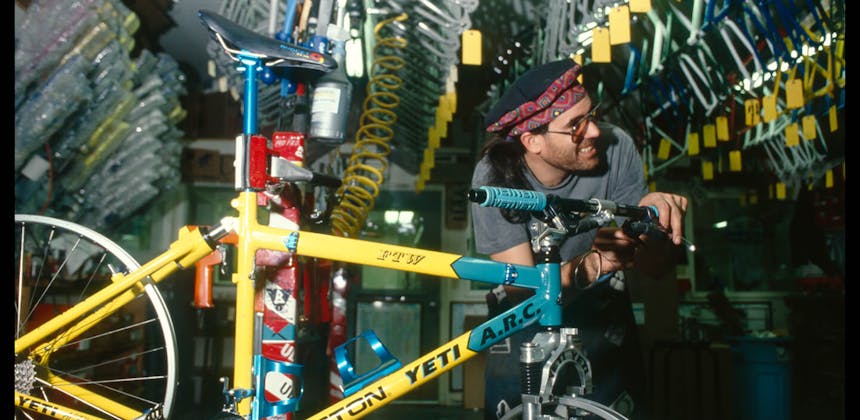 THE EARLY 90'S SHAPED OUR MANTRA OF "HAND BUILT, RACE BRED" AS RACING WAS THE BACKBONE OF ALL OUR EFFORTS.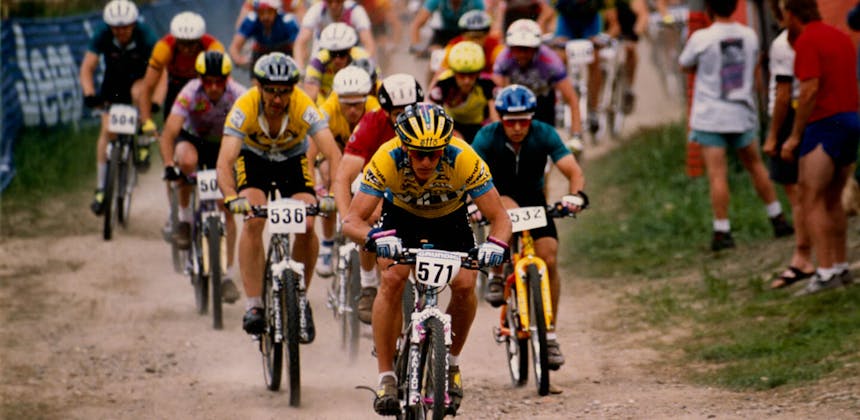 As advancements in suspension and materials evolved in the early 90's Yeti led the charge with race-specific designs, to go fast. The Yeti racing team continues to be the backbone of all R&D efforts. That commitment to racing finds a loyal following of riders who appreciate the details and race-first approach. From XC to DH, the team powered its way to podiums on the NORBA and World Cup circuit.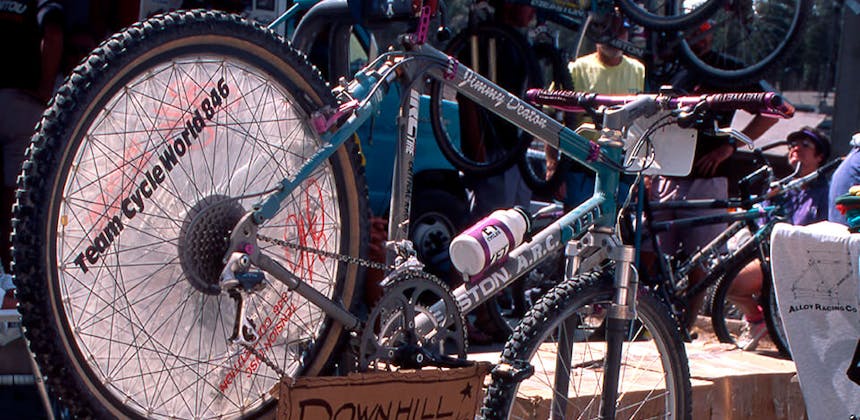 Jimmy Deaton's Mammoth Mountain Kamikaze winning bike is displayed in all its glory after achieving a new speed record of 59.5 mph. The A.S. "active suspension" was at the heart of this new full suspension design coupled with the Pro-Gram Easton tubeset. This revolutionary oversized aluminum tubing was co-developed between Easton's Chuck Teixeira and Yeti's John Parker.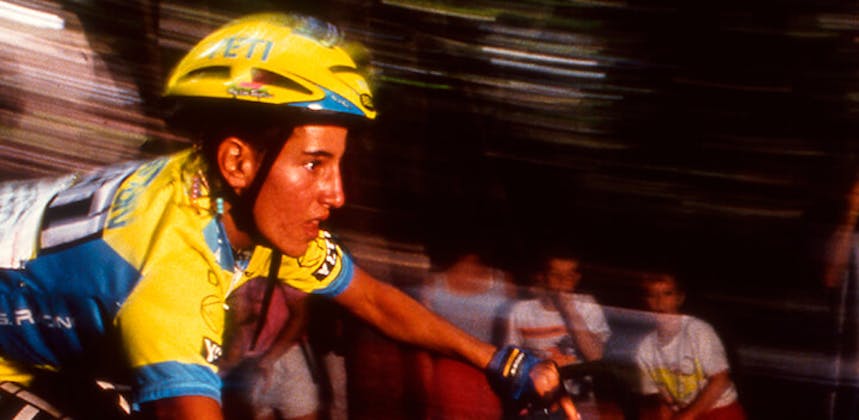 MISSY "THE MISSLE" GIOVE JOINS THE FACTORY TEAM AND ALL HELL BROKE LOOSE ON AND OFF THE TRACK. NORBA WAS NOT READY.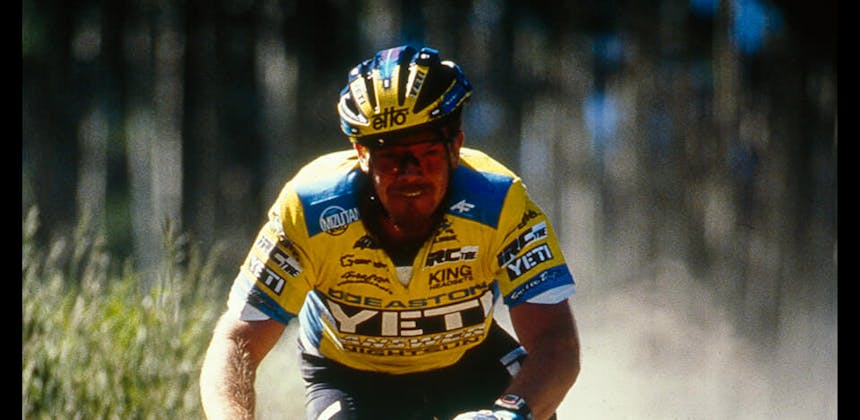 NOT A TEAM BUT A "TRIBE" LIFETIME TEAM MEMBER KEN FORAKER JUST AS PINNED AS FELLOW TEAM RIDERS GIOVE, FISH AND ROCKWELL.
AS THE INDUSTRY RODE THE WAVE OF TECHNOLOGICAL ADVANCEMENTS, YETI CONTINUED TO FIND NEW RACING TALENT AND RADICAL CHANGES IN DOWNHILL BIKE DESIGNS ARE ON THE HORIZON. THE MID TO LATE 90'S JUST ADD TO THE MYTH OF THE YETI LORE.
94 - 98 - The Legend Grows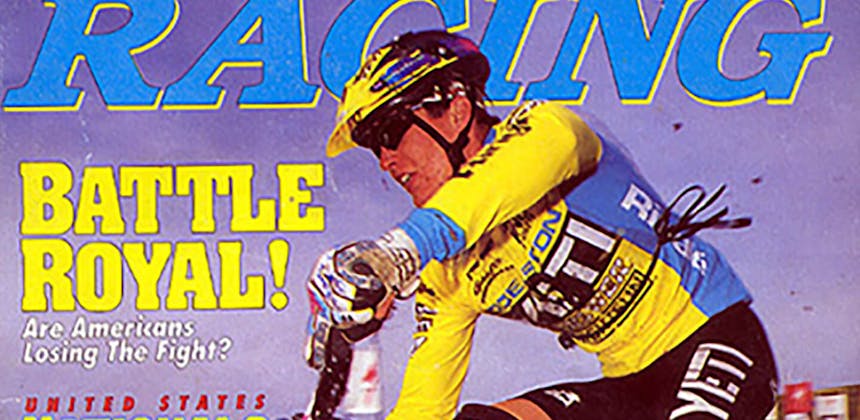 MYLES AND MISSY WERE KIDNAPPED BY SUITS FROM CONNECTICUT, BUT WE FIND NEW TALENT AND DEVELOP THE YETI-LAWWILL DH.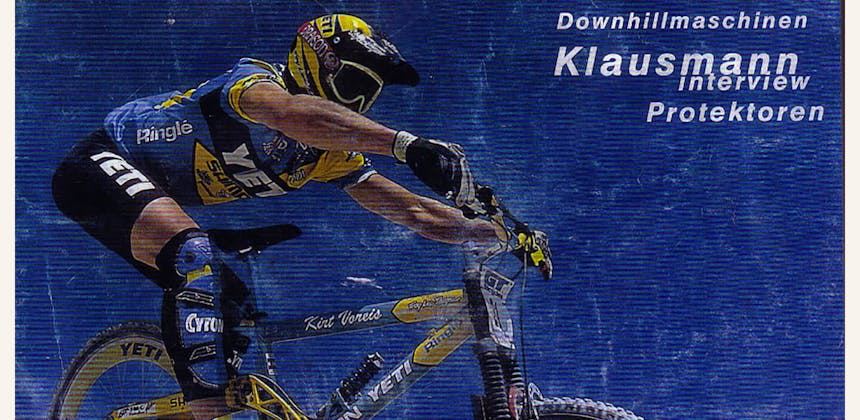 In 1995 Schwinn bicycles acquired Yeti Cycles. In theory the deal makes sense as Schwinn could tap Yeti's design prowess, while in return provide much needed influx of capital for the Durango facility. John Parker compared the deal to that of a merger. Some great Yeti bikes come out of this period, but as Schwinn tried to have it all they lost grip themselves.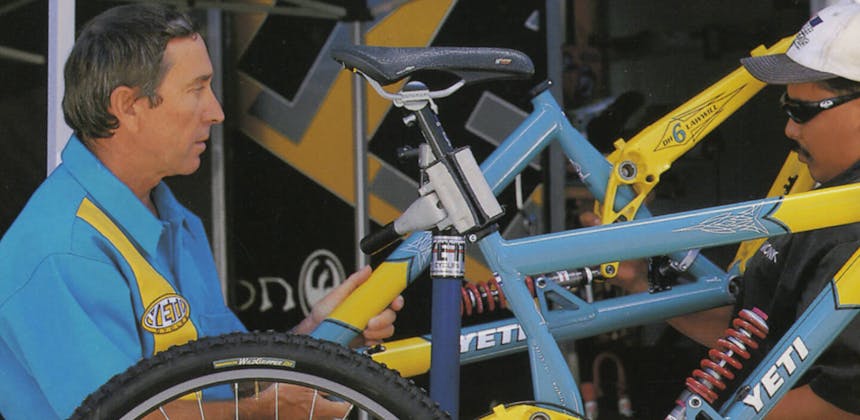 THE "MERGER" ALLOWS YETI TO FOCUS ON BUILDING COOL SHIT. FROM THIS PERIOD OF INNOVATION COMES THE YETI-LAWILL QUADRILATERAL DH BIKE.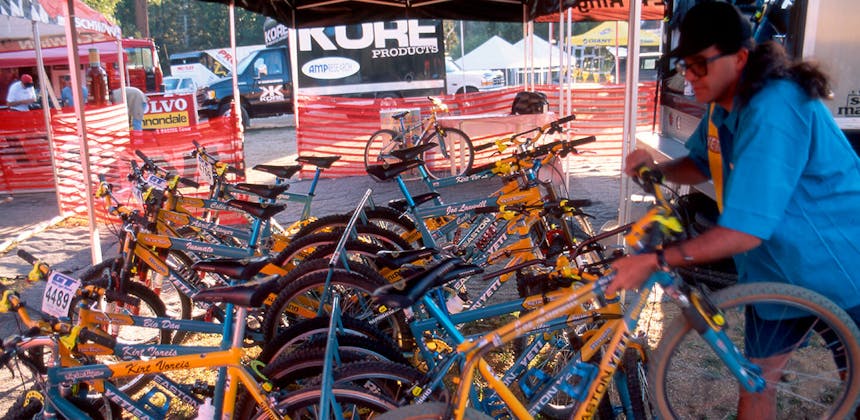 As the mountain bike industry flourished during the late 90's, sponsorship dollars increased in tow. Soon manufacturers were fielding large roster of racers to promote their latest designs. Yeti is no exception as the racing talent was split between Schwinn and their painted-over Yeti models. This time was seen by many as the golden age of racing, and many felt the sport was going to become mainstream.
AS THE OWNERSHIP GROUP OF SCHWINN AND CO. STARTED TO LOSE ITS WAY, A FEW EMPLOYEES BEGAN TO SEE THE SIGNS AND POSITION THEMSELVES TO TAKE YETI BACK TO ITS ROOTS, AND ONCE AGAIN BECOME AN INDEPENDENT MANUFACTURER.
99 - 02 Independent State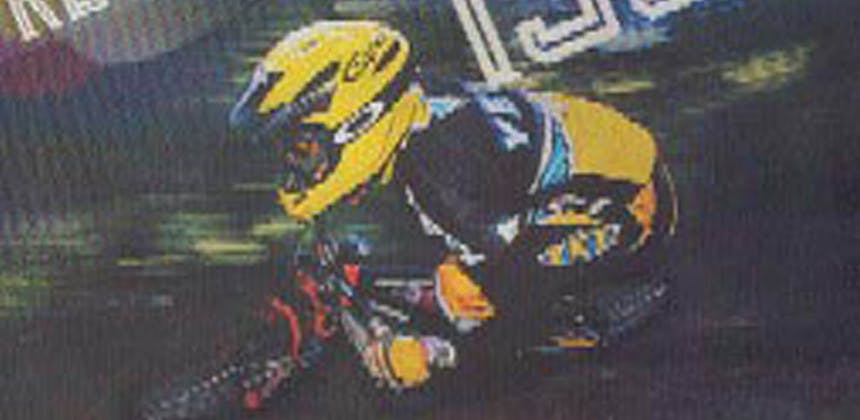 THIS RAGTAG BUNCH WAS TASKED WITH TAKING YETI BACK TO INDEPENDENT STATUS AND CRAFTING A WHOLE NEW GENERATION OF BIKES.