July 21-23 2023 - Montezuma County, CO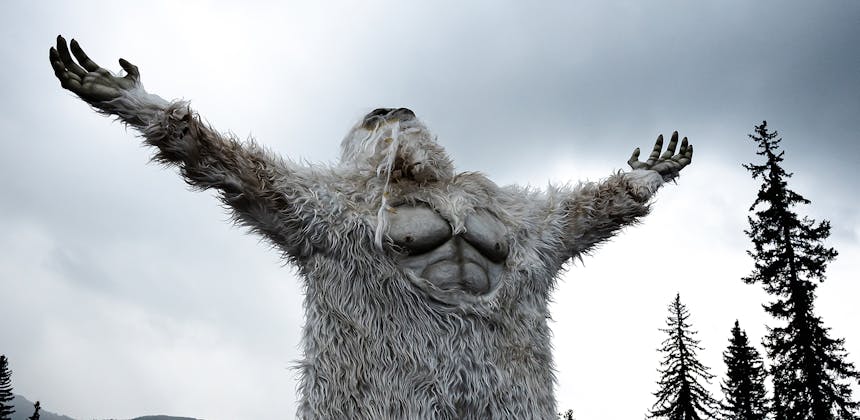 Yeti Gathering Returns
For the 22nd Annual Yeti Gathering, we've nestled ourselves in Montezuma County, Colorado. This high-alpine, pine-strewn area sits at over 8,000ft above sea level with peaks topping at over 13,000-ft offering gorgeous alpine riding.
Register Now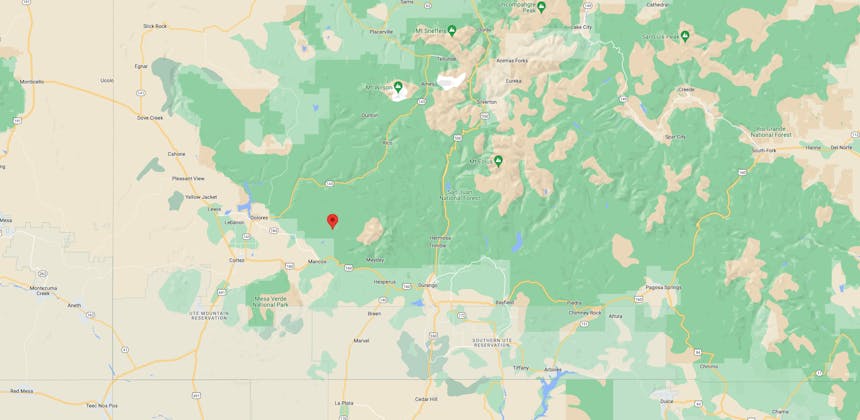 Location: Montezuma County, CO.
Signage will guide you to the camping location. The campsite is located 15 miles outside the town of Mancos. Look for the Turq Yeti signs with Yeti hands, and you'll get where you need to go. 
Google Map Link
We're off the grid this year
Which means packing like you're going on a camping trip in the mountains. We'll have plenty of amenities including breakfast, dinner, drinks, a store to purchase Yeti apparel, portable toilets, a potable water truck, and a generator powering the main event tent area, however you are responsible for your own lunch and snacks. We also recommend to come prepared with your own water and powering solutions, just in case. While there might be a vacant outlet from time to time, we cannot guarantee the ability to charge devices, including E-MTB batteries.
The Mayo clinic suggest 3.7L of water per day – but we will be at elevation and exerting ourselves so many people will require more water than that. Drinking water is one of the best things you can do to help mitigate altitude sickness as well.
Be prepared to camp for the weekend and manage a wide variety of weather. A shelter that can provide shade from the sun as well as a passing thunderstorm is recommended. We also recommend sunscreen and a wide variety of layers as temperatures can swing wildly from blazing hot to cold throughout the day. Appropriate gear will make you much more comfortable and safe through the weekend.
Support
We will have ride leaders and sweeps, including an EMS support on each of our rides, who will be equipped with first aid and GPS communicators. However, please remember that rescues in the mountains can be complicated and slow, so we encourage everyone to please ride within their limits. Also, even though we're providing support, this doesn't mean we can ride without your our supplies. Please plan on being self-sufficient and prepared to navigate and finish the ride as you would if you were out on your own.
Bikes
Please make sure your bike is dialed. Nobody wants to be that "guy" on the group ride that hits the first descent just to find out your brakes are cooked. We highly recommend you or your local shop service your bike and equipment in preparation for the event. A clean and properly tuned bike will ensure more miles of shred-induced smiles.
Personal Locators & Trackers
We are in a remote area without reliable cell service. If you have a personal locator (Spot Tracker or Garmin InReach), it would be a great idea to bring it along.
Colorado Search and Rescue Fund
The dedicated volunteer search and rescue (SAR) professionals across Colorado are ready to mobilize to help those in the Colorado backcountry. Our Colorado Outdoor Recreation Search and Rescue (CORSAR) contribution supplies reimbursements to SAR teams for costs incurred while conducting search and rescue operations. It provides funding for the purchase of search and rescue-related equipment. Because of your support and the tremendous generosity of our search and rescue responders, Colorado is a safer place to play.
Read more about how this program works. It's $3 for a year and $12 for a 5-year card:https://cdola.colorado.gov/funding-programs/search-and-rescue-fund
Wildlife & Dogs
Be aware respect that we'll be sharing the area with moose, bears, deer and plenty of other wildlife. If you choose to bring your dog, it must be on a leash and well-behaved.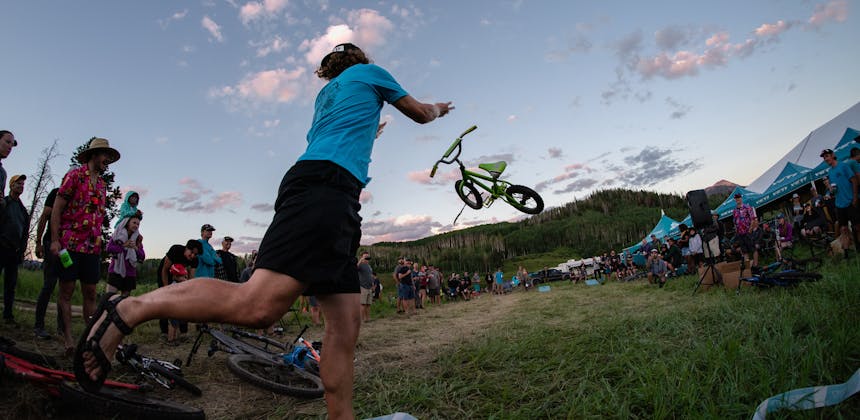 SCHEDULE OF EVENTS
Thursday, July 20
1:30pm - 6:30pm: Packet Pick-Up @ Registration HQ (Main Tent)
Friday, July 21
9 a.m. – 6:30 p.m.  – Packet Pick-Up & Registration HQ (Main Tent)
3 p.m. – 6 p.m. – Apparel Store (subject to change closer to event)
5 p.m. – 9 p.m. – Serving Beer
5:30 p.m. – 7:30 p.m. – Dinner
8:38 p.m. – Sunset
Saturday, July 22
7:30 a.m. – 9:30 a.m. – Breakfast
8 a.m. – 10 a.m. – Apparel Store
8:30 a.m. – 9 a.m. – Advanced and Intermediate Rides Depart
3 p.m. 5 p.m. – Apparel Store (subject to change closer to event)
3:30 p.m. – 5 p.m. – Hoogaritas and Chips and Salsa
5 p.m. – 9 p.m. – Serving Beer
5:30 p.m. – 7:30 p.m. – Dinner – (Bring your bike for the group photo)
7 p.m. – Group Photo
7:30 p.m. – Festivities Commence/Games/Music
8:40 p.m. – Sunset
Sunday, July 23
7:30 a.m. – 9:30 a.m. – Breakfast
9 a.m. – 9:30 a.m. Apparel Store (subject to change closer to the event)
Then we kick you out...
Register Now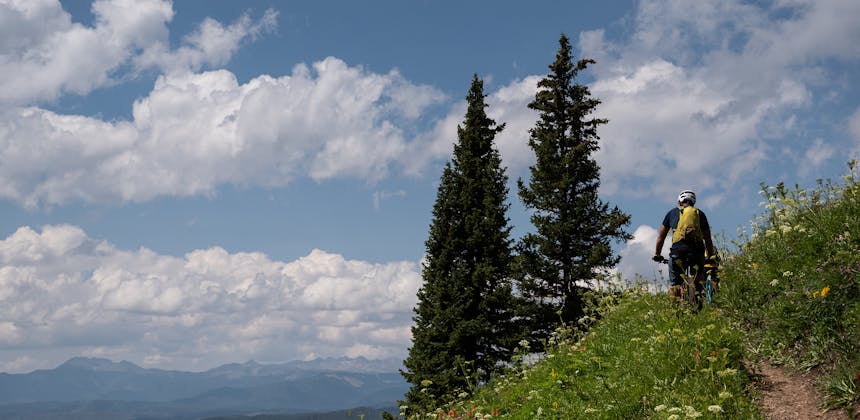 THE RIDE
You have two ride options this year, both offering beautiful views of the Colorado mountains. This year the Intermediate ride shares most of its route with the Advanced ride, but cuts out the top portion of the climb so you can save your legs for the mini bike races Saturday evening. E-Bikes are not allowed on either of this year's gathering routes, however there are some great e-legal trails that can be ridden from camp.
ADVANCED RIDE — CHECK OUT THE ROUTE HERE
We'll ride from camp and immediately get onto the Chicken Creek singletrack. From there the route connects to the Aspen Loop to begin our gradual and beautiful 11-mile climb to the top of West Mancos Trail. At this point we'll have an aid station waiting for you with alpine views and all the goodies you need to enjoy the descent ahead. We will descend down a section of the Mancos Spur which was part of the Colorado Trail as it was conceived in the 1990s and is shown on original maps of the CT. This portion is a classic southwest Colorado descent with a healthy mix of rocky, technical and fast, flowing sections. About midway down West Mancos, we will split left onto Box Canyon, a flowing scenic trail meandering through meadows and lakes that will take us down to the valley floor. After a punchy climb up to the rim of the mesa there will be an easy 1 mile downhill singletrack cruise back to camp to get back onto the rim where the camp is waiting with Hoogaritas and cold beer.
INTERMEDIATE RIDE—CHECK OUT THE ROUTE HERE
The Intermediate Ride will be the same as the Advanced ride, except instead of continuing up the Aspen Loop to the top of West Mancos, we will jump onto the West Mancos Trail midway down. This cuts off about 4 miles of trail. This still a big day in the backcountry, so be prepared for 3-5 hours on your bike. If this is still more than you bargained for, there is a vast trail network rideable from camp and we would be happy to point you in the direction of some smaller loops.
Register Now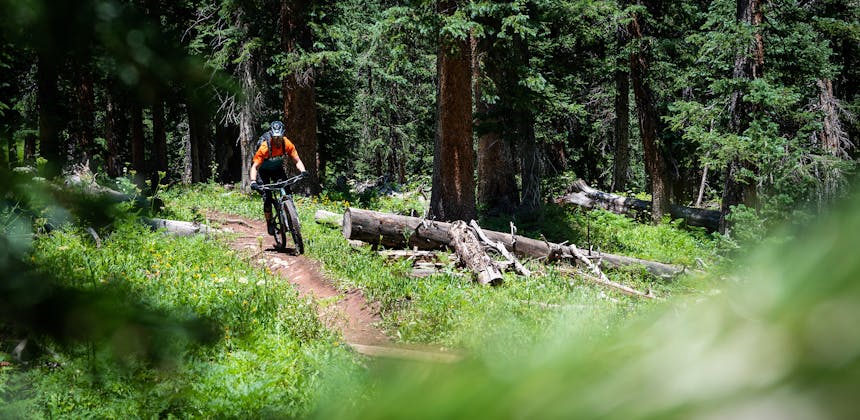 Refund Policy:
We typically aren't big fans of policies, but with past gatherings, we have sold out in less than two weeks, had a big waitlist, and had some folks cancel late enough that we couldn't fill the spots. So, with that as the backdrop, here's how we'll handle it this year. Of course, call us if you need special consideration.
- Over 21 days before the event: full refund, less $25 administration fee.
- 7 to 21 days before the event: 50% refund.
- Seven or fewer days before the event or "no show": no refund.
If you have questions about what pass you should purchase, email info@yeticycles.com before taking the plunge.
Register Now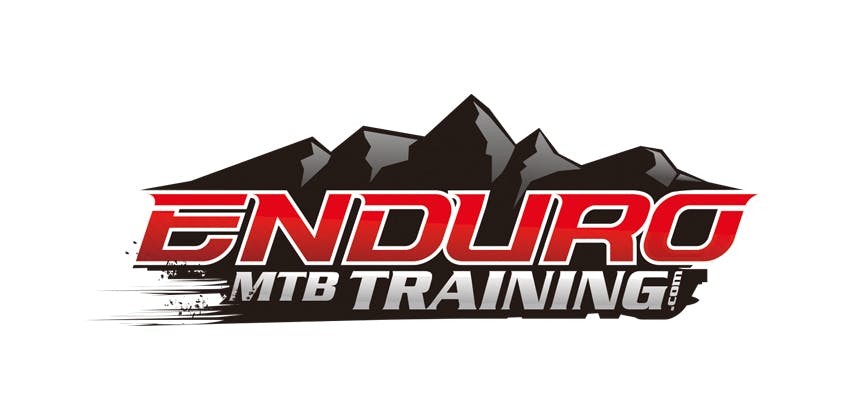 TRAINING PROGRAM
This year we partnered with a long-time friend of the brand, Dee Tidwell to provide a 90-day ready-to-race training program to get you ready for the big ride. Sign-up with the link below and enter the code: YETIturqride to save $64 off the normal price.
Register For The Training Program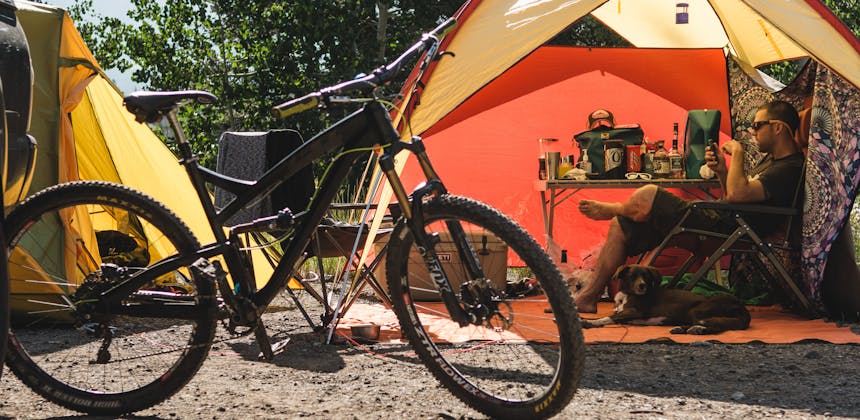 Camping and Parking
Space will not be an issue this year but we do need to be respectful of the US Forest Service land we are on this year. 
Please be considerate of the environment when you chose to set up camp.
Listen to Yeti employees about where not to park — we have worked closely with the USFS to get this special spot, and we need to respect their directions and wishes. Thank you! 
Showers
Nada. Zip. Zilch. Unless you bring your own shower, we will not be providing showers this year.
Camping Arrival & Departure
You may start showing up at 1 pm on Thursday, July 20th. Please don't arrive before. The USFS has asked us to depart the area by Sunday evening, July 23rd. There are plenty of dispersed camping spots in the area that you can move to and use if you want to stay longer. Note that if you choose to arrive earlier than Thursday, July 20th a Yeti employee will likely ask you to move if you're in the way of key Gathering set equipment, as we will be actively preparing for the weekend.
No fires are allowed in campsites
We will have a fire ban for the entirety of the event. This is a hard rule and will be enforced. Thanks in advance for your understanding. We want to respect the land and don't want to start a forest fire.
Finally, Leave No Trace
Read more about the seven principles of Leave No Trace and help us make this an event that creates as little impact on the land as possible:https://www.nps.gov/articles/leave-no-trace-seven-principles.htm
Register Now
As a reminder...
-Yeti bike ownership is required to attend Yeti Gathering
- Passes are required for all attendees 8 years old and up
- Kids are welcome, this is a family-friendly event
- Pets are welcome at this year's Yeti Gathering
And most importantly...
Thanks to all the Yeti freaks out there that drive us to build kick-ass mountain bikes
See you in July.