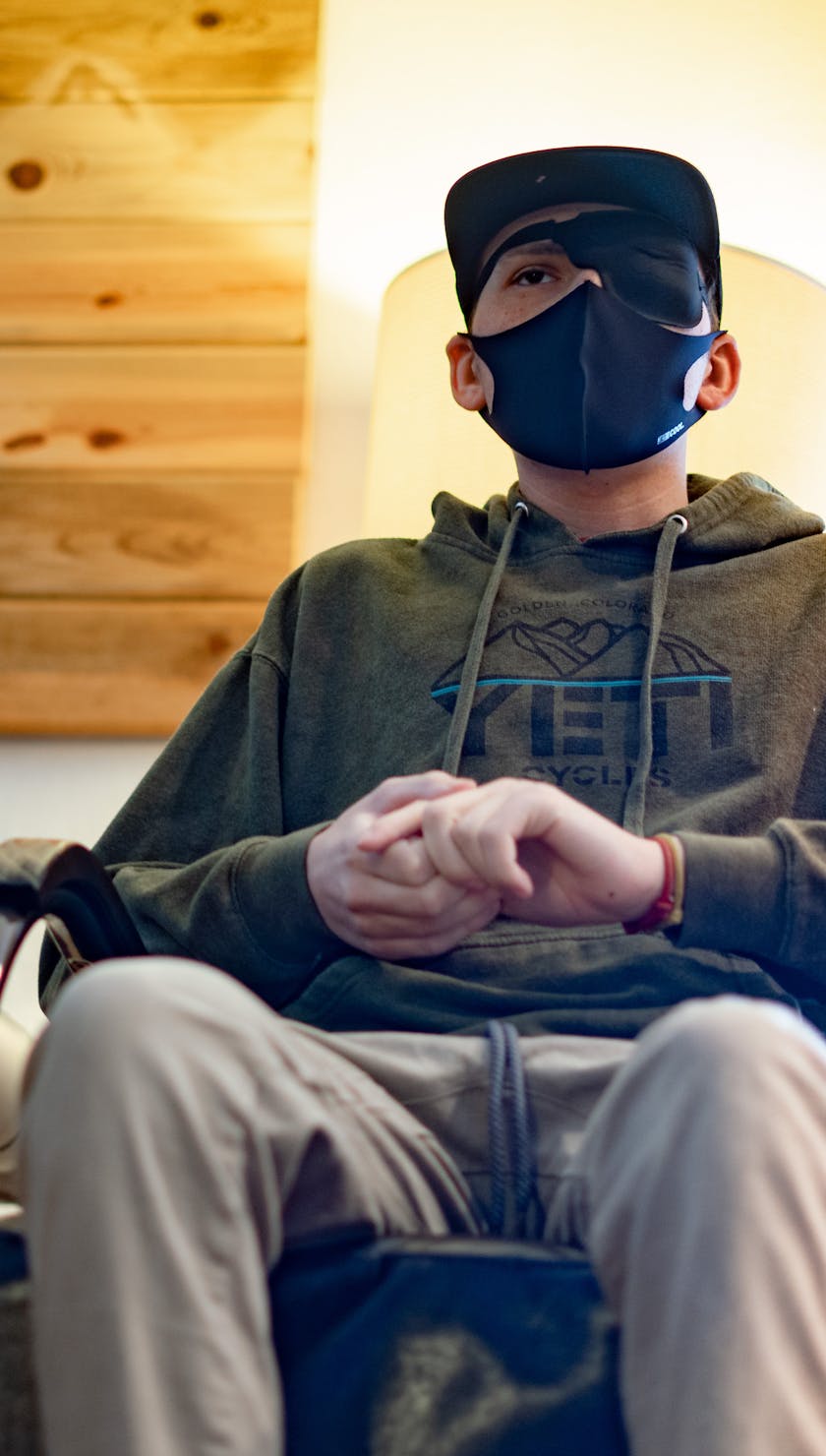 Help Support The Sam Schneider Legacy and get entered to Win a Custom SB150.

Click here to enter
This is a story for those who have battled cancer. For those who have watched a loved one fight through the pain. For parents who have walked the unbearable line of watching their child lose their vibrancy years too soon. For those who have experienced the joy, the challenge, the safe haven, community, and growth that mountain biking has brought them. This is a story about a simple idea to use the thread of a yellow jersey to bring together the world's best mountain bikers into one place for something bigger than each of them.
This is Sam's story.
Sam Schneider entered the halls of Yeti Cycles at 18 years old. Sam took his first mountain bike ride eight years earlier with his uncle on Green Mountain, just a few miles from Yeti's headquarters in Golden, Colorado. As youth mountain bike leagues flourished, so did Sam's involvement and love for racing. 
"I love the challenge with mountain bike racing and how it gives you the motivation to be a better version of yourself. You really gotta train and better yourself physically. It's a mental challenge to get through the race. Even if you don't think you can, you just keep going."

Sam Schneider
Fresh out of high school, Sam was eager to live the dream he sketched out for himself his sophomore year. A van, a bike, and limitless time and space to travel and ride. But Sam realized he needed money to do this. So he asked his high school mountain bike coach, Clancy Ryburn, for some insight and applied for a job at Yeti Cycles in the warehouse.
"This is how I met some of the best riders I've ever seen in my life. Those guys at Yeti are fast, ruthless, and insane. Riding behind them helped me improve and learn a lot of skills, and eventually transition from XC to enduro. It was a great way to bond with my coworkers."

Sam Schneider
Whether it was a lunch ride or spirited round of ping pong, Sam was constantly pushed by his coworkers to excel in a competitive environment. After a year and a half, Sam bid farewell to the turquoise halls and flew the coop to enter his first year of an undergraduate program at Fort Lewis College in Durango, Colorado.
With his sights set on an engineering degree, Sam wasted no time getting acquainted with the mountain bike program, racing his first downhill events. "My last race was in Crested Butte and I actually won the DH race. It felt really good and my friends got to watch me win, which was really special."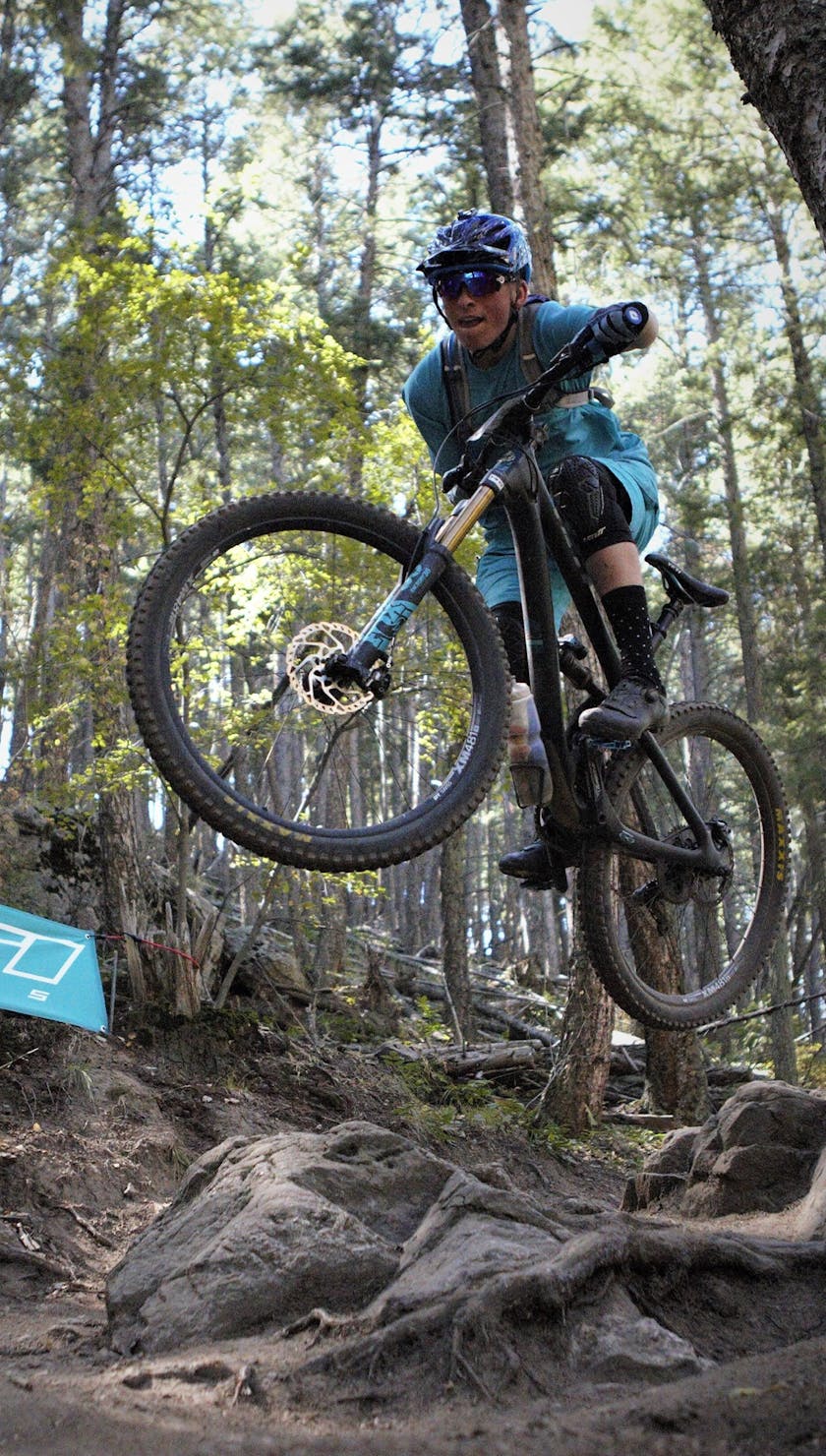 Throughout the previous weeks, Sam had been in and out of the doctor's office. He was experiencing a lot of pain in his hip, neck, and then his wrist, thinking he had just ridden really hard yesterday or that game of basketball must have taken its toll.
On December 11, 2019, Sam was diagnosed with Ewing sarcoma - a rare form of cancer that forms in bones or the soft tissue around bones. There are approximately 200 cases in the United States per year and is most common in boys, ages 10 to 20 years old.
It's not genetic; nearly all Ewing tumor cells contain a gene translocation, which is most simply defined as the swapping of pieces of DNA between chromosomes. When two genes that are not meant to be together translocate, it can change the function of the protein, causing it to work in a completely different manner than it's supposed to. This often activates pathways that promote cancer growth and survival. While most adult cancers often result from what is called a point mutation, pediatric cancers - including more than 90 percent of Ewing sarcomas - are more often caused by translocation. 
"It can be hard to tell what the pain is and what it's coming from. That's why it's important I share this with mountain bikers. We all hit the ground and mountain biking is hard on your body. It's important that you understand what this disease is and how it can easily be missed in its early stages."

Sam Schneider
Fourteen chemotherapy and 31 radiation treatments later, Sam rang the bell on his way out of Children's Hospital in Aurora, Colorado on August 28, 2020. "I was free and in remission which meant all of my cancer was dormant. I got to ride my bike for the first time in months and exercise. I felt amazing for a couple of months."
Respite for Sam and his family was short-lived. Sam started to notice trouble with his vision in October but waited until after his younger brother's birthday to let his family know.
"That was one of the nicest things he ever did for me. It was my birthday on October 17 – and that's when his eye was causing issues. He knew something was wrong. He waited to say anything just so I could have my birthday and spend time with him," Jay Schneider said. "It meant so much to me that he made that sacrifice for me to be happy. That's just always what he's been like. He always put everyone before him, no matter what."
After running a bunch of tests, an MRI showed that Sam's cancer was rapidly returning everywhere. "It was really hard to have such little time after battling for so long. That was the worst part. I got a little taste of being back. Reality is reality. The doctors told me that it's never going to go away again."
Sam's family prepped for some of the hardest months of their lives. Meanwhile, Sam was scheming up something bigger than himself.
"I wanted to make something different. I thought, how about we get as many people as we can together to spread awareness for Ewings. We could get as many Pros and riders together in a video. I wanted to design a yellow jersey that everybody could wear that would tie it all together."

Sam Schneider
Sam and Jay dreamed up the concept and reached out to some people he had crossed paths with during his stint working at Yeti. He rang Sarah Rawley, a former colleague from Yeti's marketing department, and without sharing the impetus behind the call, began to describe his vision for a video that superseded anything the industry had seen before.
"Sometimes you don't get to choose your projects. They choose you. When Sam shared his idea, I knew we would do whatever it would take to bring it into existence. Don't get me wrong, Sam provided a very tall order of riders to incorporate into the video, but knowing Sam's outlook and tenacity, I knew it was time to unapologetically pull out all the stops to make it happen," Rawley said.
Riders of the likes of Richie Rude, Brandon Semenuk, Jared Graves, Mitch Ropelato, Kate Courtney, Reed Boggs, Sam Soriana, Nate Hills, Veronique Sandler, and Mike Gieze were reached out to (and the list continued to grow). Sam's support team expanded to encompass some of the best mountain bike athletes in the world who passed along kind words and affirmations for Sam to keep fighting and that they were thinking of him throughout this time.
With a pack of colored pencils in hand, Sam illustrated his jersey with motifs of the yellow ribbon, representing sarcoma or bone cancer, and the mountains that raised him. While the rest of the bike industry experienced unprecedented demand and delays in the midst of a global pandemic, there was a stroke of good luck that wove its way throughout the process of shortened lead times, hearing back from riders at the right time, and a Fed-Ex miracle that to this day left us puzzled on how the jerseys landed just in time for Sam's big day of filming with his crew at Yeti.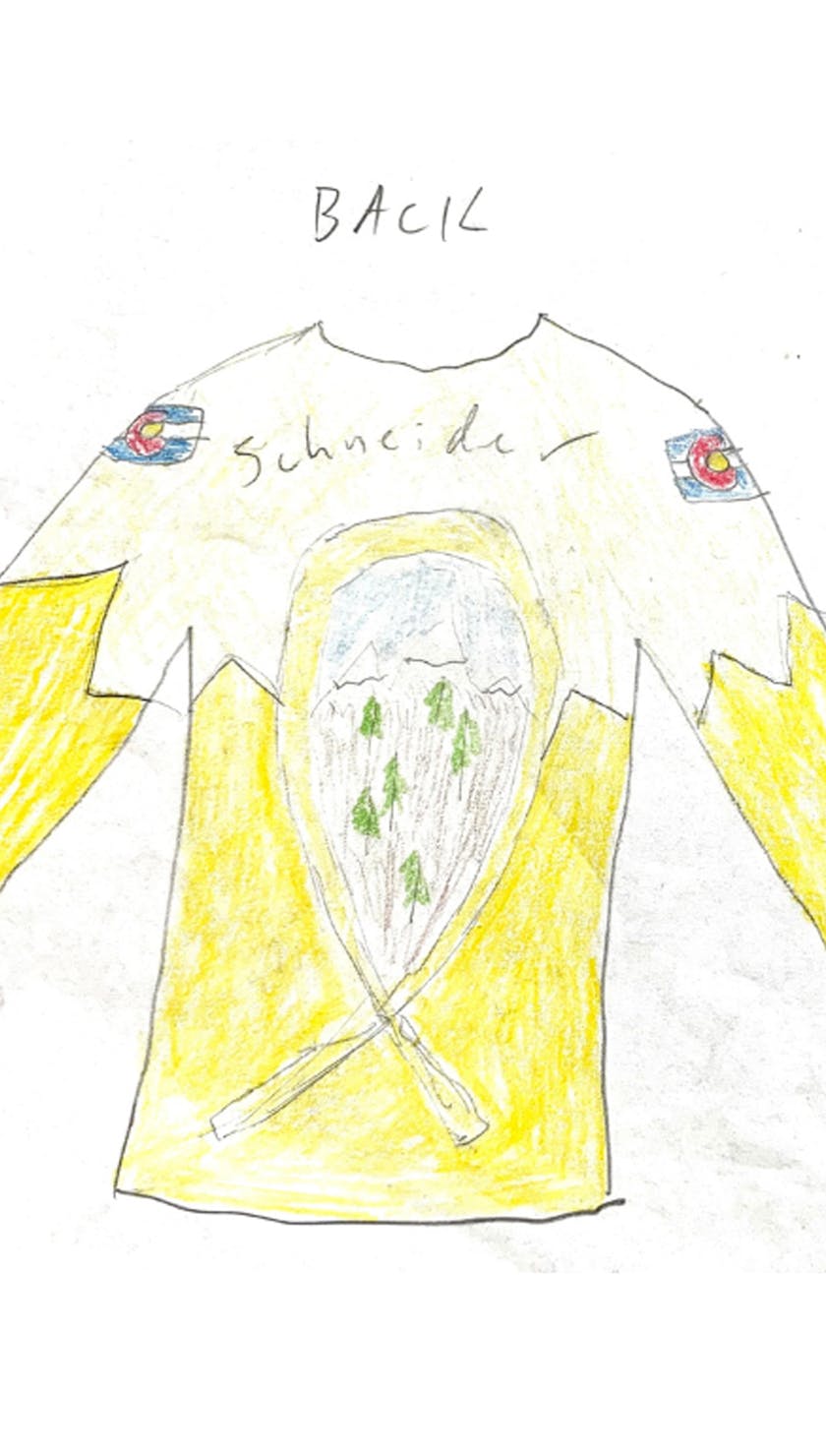 "It's been blowing me away what's happened and what we've gotten done. The industry has never seen something like this, regardless of sponsors, what bike they ride, or who they ride for. It shows how awesome the mountain bike community is and how it can really bring people together to support one thing."

Sam Schneider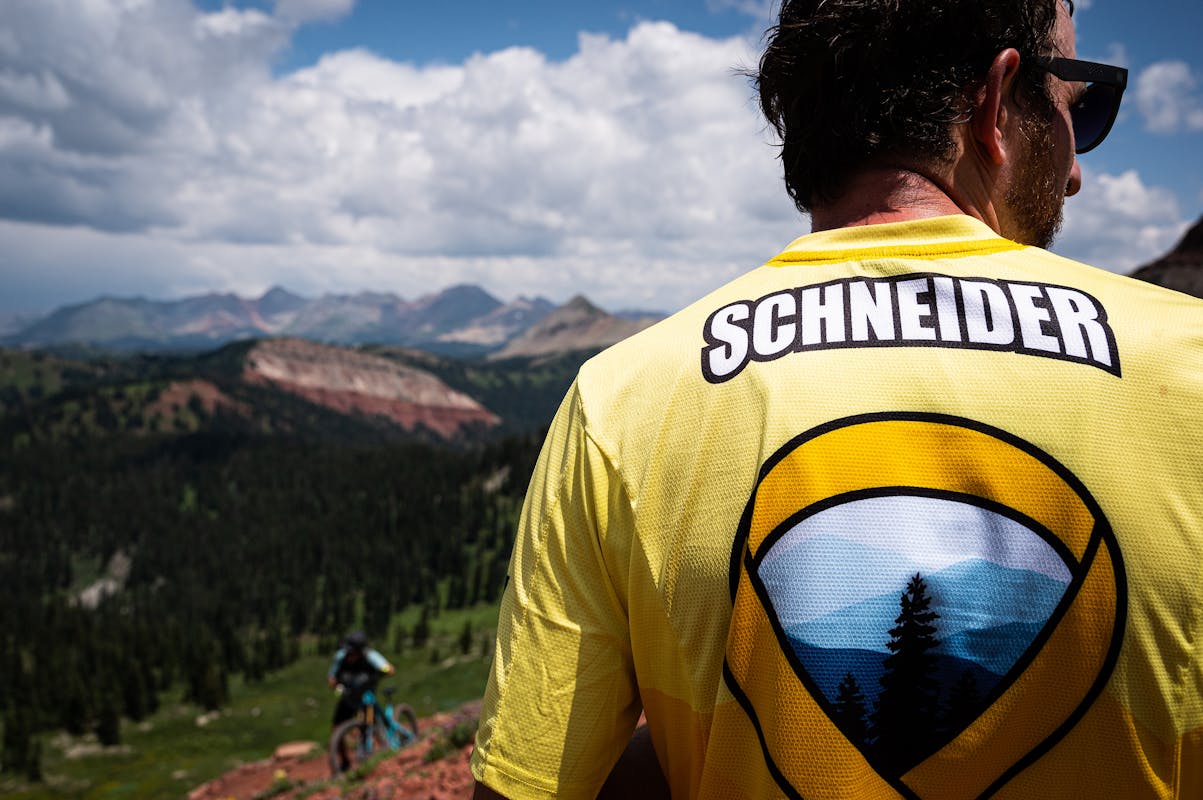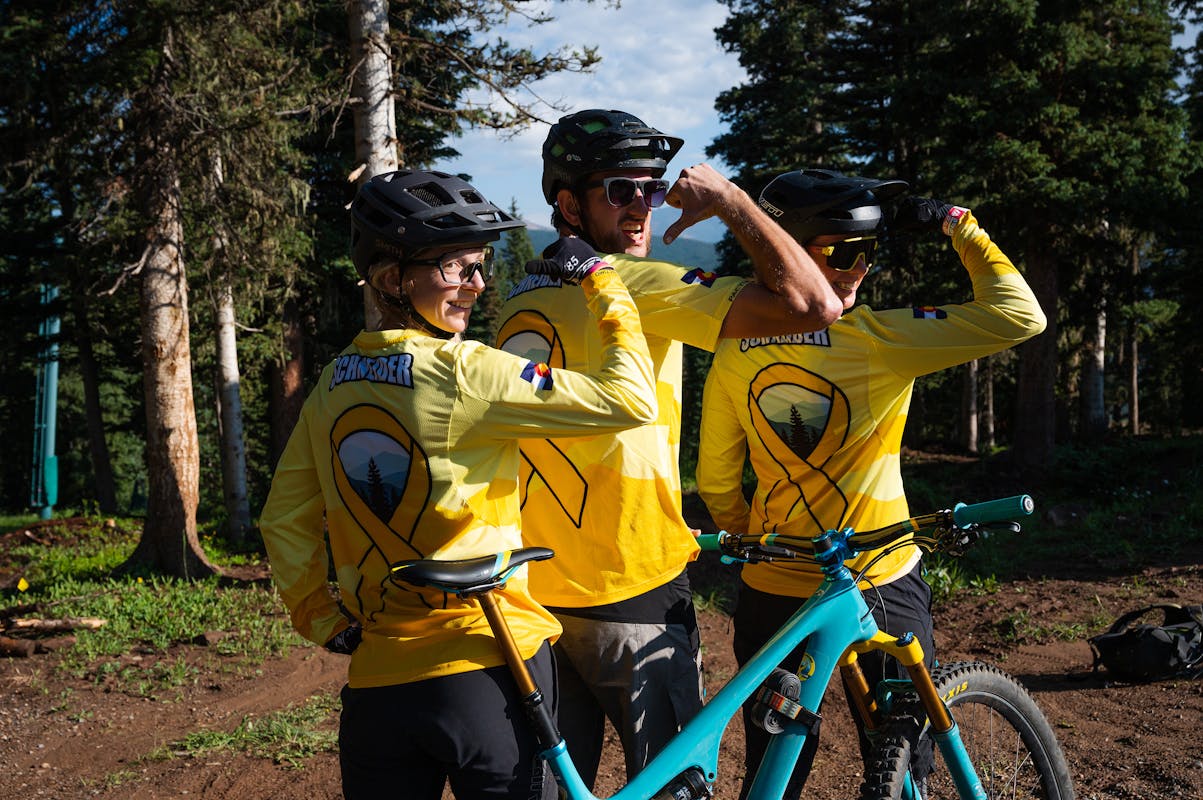 When Sam sat down in front of the camera to share his story back at home on January 31, 2021, two riders popped in for a quick chat via FaceTime. First, R-Dog called to tell Sam "what's up" and tell him how much he appreciated receiving a jersey in the mail. The visceral response from Sam was priceless. Later that afternoon, Jared Graves called to say hi and share some thoughtful words. The look that you have when meeting your hero for the first time completely enveloped Sam and his family. Jared had recently overcome his own bout with brain cancer a few months prior. While cancers have many different forms and prognoses, Jared knew what it felt like to battle one of life's scariest prospects. Hearing from Jared meant the world to Sam.
Over the next couple of weeks, clips from riders began to roll in, and light up Sam for brief moments in between increased duration of rest. Sam had poured his heart and soul into this project and the weekend of filming was the last push to effectuate his concept.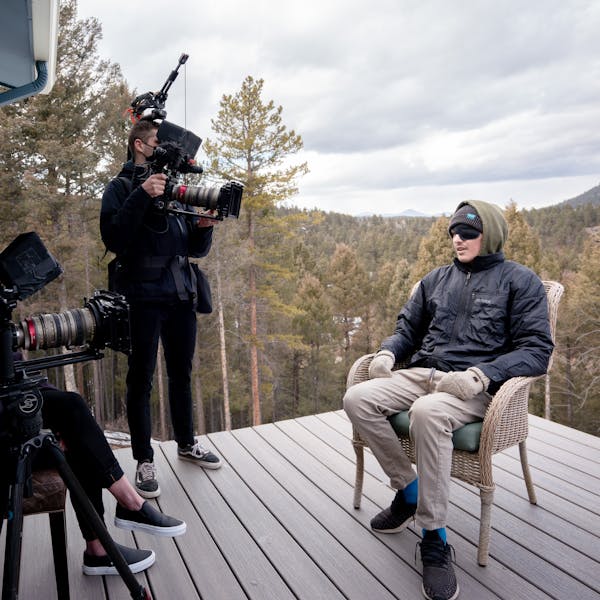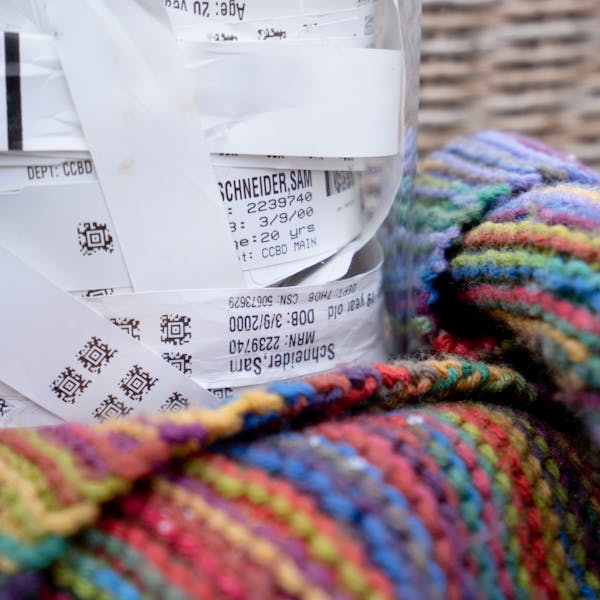 "It's what gets him through the day, planning for this. I don't know if he realizes he's leaving a legacy, but for our family, he's leaving his legacy and there are no words for how much it means to him and in turn to us - to be able to have him share this message and his love for mountain biking and the people who have touched his life and made him who he is,"

Beth Schneider, Sam's mom.
A couple of weeks later, Sam passed peacefully the morning of February 16, 2021, three weeks shy of his 21st birthday on March 9. While Sam's closest friends and family felt the loss of his presence, the mountain bike community became a little more connected through the thread of the yellow jersey, and Sam's remarkable story that makes us remember what's most important in life. 
"Don't lollygag around with what you want to do. You gotta get it done, cause you never know what's going to happen. Always be thankful for what you're doing and that you're able to do it. Spend your time doing what you love and cherish the time you have with those you love."

Sam Schneider
To learn more and donate to The Sam Schneider Legacy to raise funds for Ewing sarcoma research, raise awareness for Ewing sarcoma and pediatric cancers, provide education for medical professionals, and tell Sam's story, visit curesearch.org/samsstory.
Writer's Note:
You truly are an extraordinary human Sam. What started as a ripple has become a wave. In an industry that sees so much content flowing through its channels, you have kicked off something bigger than any one of us. You were wise beyond your years, battled hard, and never once made anyone feel bad or insignificant in comparison to what you were going through. Your fiery spirit lives on through The Sam Schneider Legacy and the SAMDURO, another one of your grandiose ideas that have pushed us to reach for the stars and will continue to make an impact and touch the lives of many. The inaugural SAMDURO is scheduled to launch July 9-10 at Keystone Resort in Colorado, part of the Revolution Enduro Series.
To every athlete who answered an email, filmed in Sam's jersey, sent positive thoughts and energy to Sam and his family, paid tribute to Sam's impact on the world, your contribution will forever be etched in The Sam Schneider Legacy and mountain bike community as a whole. To the Yeti family who never once hesitated at our many requests, thank you for your unconditional support. And to Joey Schusler, Wiley Kaupas, and Josh Conroy for jumping in on a whim with your cameras to capture Sam's story. Wiley, thank you for saying yes to editing a story that was daunting in its magnitude and meaning for the people closest to it. The result is something that has left a mark on this world.
We have jerseys for sale and we will happily include a sticker with your purchase. Here is the order form forms.gle/FUqo7WfCqbCqVKn57