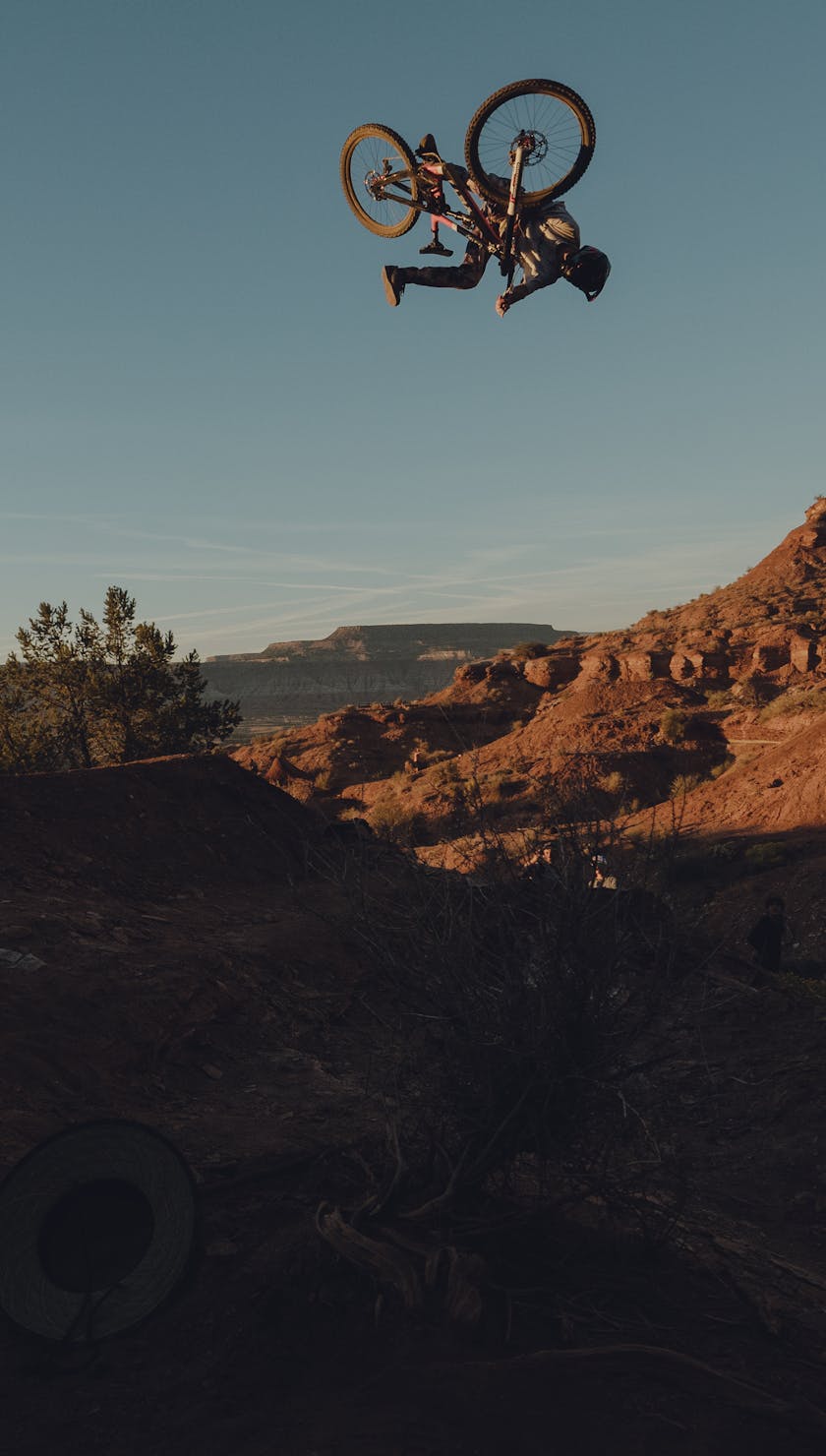 Red Bull Rampage 2022
Reed Boggs was back for another year after his third-place finish in 2021.   
A return of the 2013 site, but a new location for Boggs' fourth Rampage appearance, Reed and his builders, Alan Mandell and Caleb Holonko, made impressive work crafting his line on the looker's right ridge, featuring a 64 ft drop.  
"Finding the line that encloses the right spacing and flow to do what you want to is key. We have built some weird shit in years past where sections are too tight, or rushed or whatever. You can't just slide in, with no control, and hope you are lined-up to yank up on that backflip. Reed's ideas are on the winning spot, and we know what to do for next year"

Alan Mandell, Builder
With the bottom third of Reed's run complete, the focus later on the week was to dial in the top section and to get the speed right. After that, the only thing left was to hit the big drop. In the last hour of daylight, Reed, Kurt Sorge, Ethan Nell, and Alex Volokhov began to session their big drops, dubbed Mt Rushmore. Reed, the last to go, had three test run-ins, fine-tuning the lip, g-out, and speed. Finally, he let 'er rip, and it was spot on. After two more practice hits for good measure, Reed packed it in for the final day of building and practice.  
The morning of Rampage, and the energy was buzzing, riders all around the ridge were putting their final touches in before their official run, and Boggs honing the big drop, and sending it deep, holding back the back flip for his comp run.  
"Rider number 16. Three. Two. One."  
"Time to send"  
"I saw it in my head. I already did it in my head. As soon as I went off the lip, it was like, alright, see you at the bottom. Before they count me down, I know what the next couple minutes look like, and I am seeing that flip the entire time leading up to it."

Reed Boggs
Boggs laced together his line to perfection, and the stoke was visible. His first run earned him 82.66 points, and with two yet to drop, put him in third place. Semenuk finished his first run with a score of 84, just barely knocking Reed off the podium. Despite the podium bump, he chose to stick with the first run and call it a day.  
"I set out to do everything I came to do in my first run. After landing the backflip, I knew I would not go out for a second. There is nothing more I wanted to accomplish. I am super stoked with 4th place – I am right up there with Rheeder, Godziek, and Semenuk. I have looked up to those guys my entire life. It is crazy to be in the mix with those legends."

Reed Boggs
With Reed's fourth-place finish, he is guaranteed a spot for the 2023 Rampage to be held at the same venue.
"I know exactly what I want to do next year. I have a plan, and hopefully it's a winning line."

– Alan Mandell, Builder