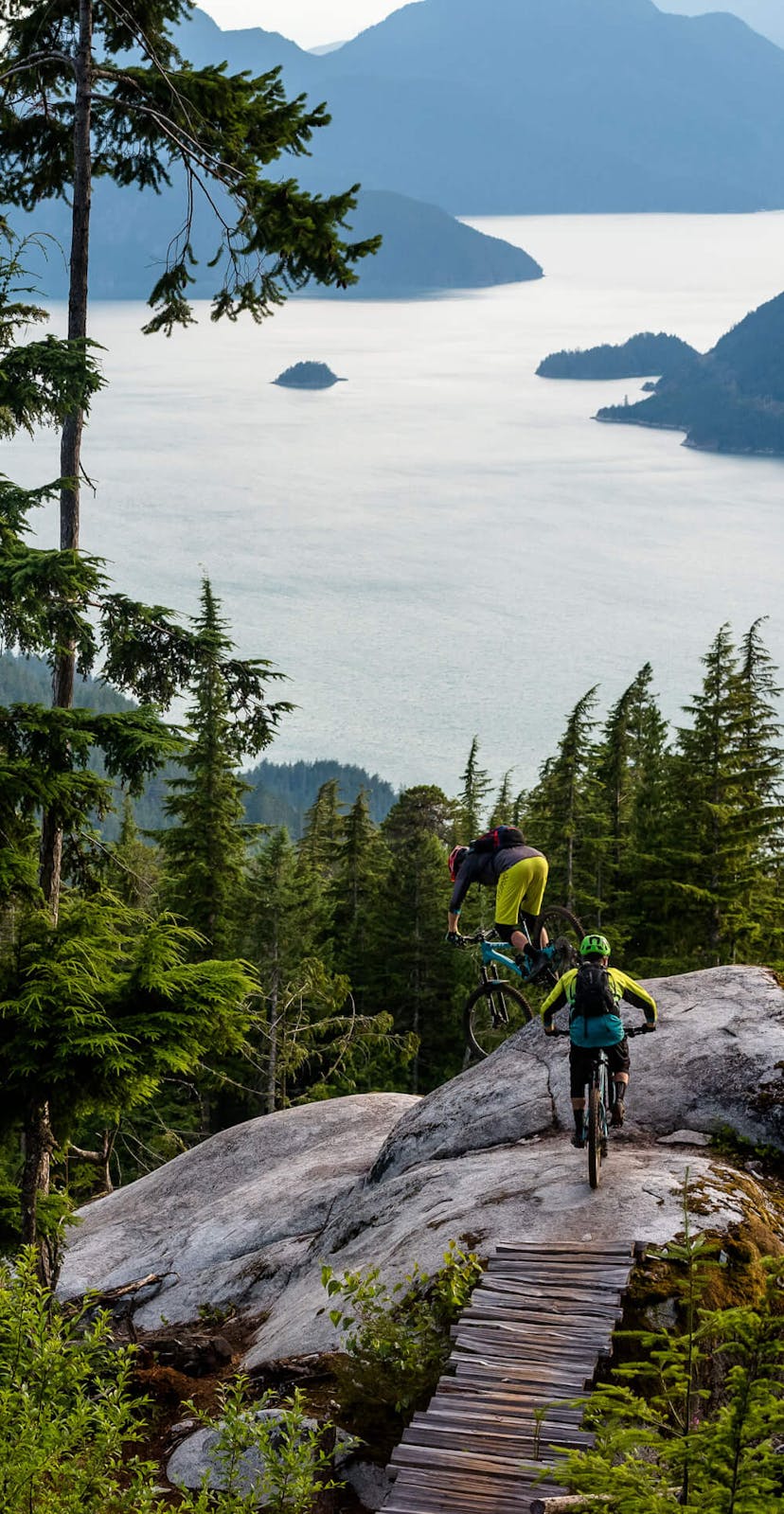 stories
HITCHING THE
COASTAL LOOP
HITCHING THE COASTAL LOOP
SQUAMISH-WHISTLER-PEMBERTON-ABBOTSFORD-VANCOUVER-SQUAMISH – THIS WOULD BE OUR PLANNED ROUTE OVER THE NEXT 5 DAYS. A MIXTURE OF SINGLETRACK, BRUTAL CLIMBS, AND HITCH HIKING COVERING 500KM OF THE SOUTHERN COAST RANGE OF BC.
DAY 1
The smart car pulls away, Ross doubles over in laughter having thought the humble clown car was trying to offer a ride to three hitchhiking mountain bikers. To be fair, Ross had been splayed out on a concrete barrier looking like he was injured or the victim of a roadside exorcism. Bike upturned beside him, his posture of complete exhaustion would prove to be prophetic over the next five days, where we hoped for our thumbs to act as bus fare on a 500KM loop of the Southern Coast Range of BC.
Squamish-Whistler-Pemberton-Abbotsford-Vancouver-Squamish – this would be our planned route. A mixture of singletrack, brutal climbs, fire road and hitch hiking. We assembled our usual motley crew Yeti Ambassadors Ross Measures and Reuben Krabbe, and our buddy Tobin Seagel - with the objective of riding as much singletrack the route could offer. We knew avoiding all the asphalt would be impossible, but we are also keenly familiar with the hospitality of Canadians and placed a heavy bet.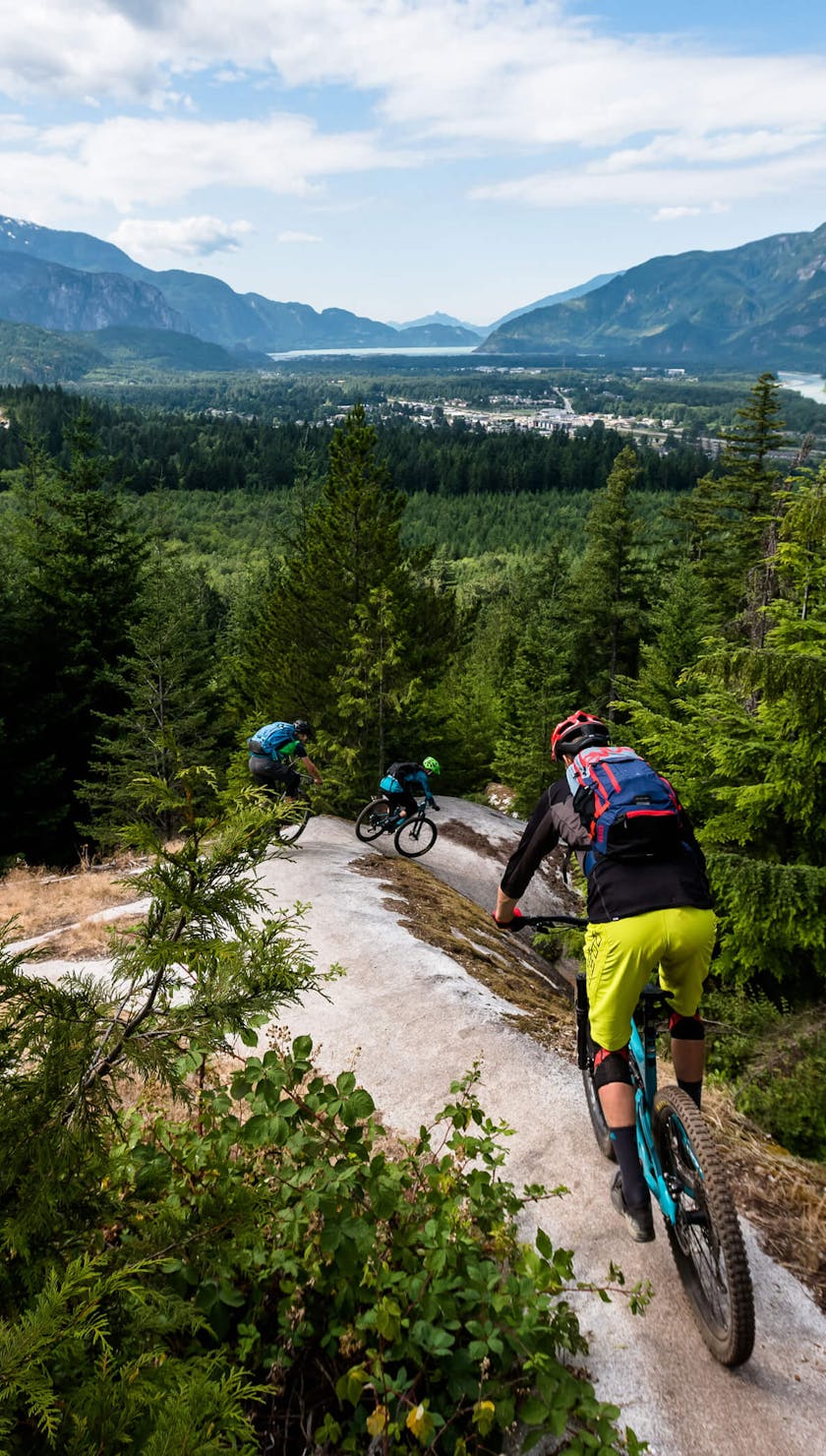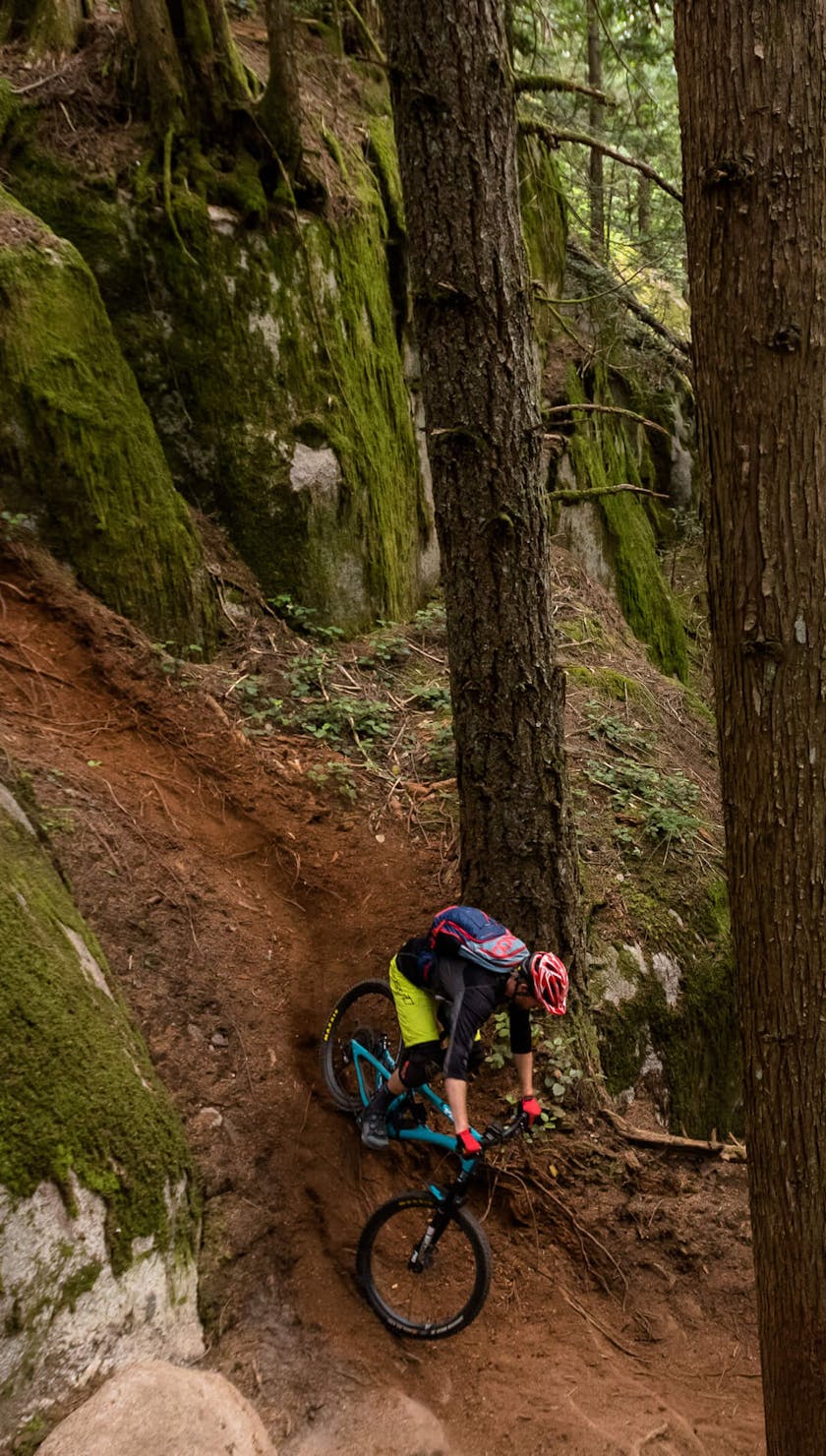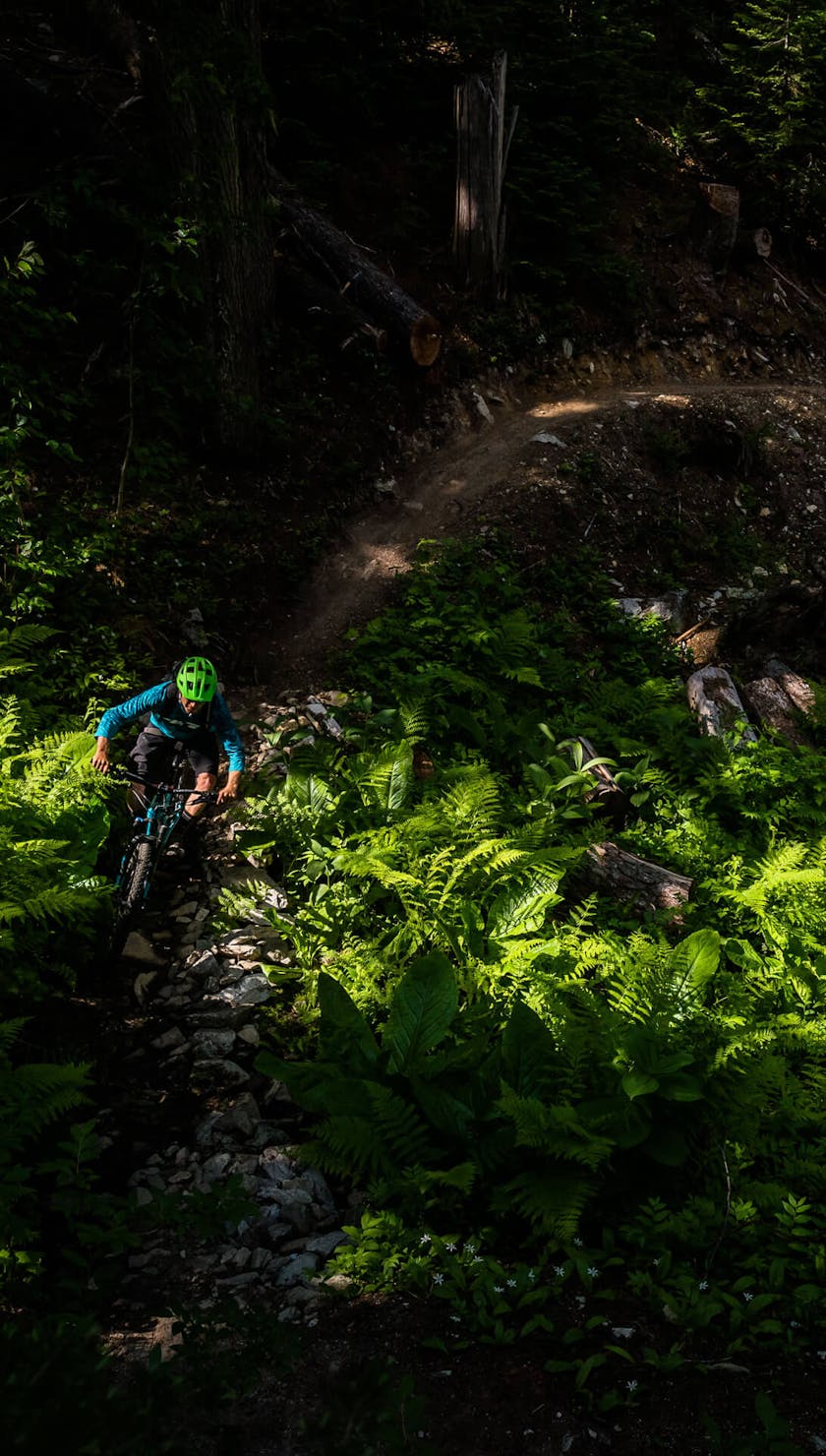 From doorstep that morning we had ridden the every-day diet of the Squamish locals; golden dirt, rooty singletrack, and the famous bedrock slabs that emerge from below the coastal rainforest like buried dinosaur spines. Day one was off to a strong start.
A journey of a thousand miles starts with a single hitch. If it goes right, the trip will go well. If we roll our ankle stepping off our bikes onto the gravely shoulder, or someone tries to abduct us and our bikes, we could fail out of the gates.
OUR TRIO WASN'T TRYING TO PROVE ANYTHING, THIS CARLESS YET CAR-DEPENDENT EXERCISE-IN-EXERCISE WASN'T MEANT TO BE AN ALTRUISTIC VENTURE.
DAY 2
Our trio wasn't trying to prove anything, this carless yet car-dependent exercise-in-exercise wasn't meant to be an altruistic venture to dodge our carbon conscience. If anything, it was a strategic variant on friends' similar trips. They had pedaled every mile of asphalt in between and cherry picked singletrack. In our minds, that sounded like type-two fun. We wanted to use our saddle-sore budget on climbing and descending so we could enjoy the hour-plus descent on Jack The Ripper.
After 1450m climb, we convinced two friends to stitch together a Pemberton-Abbotsford shuttle service, with bribes of beer, hot springing, and money for an air freshener after our sweaty two-day old jerseys' smell had permeated their truck's interior. We pulled it off and the ride was worth it.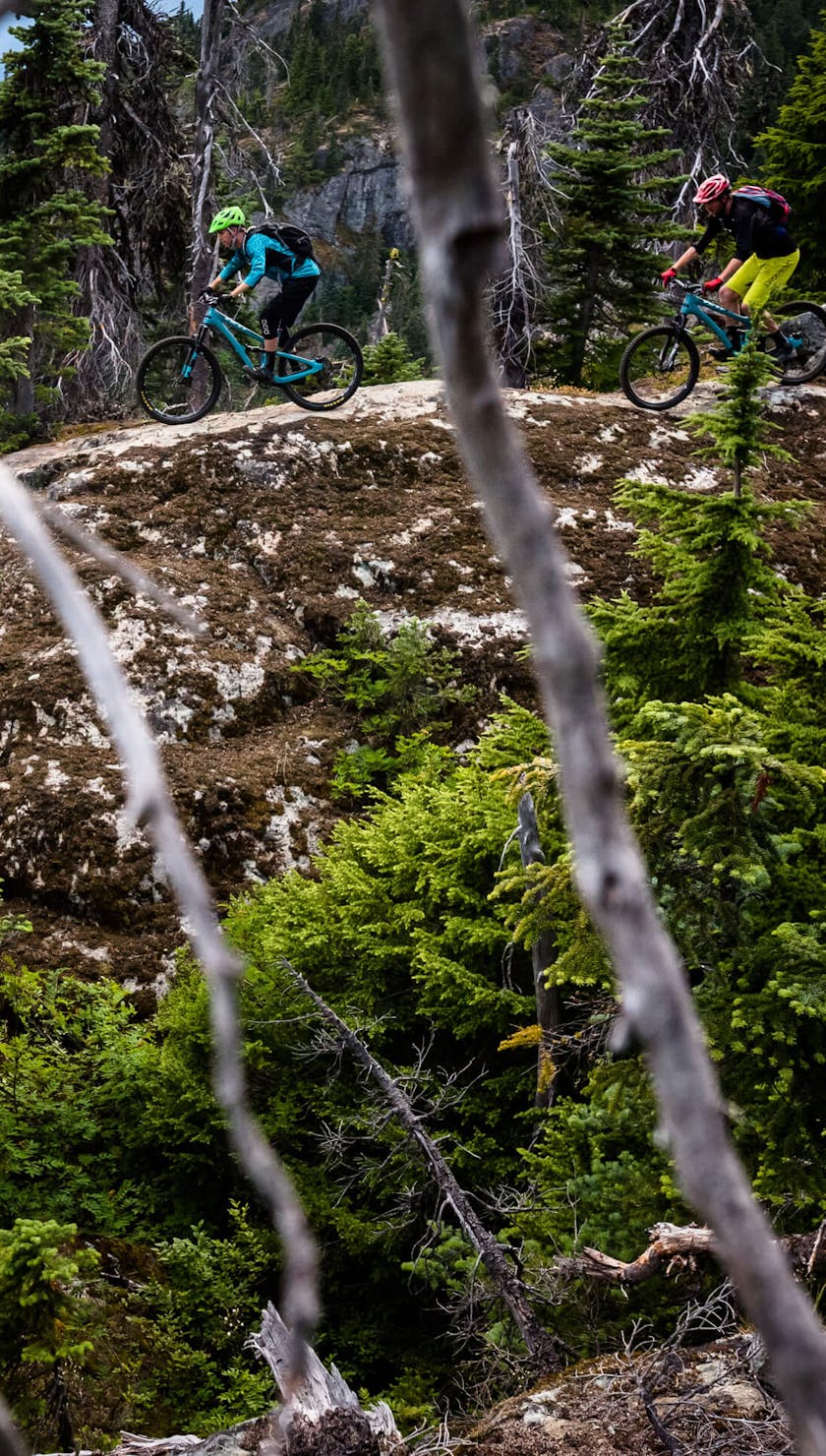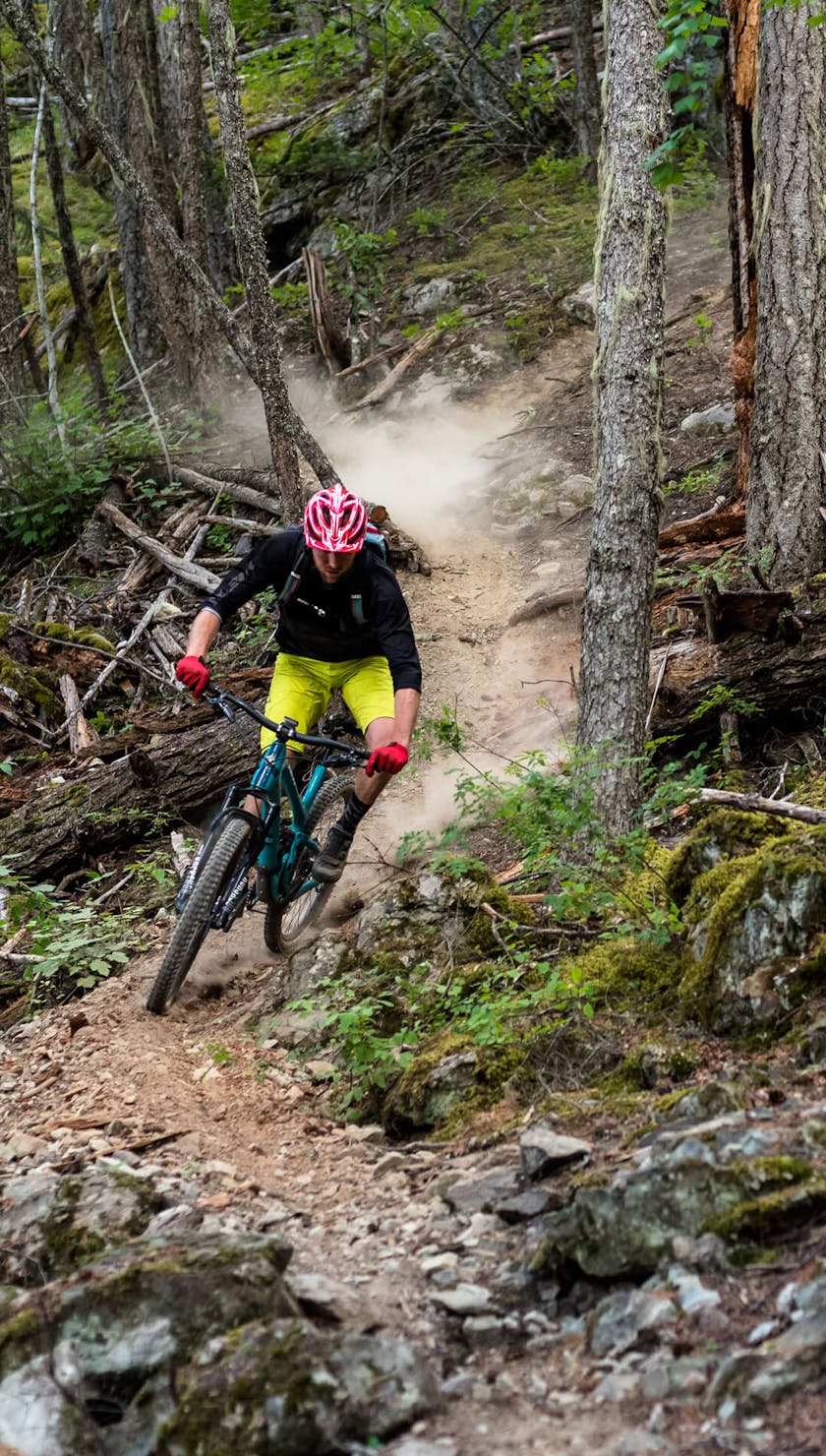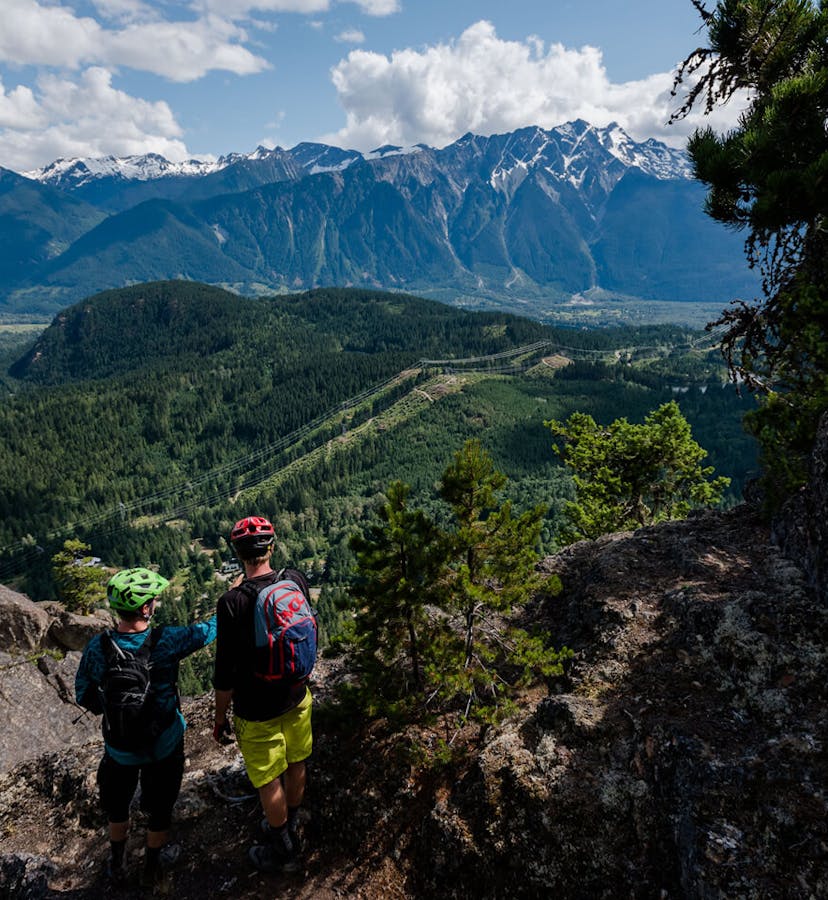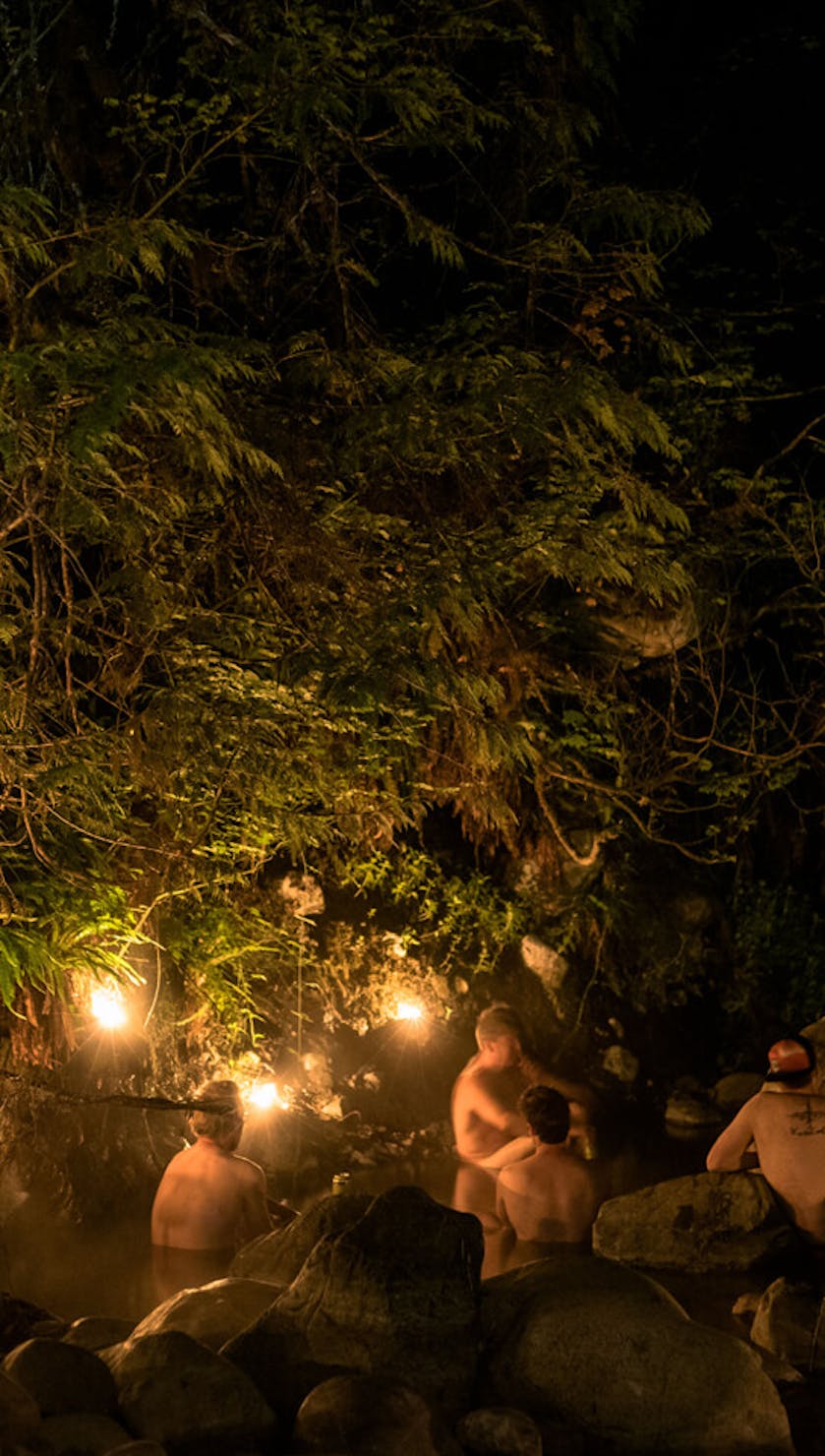 You know those times when you know you're making a terrible decision? When you're consciously aware that you're electing to act in a way that's inexcusably incorrect, and that you'll regret that decision? At the end of day two, I decided to vocalize that I was too tired, and simply was going to bed, rather than walk 100 meters down to the pristine hot springs where we were camped. Tobin and Tyler, our driver, then described how utterly insane that idea truly was, righted my ways, and our group of undead bikers and drivers descended to the sulfuric miracle of nature.
ROLL CALL CAME 4 HOURS LATER, ROUGHLY EIGHT HOURS EARLIER THAN IT SHOULD HAVE, WE'RE SUPPOSED TO MEET OUR DRIVER TYLER HERE.
DAY 3
Roll call came 4 hours later, roughly 8 hours earlier than it should have, we're supposed to meet our second driver Tyler here. We're in a deep valley campsite with no cell service, that's precisely 'Left, third right, then straight at the four-way when you pass the signpost that read Middle of Nowhere'. Miraculously, Tyler pulls into view and we begin bumping along twisted logging roads in eerie forest fire light, I was awoken twice by the sound of my brain hitting the inside of my skull as the truck heaved through potholes.
For non-Coastal folk, there's an entire category of BC riding that you've watched in videos and thought it was Shore or Sea to Sky, but was actually quite far from it. The Valley sits directly inland from Vancouver. Ross, Tobin, and I live within 100km of it, but, we've collectively tallied only nine days of riding in this entire plethora of singletrack. If you can ignore the boisterous noise of Whistler, you'll start hearing the Good News of The Valley.
We pedaled away from the truck at the crack of 11 am. The truck was filthy – we weren't much better off. I swear I sweat out an entire potato chip intact. Ross' eyes were so red from sweat and sunscreen it looked like he had just left a funeral. Tobin outright looked like he could murder me at a couple moments during the climb. Tyler, bright eyed and bushy tailed, guided us through the diverse trail styles of Sumas, egging on the delirious biker zombies.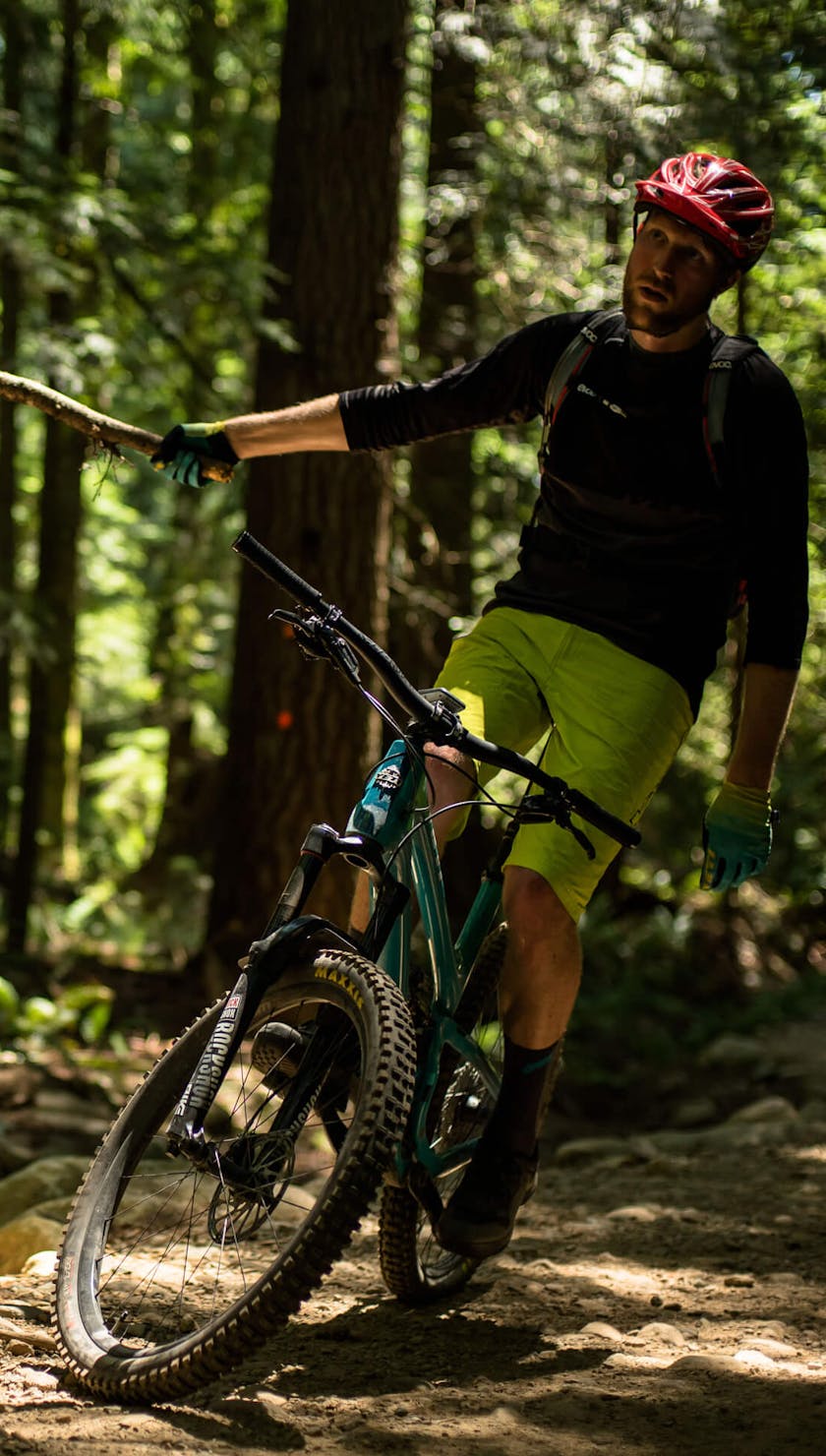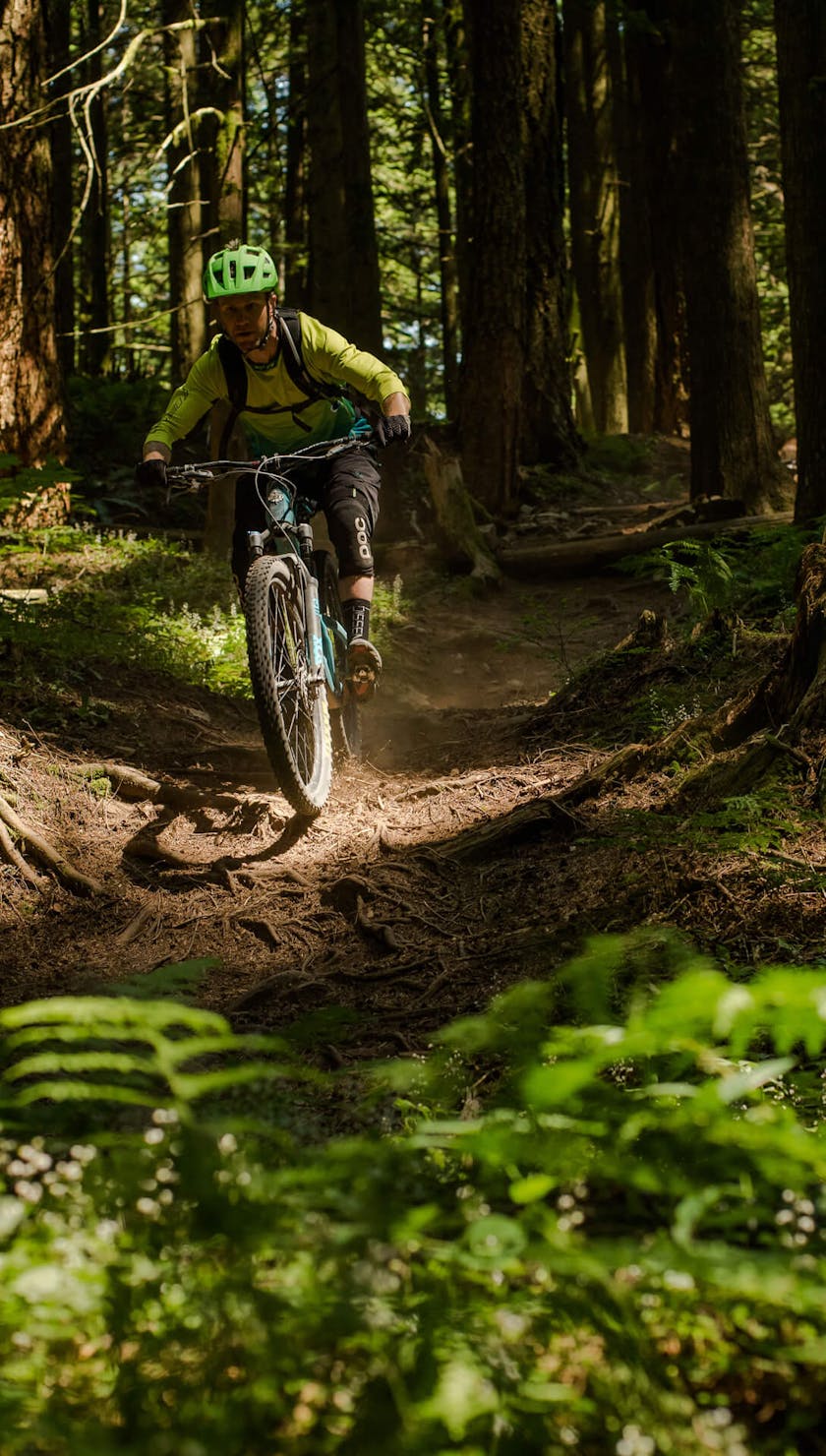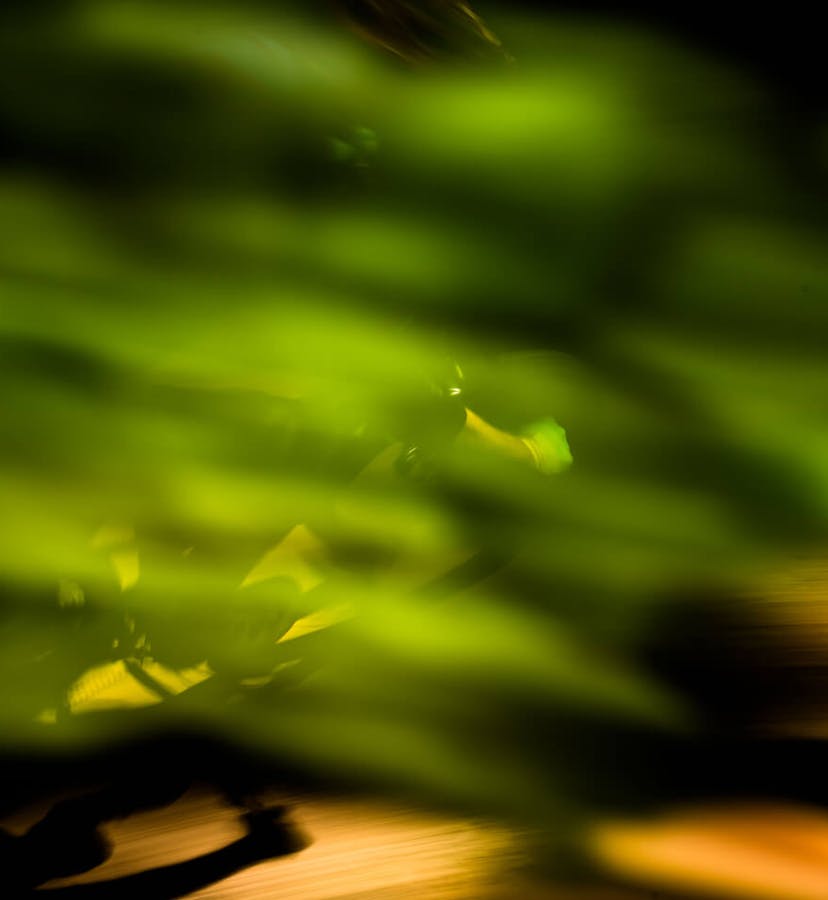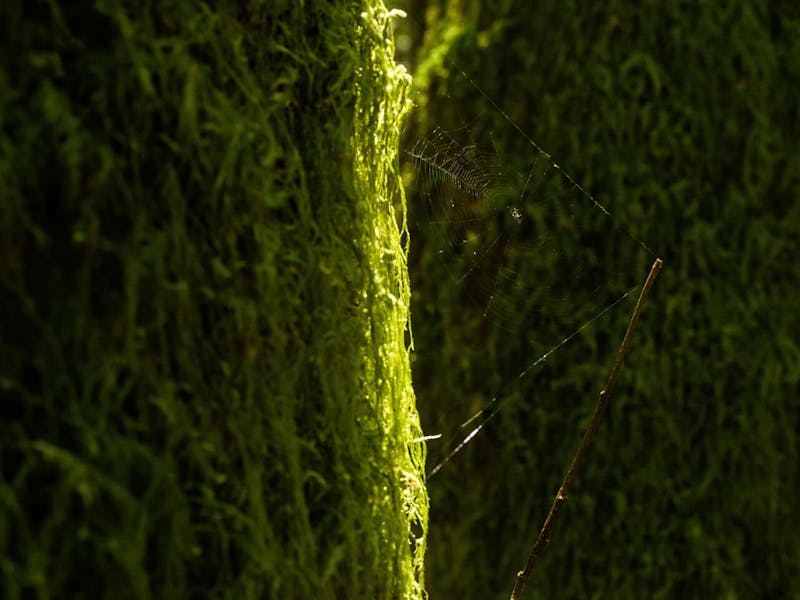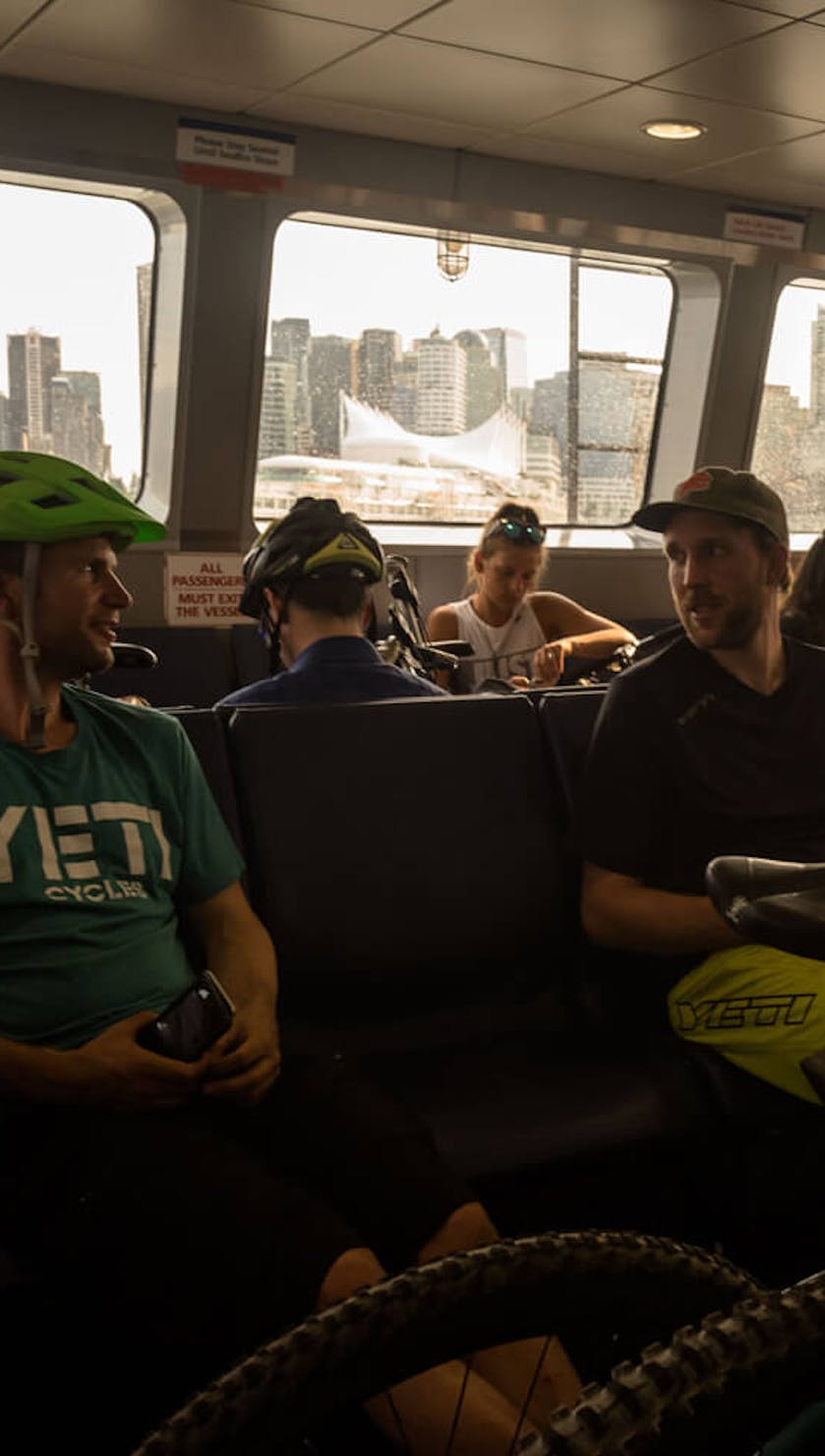 Infinite interchanges and a web of municipalities, separate us from the beds we hope to sleep in at the end of the day. We discuss our options, strategies, and opt for a race between the tortoise and the hare. Ross and Tobin opt for a slow but guaranteed 3-hour transit ride, connecting three buses, a train, and a boat across the lower mainland.Ever stubborn, I choose to hitch, hoping for perfect truck pickup, even though we agreed this was our most difficult place to catch a ride
I wait for an hour... The truck stops, I throw my bike into the bed, I walk to the passenger door, grab the handle, but the locked door doesn't budge. The truck rolls forward toward the highway onramp, with my bike in the back and I panic. Ten meters away it stops, and I catch up, this time the door is unlocked, with a cackling driver behind the wheel. 'Oh man, I got you! The look on your face!'
DAY FOUR IS AS UNEVENTFUL AS IT IS DREADFULLY SWEATY. TWO MOUNTAINS, 1550M ELEVATION, AND NO-RAIN-FOR-A-MONTH.
DAY 4
Day four is as uneventful as it is dreadfully sweaty. Two mountains, 1550m elevation, and no-rain-for-a-month. The shore is built to be ridden in the rain, and it's not raining. We crawl up Seymour, then Fromme, all while cherishing the fact that we have a day that includes zero minutes of roadside thumbing. There will be no minutes debating precisely where to stand, whether or not to use an upturned bike to trick drivers into thinking we have a mechanical, or who has better odds of pickup. Zero minutes wondering if we'll regret the trip ever happened altogether.
EVERY PICKUP SO FAR HAVE BEEN FROM QUEBECOIS DRIVERS, FOR SOME REASON THEY'VE BEEN OUR SAVIORS. MAYBE THEY ARE OPTIMISTIC ABOUT ENCOUNTERS WITH STRANGERS, OR HAVE A DIFFICULT TIME FINDING ANYONE BUT A LOWLY HITCHER TO SIT THROUGH A RECITAL OF THEIR LIFE STORY.
DAY 5
A paved road leads up Cypress mountain. A meniscus crushing, dehydration inducing, serpentine path of suffering that's well traveled by lycra wearing chumps, and tourist vehicles trying to gain perspective on the metropolis of Vancouver. It could be pedaled, but we could also ride the coattails of some unsuspecting tourist, so we wait instead. A sloth paced RV pulls into view, an awkwardly long amount of time passes as we look into the RV's windshield as it inches towards us up the hill. It stops, and moments later three bikes are getting crammed into the RV's walkway. I'm trying to make small talk with the family's two French speaking children, while Tobin banters away with the driving parents.
Atop Cypress, the temperature is cool. Once again, we're flirting with another epic descent from near treeline to near sea level. Along the trail's length, our shell shock stares morph into curling lip corners, as vertical relief is exchanged for endorphins meter by meter.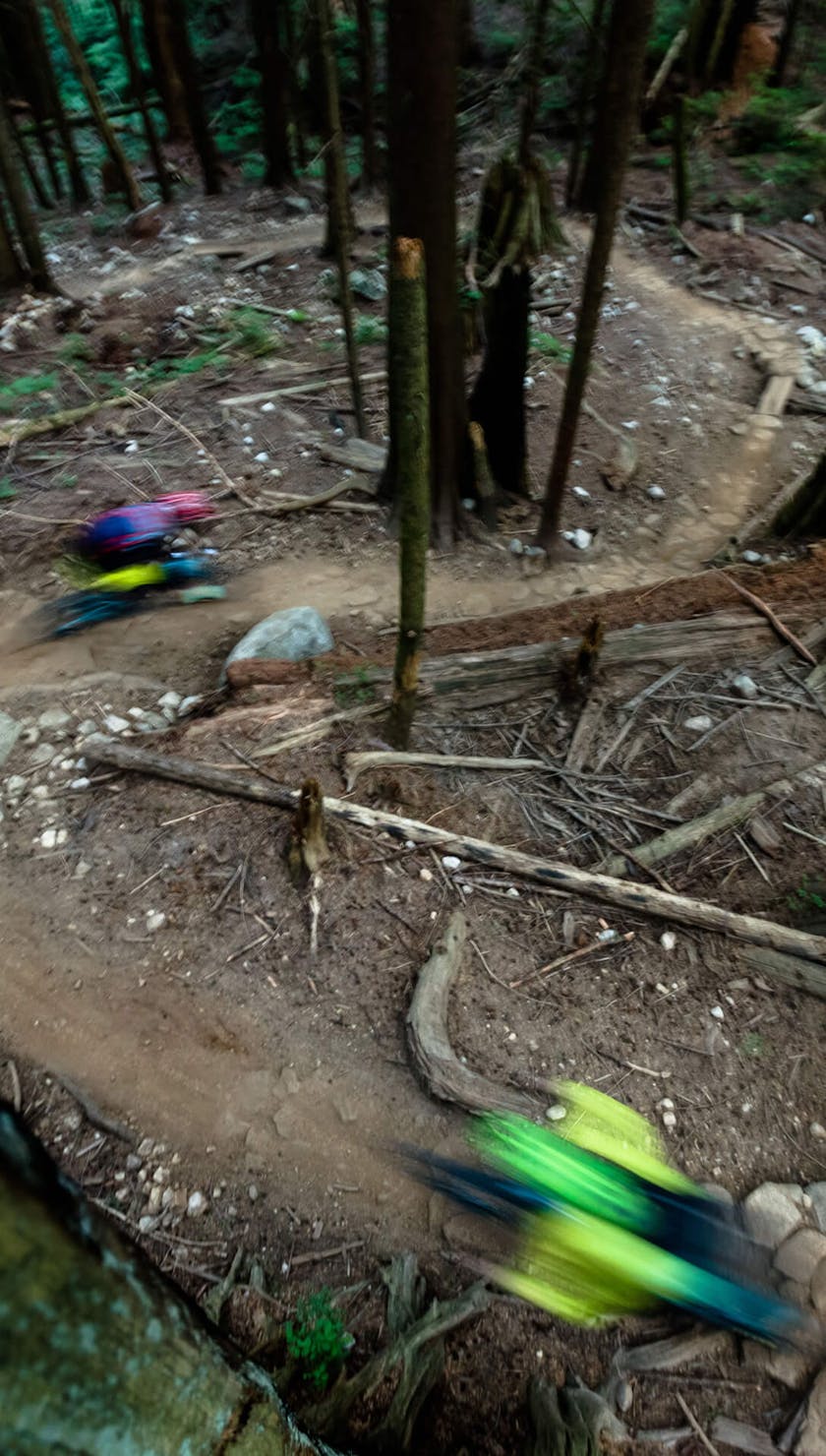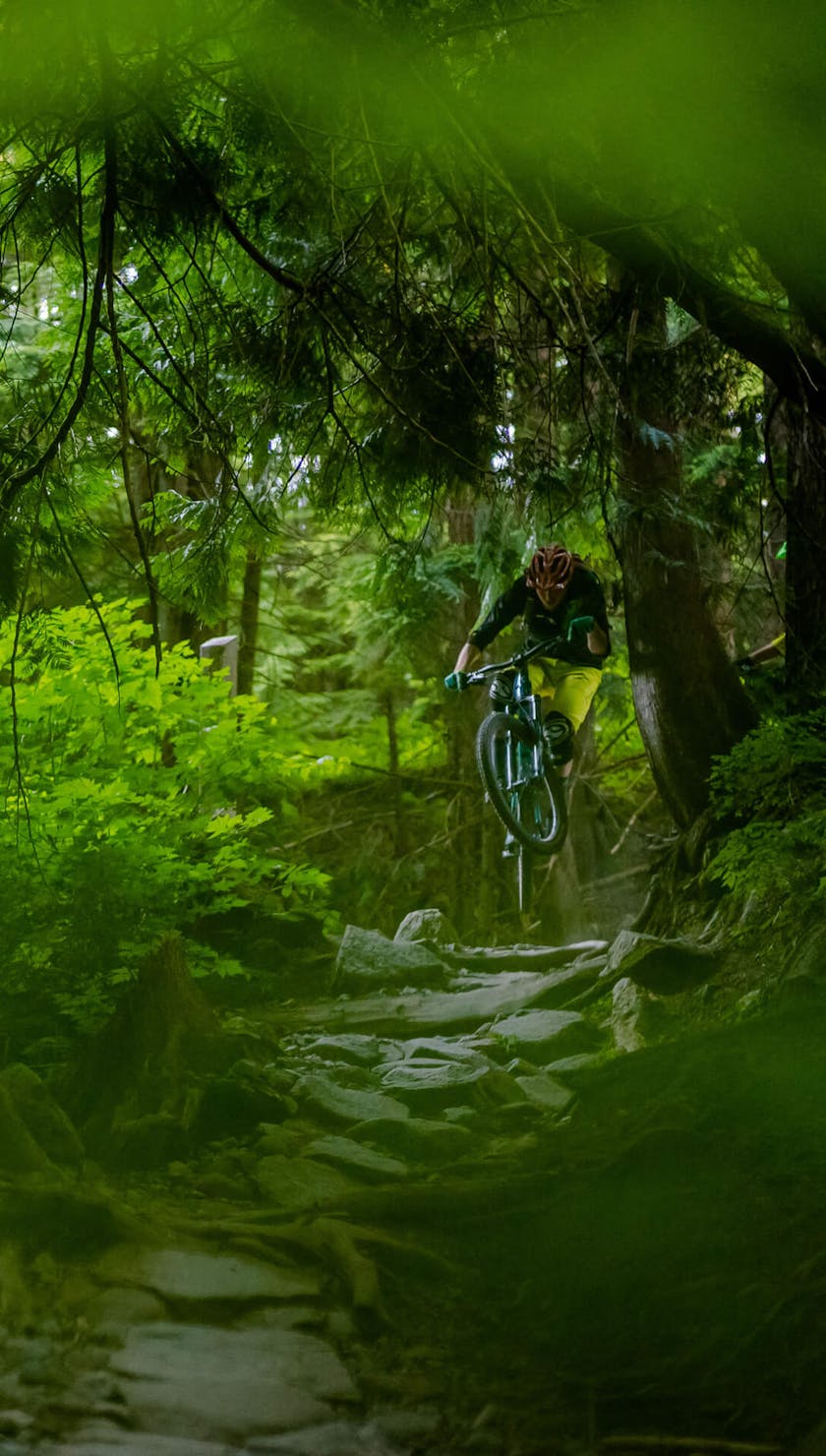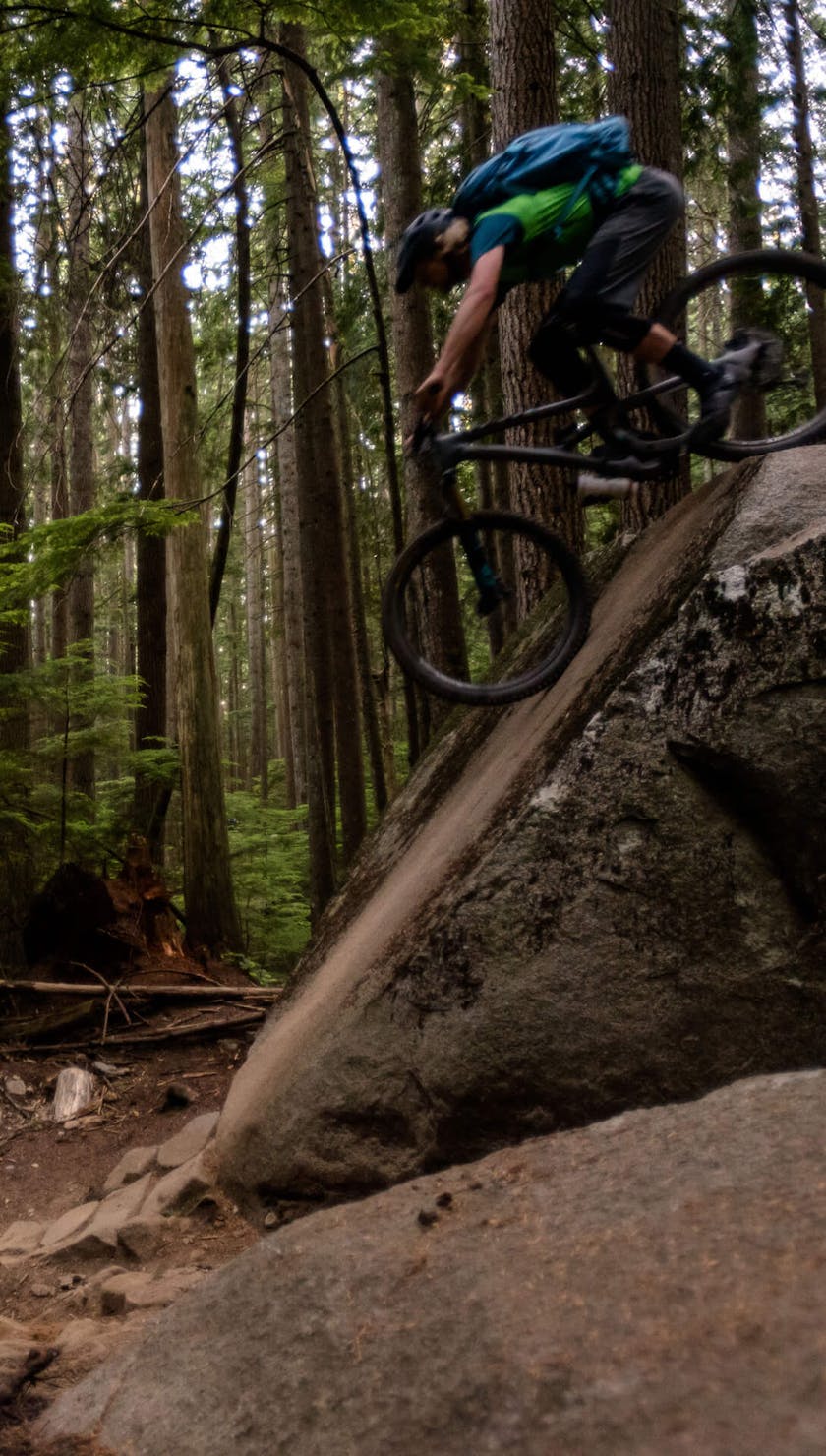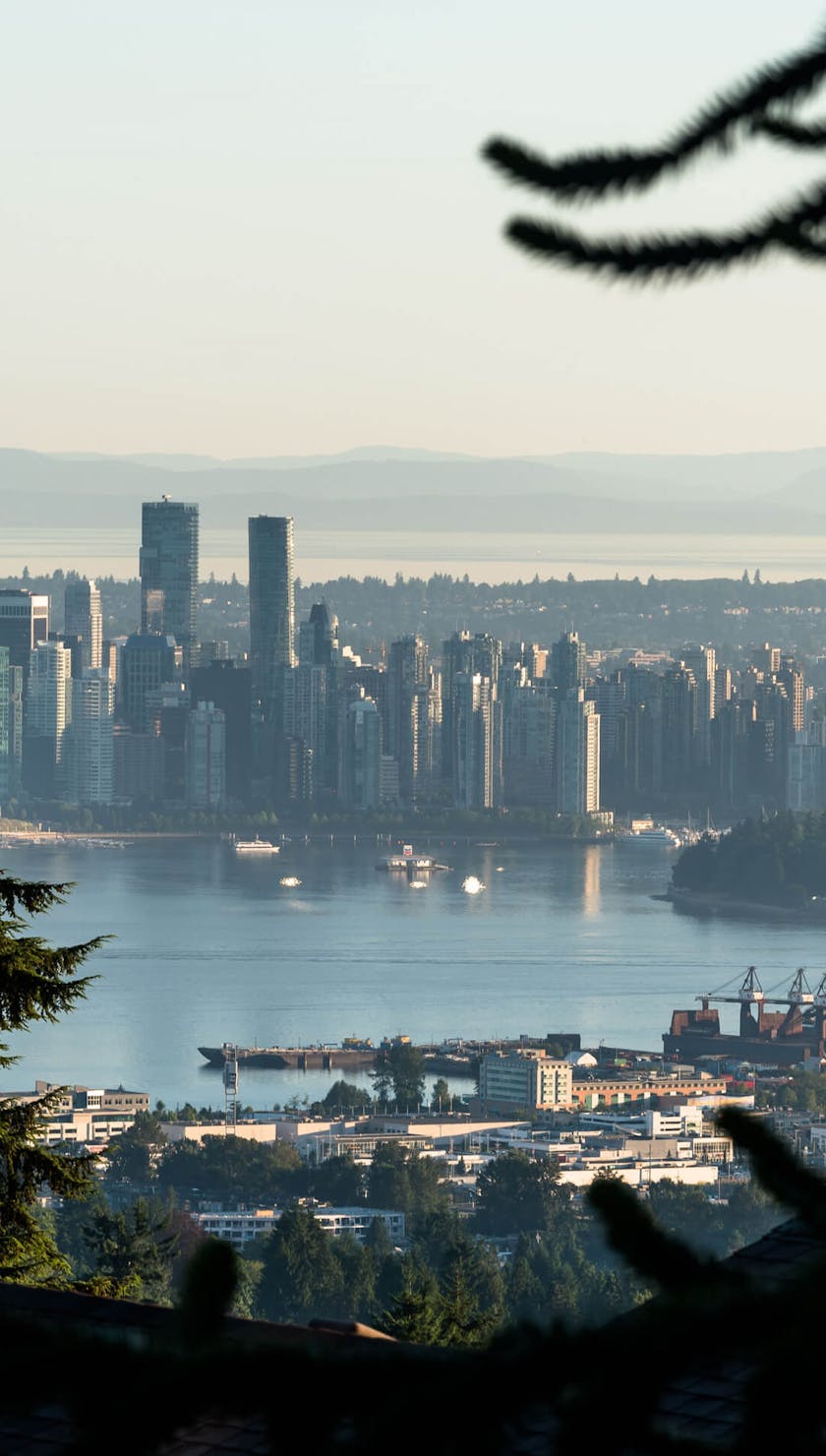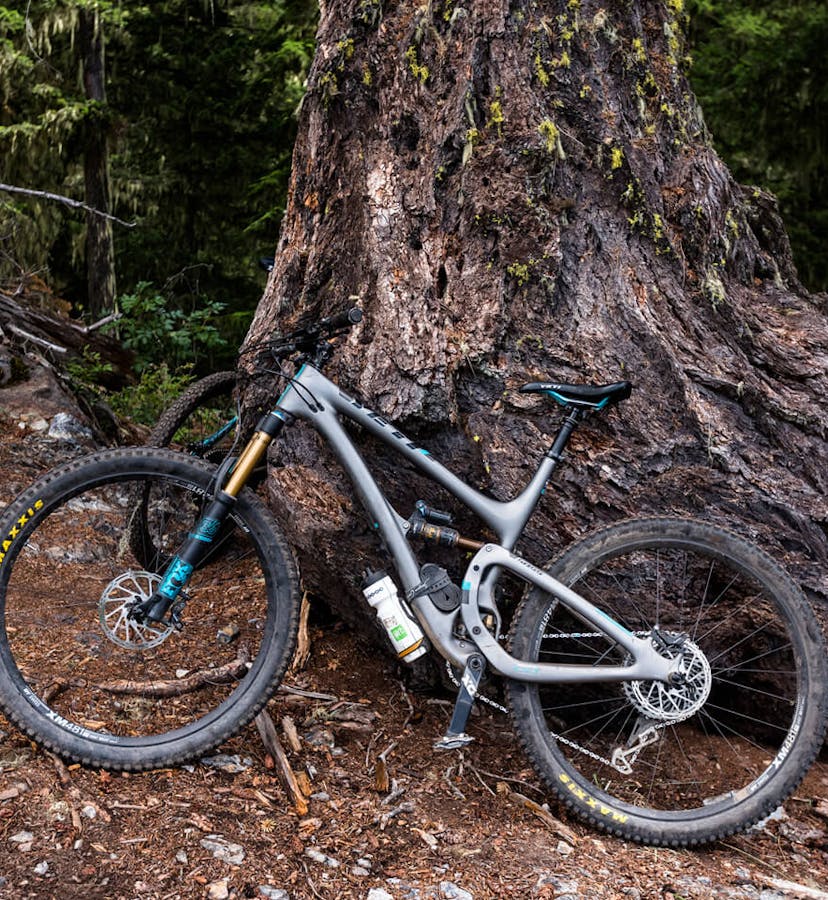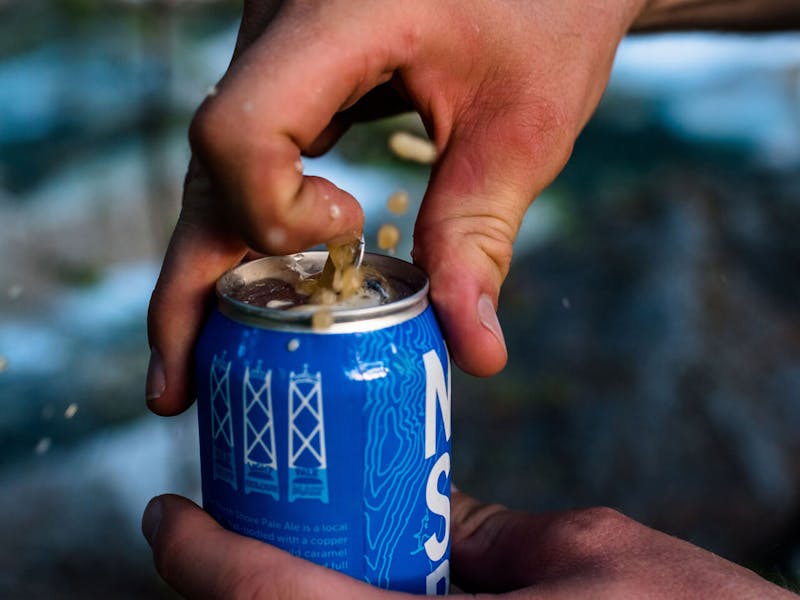 ON THIS TRIP, WE MAY BE IRONICALLY DEPENDENT ON VEHICLES, BUT THE CHOICE TO MOVE AT AN UNCERTAIN PACE MAKES ALL THE DIFFERENCE.
On this trip, we may be ironically dependent on vehicles, but the choice to move at an uncertain pace makes all the difference. Intersections become a place where we meet and are helped by characters who look at these same hills in a new way that is entirely different to our own perspective.
By no means is this an epiphany, it's one of those simple things that is hard to keep in mind. Adventure isn't exclusively hidden beyond the reach of the last cell tower, it's also subtly hidden inside common spaces, where it can be found by choosing a new perspective on the things we think we know.
- Reuben Krabbe: Adventurer, Photographer and Yeti Ambassador