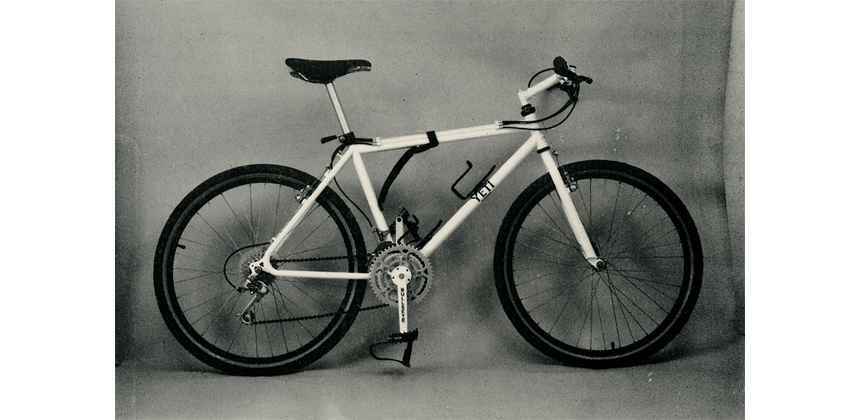 F.R.O
1985
The first Yeti frame was known as the F.R.O. (For Racing Only). Our commitment to racing started in the early days when Yeti's founder, John Parker, sat down with racers and friends to create the ultimate race bike. Constructed of 4130 Cro-Mo aircraft certified, seamless tubing, and heli-arc welded throughout, the F.R.O was built to go fast.
The rear section was a single piece of tubing constructed by a computerized tube bender, with cantilever brakes mounted on the seat stays to compliment the unique cyclocross cable routing system. This allowed for no chain suck, low mud collection, and quick release wheel changes. The forks were bomb-proof .035 wall straight blade forks, featuring Campagnolo track drop-outs and cantilever brakes.
Also available on this bike was the Yak package (pictured). The Yak package was a modified F.R.O. with rack mounts and a portage pad. The perfect bike for going long in the mountains.
The first frames had BMX 1" headsets. This later changed to 1" mountain headsets.
The Yeti Factory team riders of this era included Russell Worley, Greg Dres, Rob Nilsen, Johnny O'Mara, Sue Fish, Mark Langton and Paul Thorsen.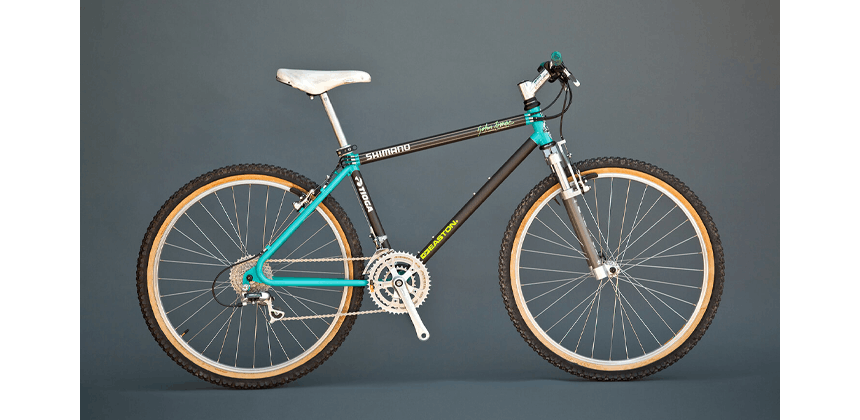 C-26
1990
Yeti was an early adopter of carbon fiber, and through our strong working relationship with Easton, we were able to create a bike way ahead of its time. The C-26 was available in very limited production (estimated at 20 frames) and was ridden by Juli Furtado and John Tomac in the first World Championships in Durango, Colorado.
The Easton C-9 tubing was a combination of an aluminum core tube, covered with unidirectional high-modulus carbon wrap. The alloy core added hoop strength and torsional stiffness to the frame while the carbon wrap increased bending stiffness, resulting in a tubeset that was half the weight and twice the strength of 4130 chromoly (at least that was the claim back then). These technologically-advanced tubes were bonded to custom built scalloped lugs on the front triangle. The rear end was a traditional F.R.O. Cro-Mo loop tail.
A little inside scoop: there are a couple versions of how the C-26 name came to be. The most prevalent was that it was named after Chris Herting (one of Yeti's founders and internal champion of the project) who was 26 at the time the frame was made (C, his first initial, and 26 his age). Others close to the company have refuted this and suggest the C stands for Carbon and the 26 represents the standard mountain bike wheel size. We don't know for sure which is true. What we do know is that nearly every frame has fallen apart because the bonding was problematic and never got sorted out. We can attest to that... we have two C-26 frames in our showroom with suspect bonds.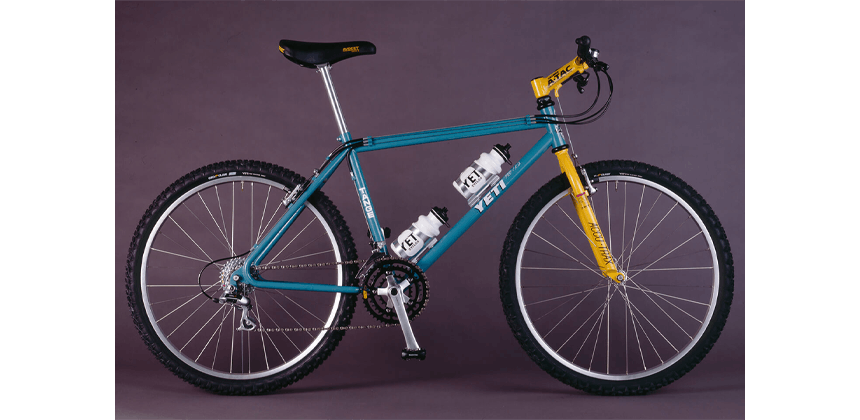 Pro F.R.O
1990
The Yeti Pro F.R.O. was the next in a series of progressively innovative Yeti racing frame sets and featured Yeti-designed Tange seamless, double-butted chromoly tubing which allowed us to shave a full half pound from the frame. The Pro F.R.O. has traditional Yeti features including race-specific geometry, which at the time was a super-slack 70 degree seat angle and 70 degree head angle. This frame also featured Yeti cross cable routing and one piece computer bent tail section for ample tire clearance.
This frame incorporated the evolutionary 1-1/4"headset.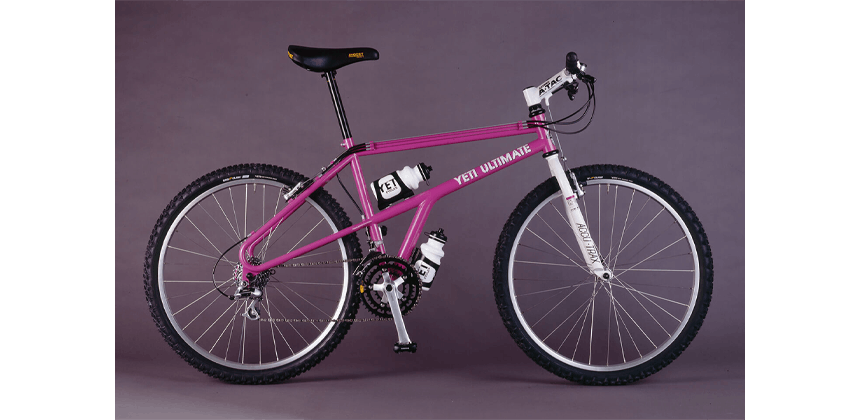 Ultimate
1991
Originally built as a project bike for Mountain Bike Action Magazine, this bike became one the most widely copied designs in the industry. Although the imitations were flattering, the project bike was not perfect and a number of refinements needed to be completed before it went to production.
It featured a computer-bent tail section and down tube to add strength and rigidity where it was needed. Standard Yeti cross cable routing and generous tire clearance rounded out the entire package.
There were a number of difficult parts to make on this frame in the production phase. The short tube between the down tube, chainstays and seat tube was particularly difficult, so the welders called it the "love story".
"The Yeti Ultimate is for the rider who wants to go fast and last long," MBA, August '90.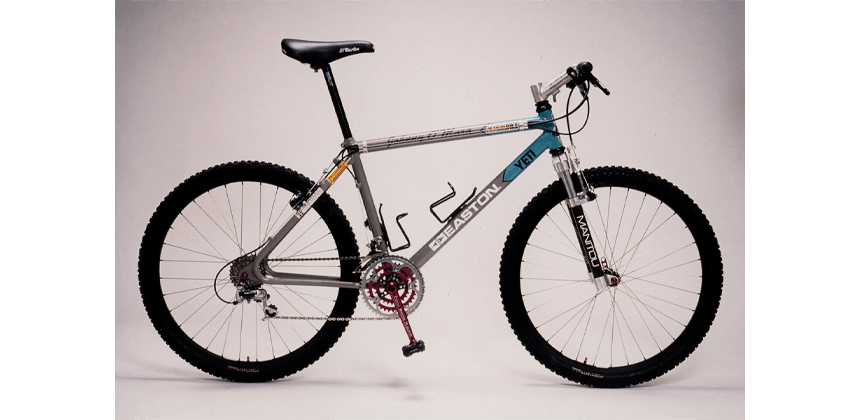 A.R.C
1992
The A.R.C. was a significant bike for Yeti and the industry. A collaborative effort between Yeti and Easton, it featured tapered and butted tubes which was nearly a full pound lighter than the steel frames of the day. The A.R.C. became the platform for later suspension developments and is one of the most recognizable frames of all time.
As the material changed, so did the geometry. The A.R.C. featured a more modern geometry (71 degree head angle and 73 degree seat angle), but like all Yeti frames, it was built to go fast.
The riders who rode the A.R.C. include race car driver Paul Tracy, Juli Furtado and John Tomac in the early days. Juli Furtado immediately dominated the racing world by winning more NORBA National, Grudig Cup and World Cup events than all of the competition combined.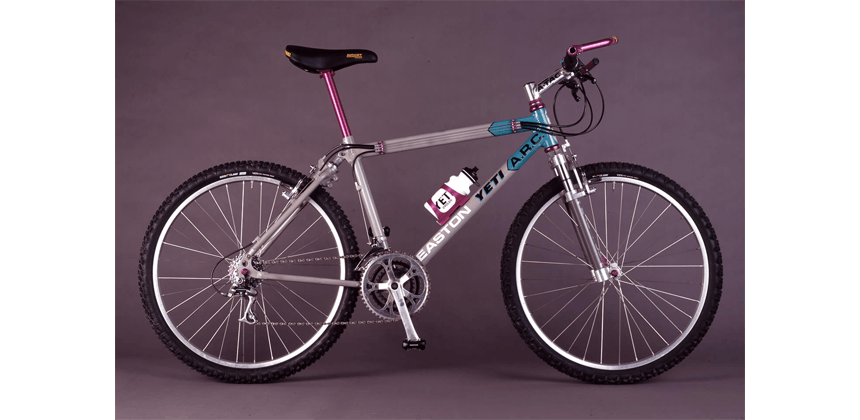 A.R.C. - AS
1992
For those who think the shorter travel of the A.S. is designed just for cross-country, think again! Jammin' Jimmy Deaton won the Mammoth Mountain Kamikaze Downhill four times - twice on his A.R.C.-A.S. He also set a new speed record at the time of 59.5 mph (those old enough, will remember the 66-tooth custom chainring on his bike). The A.S. was the most successful downhill bike of '92/'93, winning and/or placing in the top three in more major downhills than any other bike.
The frame first featured an elastomer rear shock that was created in collaboration with IRC. However, the elastomer was adversely affected by temperature - it got rock hard in the cold and gooey when it was hot. This was later changed to an air/oil Risse shock. The early models (like the one pictured here) had pinch bolts so you could run either shock. This later changed to an integrated design that used the Risse shock exclusively.
Despite its ability to go crazy fast, this frame with a whopping 1.5" of travel weighed under 4 pounds.
A.R.C. - A.S. Long Travel
1994
With the punishing courses of downhill racing pushing product development, the need for a longer travel bike emerged. The A.R.C. A.S. L.T. was born, doubling the rear wheel travel from the previous A.R.C. A.S. from 1.5 inches to just over 3 inches.
While that seems like a pretty short-travel DH bike these days, it was one of the most famous Yeti rigs of all time and was ridden by Myles Rockwell, Jimmy Deaton, Missy Giove and Jeff Stanton.
This was the era when the Yeti / HED disc wheels appeared on the bikes for the first time giving a big advantage on certain courses. Truth be told... they looked really cool and were fast in some conditions, but they were really loud and a bit sketchy on windy courses. That said, we are looking for a pair for our showroom. So if you come across a set, give us a ring.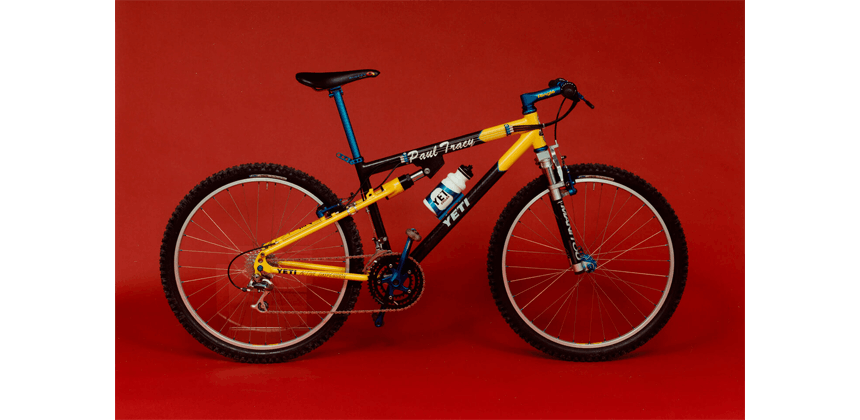 A.R.C. - A.S.
L.T. Paul Tracy
1994
As Parker's relationship with famous athletes continued, he got race car driver Paul Tracy on a Yeti to supplement his training. Tracy was later featured in an advertisement for Yeti and Ringle, and agreed to run a small Yeti logo on his car.
During this time, Parker was working with Kaiser Aerospace on a carbon thermoplastic frame. Way ahead of its time, the carbon thermoplastic technology was never fully worked out, although a frame was made for Paul Tracy. It was photographed and built up, but wasn't rideable— wish we had that bike in the collection.
Tracy was one of many athletes that Parker enticed to ride a Yeti. Shortly after Tommy Moe won the Olympics in downhill skiing, Parker sent him a white and black spotted A.R.C. bike. In return, he rode the heck out of it and sent us a cool signed poster, which is on the wall of our conference room.
Other luminaries to ride our bikes included Jeff Stanton, Johnny Omara.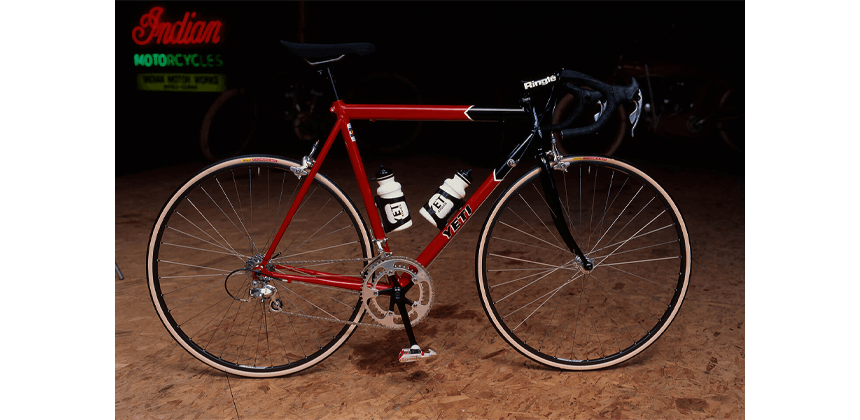 Road Project
1995
The Road Project was originally made as a training bike for our team members, but soon customers were clamoring for it. So we put it into production. It featured Easton 7005 series ProGram Taperwall tubing, with extra beefy chainstays for increased stiffness when sprinting. Built with classic road geometry and coupled with Easton tubing, this bike was stiff, but still relatively forgiving— a nice departure from the super-stiff aluminum bikes of the time.
Kurt Stockton, a pro road racer at the time, helped with design and development of the Road Project.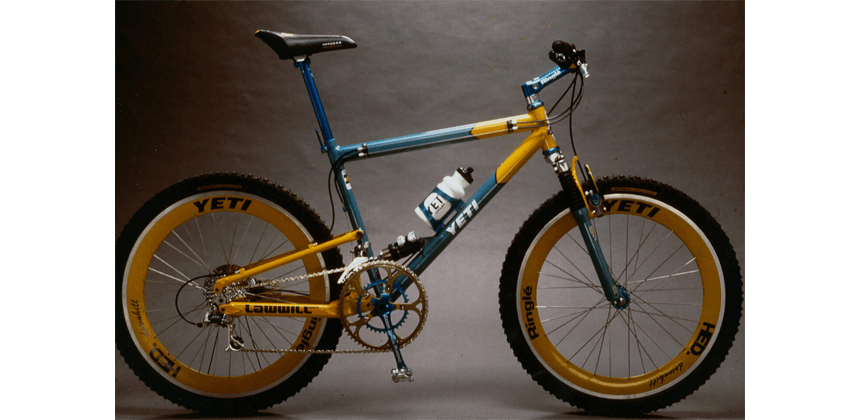 Lawill DH
1996
Just in time for Yeti's 10th anniversary, Yeti hooked up with motorcycle legend Mert Lawwill to create a purpose-built downhill machine. Utilizing Mert's patented Full Energy Transfer System (F.E.T.S.) and Yeti's frame building know-how, the downhill bike moved from three inches to four, and marked the movement into making specific bikes for downhill racing.
Zephyr
1996
A classically styled cruiser to celebrate Yeti's 10th anniversary. It was a great idea that was never actualized into any significant production— an estimated 75 total frames were made and only two to three with custom carbon fenders.
This bike is a collector's dream. A few of our current and past employees have tracked down originals and bring them out to Tribe Gathering each year. One even has John Parker's signature and peace sign emblazoned on it.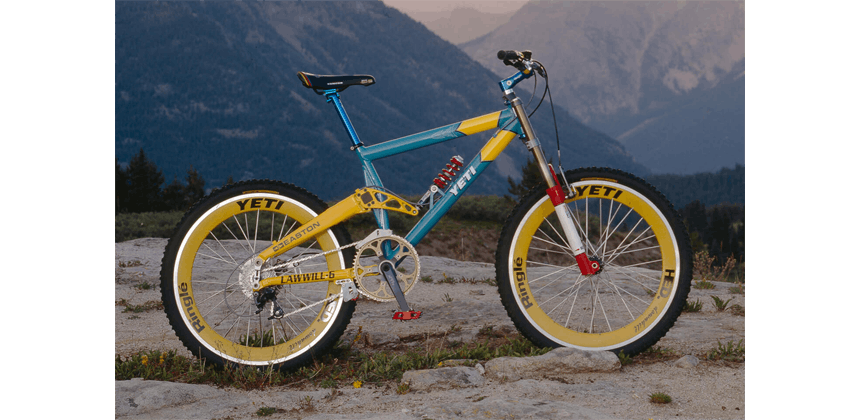 Lawill DH 4/6
1997
The Lawwill design increased in travel and was offered in a 4- and 6-inch version. Ahead of its time in a lot of ways, it had custom-made Ringle disc specific hubs and Hope disc brakes. The rear disc brake was on a floating mount so it didn't affect the suspension. It also featured a custom, Yeti-specific chain retention system. It was one of the first suspension bikes to use a pull shock. This idea came from Mert's friends at Penske Racing.
The R&D lab was working overtime to crank out new designs. Mert moved to Durango to work on the project full-time and became a key part of the product development team. In 1995, Yeti was purchased by Schwinn and shortly thereafter, Schwinn adopted the Lawwill design and featured it on the Schwinn Straight Six, Straight Eight, and later the all-mountain Four Banger.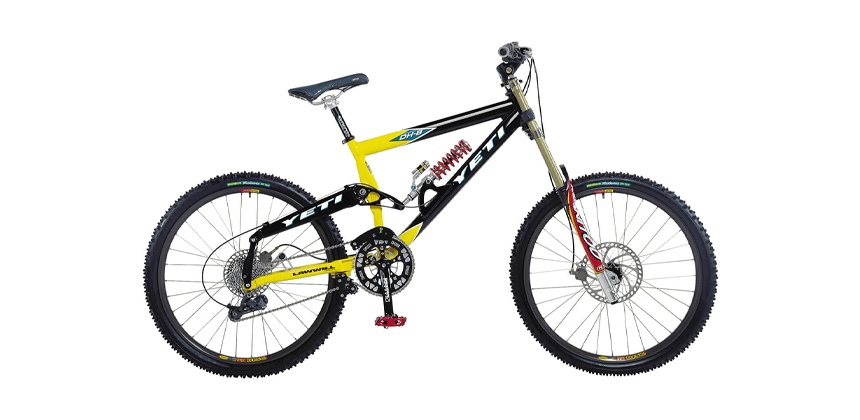 Lawill DH 8
1999
The Lawwill downhill frame continued to evolve and was bumped up to 8 inches of travel. In 2000, the frame was outfitted with a Rock Shox Super Deluxe with a piggy back. This allowed the shock to handle the heat build-up of downhill racing better, and is now standard on downhill shocks. Some models were fitted with a DKG linkage system that made the system more progressive. However, this reduced the travel, so we started to design the DH-9.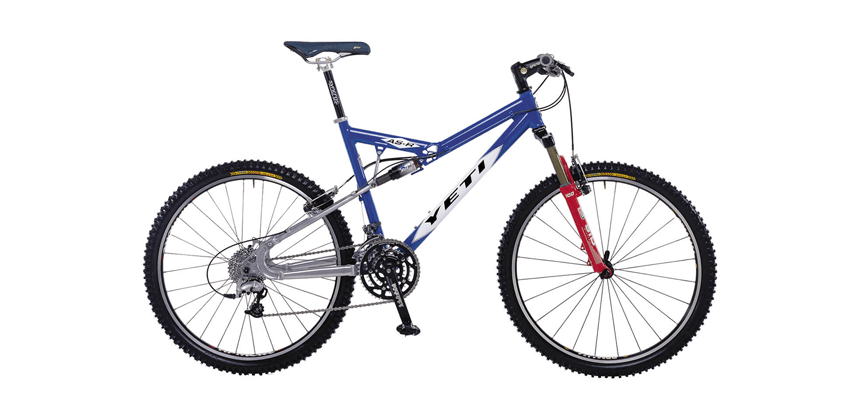 ASR
2000
The ASR is a special bike to everyone at Yeti. Not only has it been one of our best-selling bikes of all time, but it also marked the first product we made after we were liberated from Schwinn. This was a bike to define Yeti for the next decade.
Our Colorado roots and riding style made this frame a bit difficult to categorize at the time. Traditional short-travel full suspension race bikes were 2.7" of travel, and much more than that was deemed inefficient and overkill for a cross country bike. A famous magazine editor at the time argued that it wasn't an XC race bike because it wasn't like the other bikes in the category. Ironic, since aforementioned editor had a huge plug in his ear, tats all over, and dressed like Ronald McDonald (and might be the biggest Yeti fan of all time). Anyway, after they rode the bike, they loved it. After all, it was lighter than shorter-travel bikes, had better stand-over, and rode like a Yeti.
The first five bikes were royal blue. We kick ourselves for that... they should have been Yeti desert turquoise.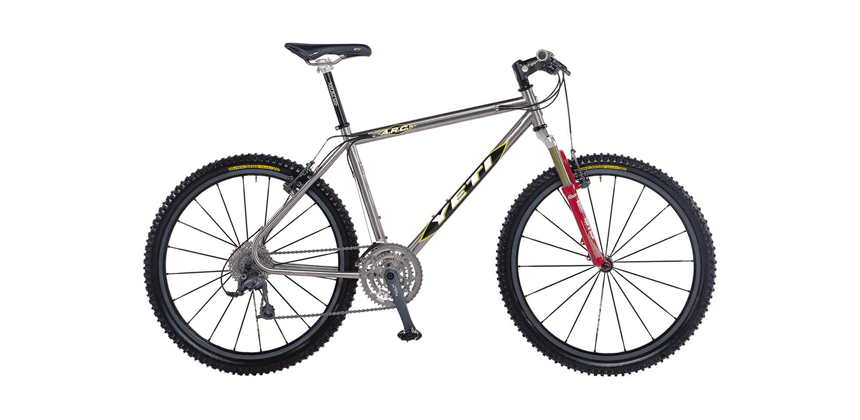 A.R.C. TI
2000
Making the traditional A.R.C. hardtail better was a real challenge. We had some experience with titanium, so we started the process of incorporating titanium into our famous hardtail. We partnered with the folks at Sandvik titanium and used custom-made cold-worked, stress relieved 3Al / 2.5v titanium tubes to optimize the ride.
The first frames were made in our factory in Golden, but the production was slow and tedious, so the frames were outsourced to Titanium Sports Technologies in Washington, an offshoot of Sandvik.
DH 9
2002
The DH-8 became the DH-9, moving from eight to nine inches of travel. To accommodate for the huge forces of downhill riding, we used a monocoque top tube for added strength and stiffness. This was particularly important at the time because newly minted Junior World Downhill Champ, Nathan Rennie was one of the stars on our team. A supremely talented rider, Rennie was famous for exploding parts. We built this frame to be "Rennie-proof".
Well, the frame never broke with the big fella on it. However, it did have to withstand some unintended abuse. Rennie went back home to Australia at the end of one season and lost his rear axle. A quick call to Yeti and he would have had a replacement. That's not the way Rennie rolls. Instead, he went to a hardware store and got a piece of plumbing pipe to substitute a rear axle. It fit poorly, made the rear wheel bang around, and was generally a junk show. It was classic Rennie.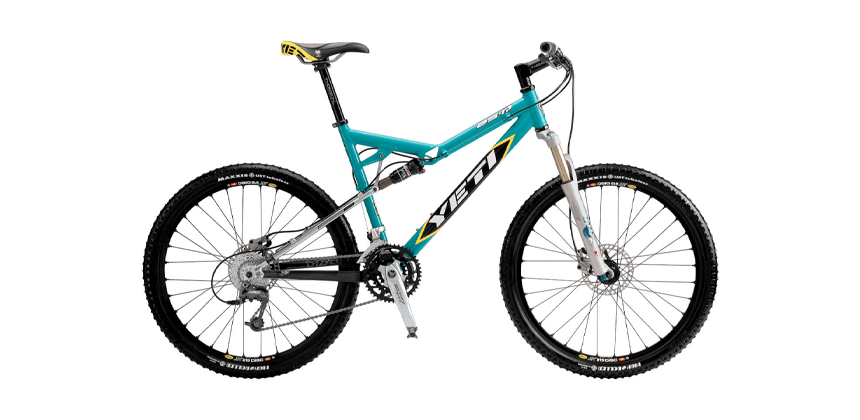 ASR SL
2003
Starting with our original AS-R, we looked at every part and optimized it for performance and weight— a new machined top tube knuckle (saved 50g), new Yeti/Easton custom tubing (saved 100g), TiFlex pivot and new dropouts (saved 100g)... for an amazing frame weight (including rear shock) of 5.1 pounds.
Yeti racing legend Paul Rowney, was instrumental in the design of this bike. His prowess as a cross country racer,was eclipsed only by his amazing downhill skills. He wanted a bike that could give him an advantage up and down the trail.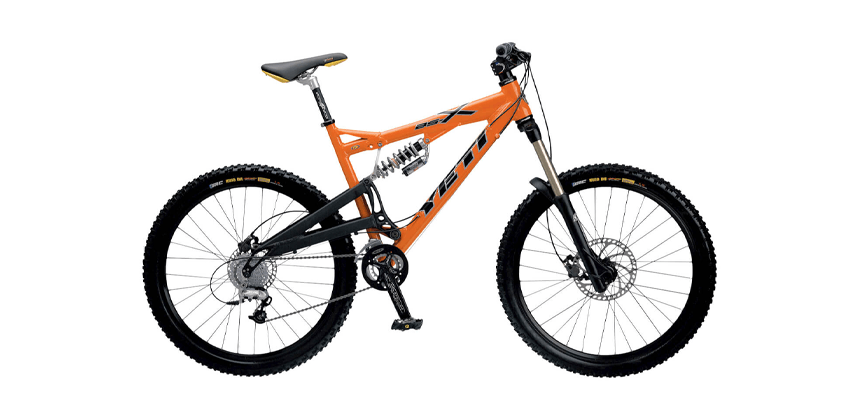 AS-X
2003
Two years before releasing the 575, we made the the AS-X. In its earliest form, it utilized a split extrusion tube and looked similar to our Kokopelli. The freeride scene was starting to take off up north, so we redesigned the frame in '03 with a custom Yeti/Easton RAD tubeset, specially designed for big-hit riding. At that time, Progressive Suspension had introduced the most adjustable shock on the market and we ran the Progressive 5th Element shock and the new standard OnePointFive headtube design to add maximum strength and steering precision.
During this time, Tyler Klassen and Dangerous Dan and the Flowriders, hammered our frames in the Canadian freeride scene.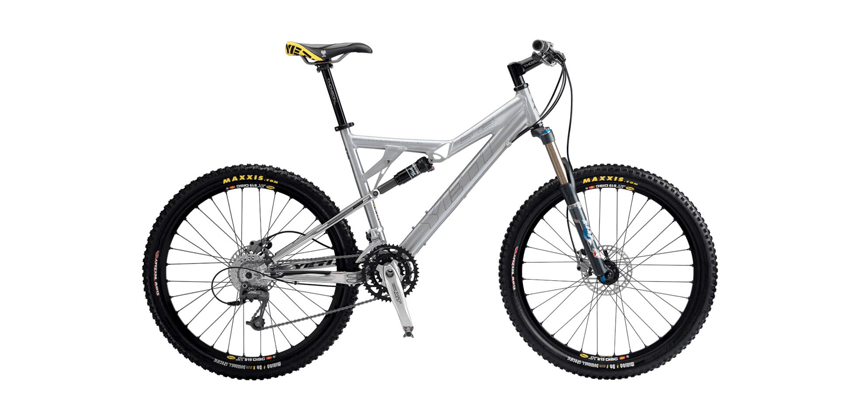 AS-R 575
2004
The trails that surround our factory are rough and gnarly. We were convinced we could make a longer-travel bike that was still light and efficient. We pioneered the all-mountain category with the 575 and had to redesign the bike multiple times as suspension manufacturers made longer travel forks for this growing segment of the industry.
When we started, the long-travel fork in this category was 120-130mm. Now we run 150mm stock and can easily run 160mm of front travel on the 575.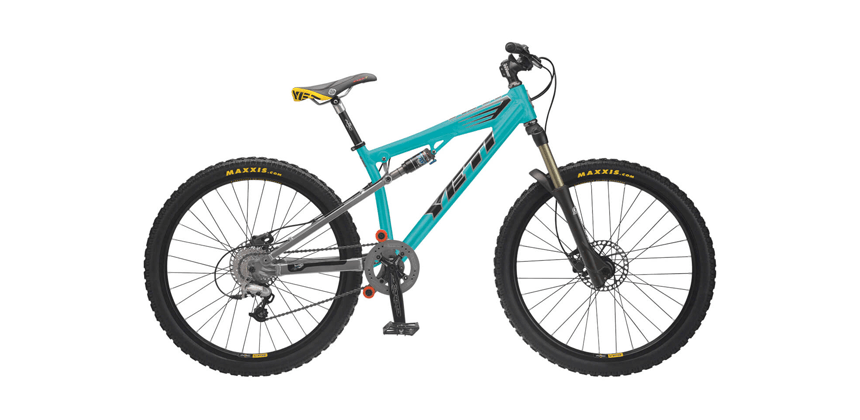 4X
2004
Sometimes we make frames that are intended for racing only. Such was the case with the 4x frame. A new racing format hit the scene and we started with modifying current frames (at the time that was the AS-R) to race. This modification was fine under Marla Streb, but the big fella from down under (Rennie) needed something more substantial. So we made him custom 4x bikes. The front end was massively strong, as were the thick, short chainstays.
After watching our racers ride the bike for three years, the masses started clamoring for a production version, so we obliged with a Special Projects bike (limited production of 100). This was later followed up with a full production bike and became stock in our product line.
This bike has a lot of history, but the most memorable was the Mammoth dual slalom race in 2001. Rennie was losing in the semi's and attempted a backflip during his race run. He was unsuccessful, so as soon as the finals were over, Rennie came storming down the course and hit the backflip and nailed it. A perfect 10.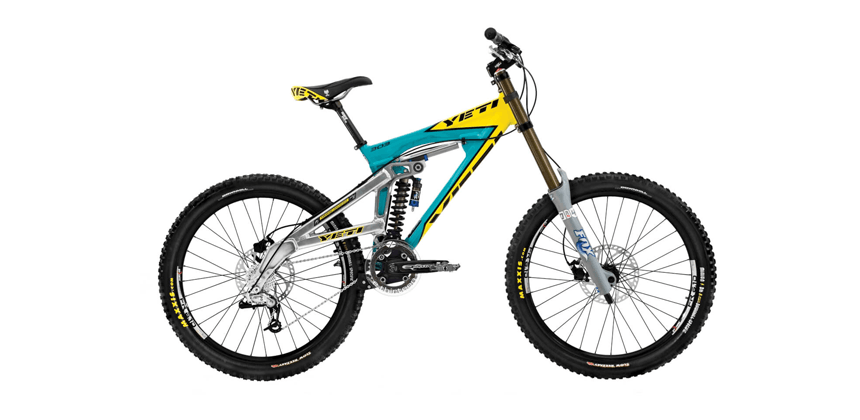 303 DH
2006
When we came up with our new Zero-Loss suspension technology, we based it on a pretty simple premise– make our racers go faster. We studied videos of our racers on course, listened to their feedback about various suspension designs, and then we went to work. Our starting point was to create a suspension design that was extremely efficient (not affected by pedaling or braking forces), had an adjustable wheel path (so we could tailor it specifically for the rider and course), and have an optimal rate for new shock technologies. Where we ended up with was revolutionary.
Utilizing linear rails instead of traditional pivots, we gave the wheel the freedom to first move rearward and then up as it moved through its travel. This makes it extremely effective on square-edged bumps, the kind that our racers said slowed them down the most when racing. Because the main pivot rails are perpendicular to braking and pedaling forces, the system is unaffected by these forces.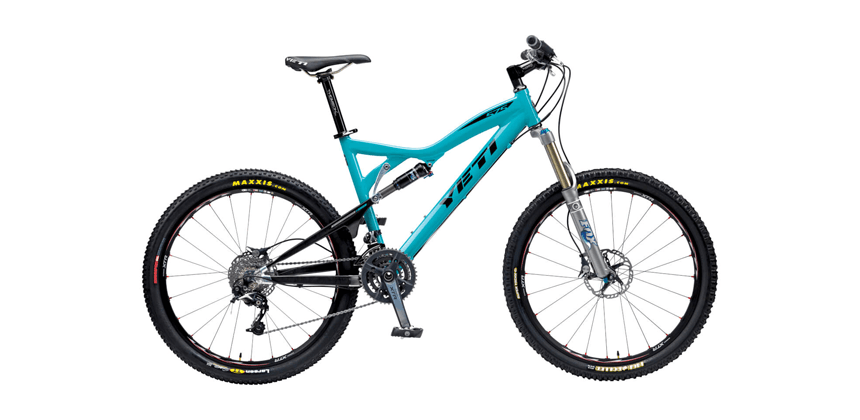 575
2008
We took our best-selling bike and made it better. The 575's legendary efficiency and light weight often had people scratching their heads and comparing it to a 5-inch travel bike. In reality, this bike could compete with any 5-inch bike on weight and efficiency and still battle it out with 6+ inch bikes on the downhill.
How did we do it? First, the front triangle featured a hydro-formed top tube with an octagonal cross section for increased rigidity over previous models. The rear triangle was stiffened by adding a bridge between the seatstays.
The seat post diameter was ramped up to 30.9mm to give it a more robust power platform and allowed the use of a seat post dropper. The butted head tube was designed to handle long-travel forks (140-160mm travel). The dogbone redesigned to increase the stiffness of the connection point between the front and rear triangle connection, featuring a larger bearing to handle the load.
On the suspension side, no need to change perfection— the suspension hard points and pivot locations remained the same.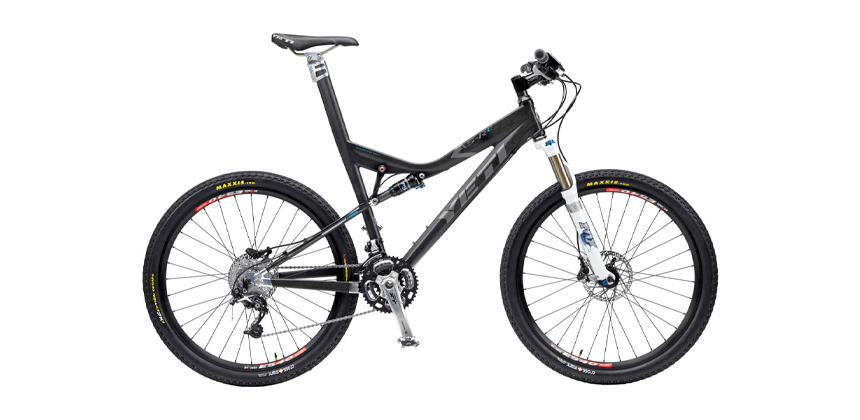 AS-R C
2009
Carbon was the next frontier in suspension bike development and we jumped in early. By using high-modulus carbon fiber, sculpted into stealth-like shapes, we were able to increase the stiffness and tune the handling to be an amazing performer on the trail.
The front and rear triangles were constructed entirely of hand-laid carbon fiber with co-molded aluminum lugs at the bearing and pivot connections. The carbon dog bone link helped create the ideal shock rate and provided a solid connection between the front and rear of the bike. The bottom bracket was a press-fit-style instead of the traditional threaded cups. This reduced weight and added another level of stiffness.
One of the most striking and unique features of the AS-R Carbon is the seat mast. In our testing, we found our integrated seat mast greatly improved the power transfer to the pedals. This was a full-on XC race bike. It came in a turquoise and white paint scheme, and raw carbon with a clear coat for protection.
This bike was Bicycling Editor's Choice winner in 2008, runner-up in 2009, and Outside Magazine's Gear of the Year Top Pick in 2009.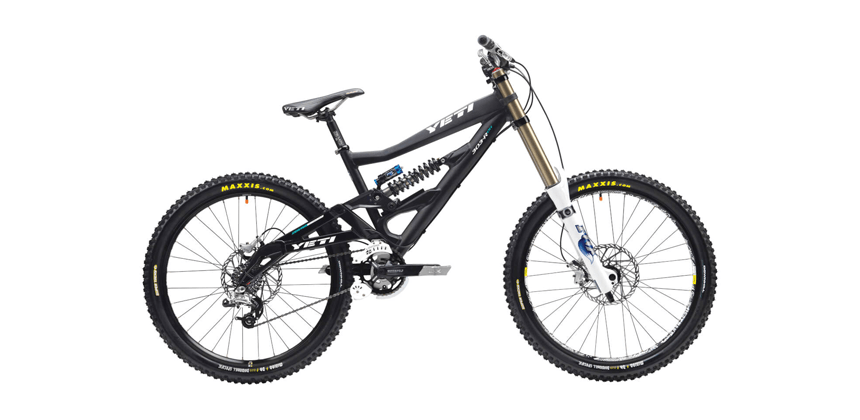 303-R DH
2009
It's no secret that downhill bikes represent a small percentage of sales in the mountain bike industry, but we love the challenge inherent in long-travel full-suspension and the 303-R DH is a perfect example of that.
In the world of downhill racing you need a purpose-built machine to eek out a slight advantage to get on the top of the box. That was the premise behind the 303-R DH. Our racers wanted a bike that was built for fast, flowy courses with berms, jumps and rollers. They wanted a bike that was agile in the air, had stiffer suspension, and a distinct "poppy" feeling going off jumps. The 303-R DH was that bike.
The single linear rail controlled the shock rate in a way that can't be done with only links. In addition, the rail and link design offered the unique property of adjustable geometry. This meant there will be no change in travel or shock rate as the head tube angle and bottom bracket height are adjusted.
At 10.5 pounds, the 303-R DH frame lightened the load by almost two pounds, which made it more responsive and agile all-around.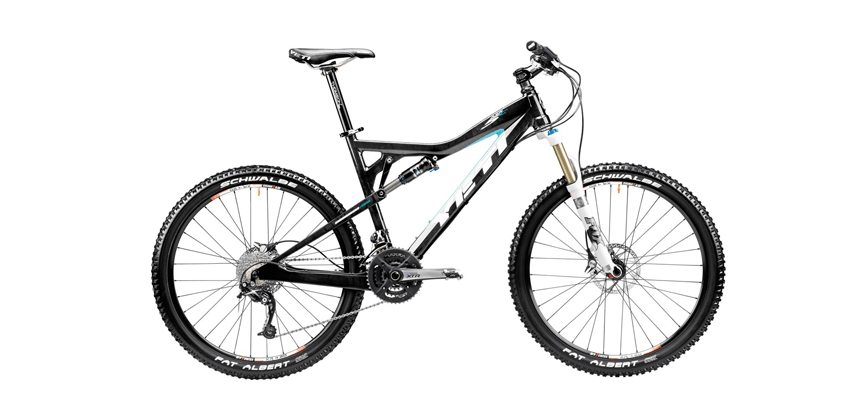 ASR 5
2010
The ASR 5 took what we learned in our longer-travel trail bikes and packed it into a shred-tactic 5-inch travel version. The geometry and ride characteristics set the industry standard for 5-inch trail bike performance. If you took this bike out today, it would not disappoint.
The ASR 5 Carbon was a 4.5 pound frame with five inches of travel. At this weight, it was lighter than many of the lightest cross country bikes on the market at the time, and it had the added versatility of being an amazing all-mountain rig.
How did we pull off this incredible feat? We coupled our extensive carbon fiber experience with our award-winning, super-efficient, optimized Active Suspension (A.S.) design. And then we rode the snot out of the bike. Shook it on the test machine. Rode it more. And then repeated the process until it was perfect.
In the end, the bike exceeded our expectations for efficiency, light weight and incredible stiffness.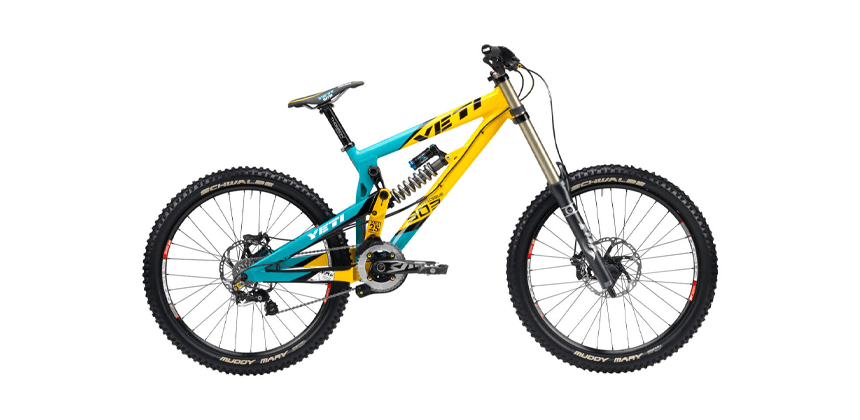 303 WC 25th Anniversary
2010
The 303 WC was the next evolution of our 303 suspension platform. The frame was revised to work with a single sliding pivot and top link. This modification simplified the design while adding stiffness and rear wheel stability. Aaron Gwin resurrected American downhill pride aboard this very model, as it was raced to several podium finishes on the World Cup downhill circuit. As a mark of our 25th Anniversary, the 303 WC was coated in our heritage colors and produced as a limited run of 250 frames.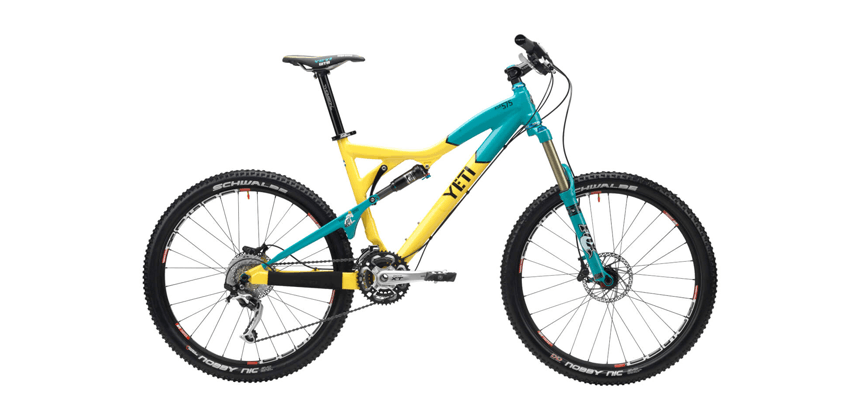 575 25th Anniversary
2010
The 575 had long set the bar for all-mountain performance and in 2010 it received its final update. We added a tapered head tube to increase front-end stiffness, ISCG guides, and a completely redesigned main pivot and main pivot junction. With a lowered bottom bracket and slackened-out head tube, the 575 revised the geometry for modern trail riding. All this was integrated into a 27.5" wheel platform making this perhaps the finest incarnation of the 575.
To top it all for our 25th anniversary, we made a limited run of 250 bikes with vintage colors and custom parts.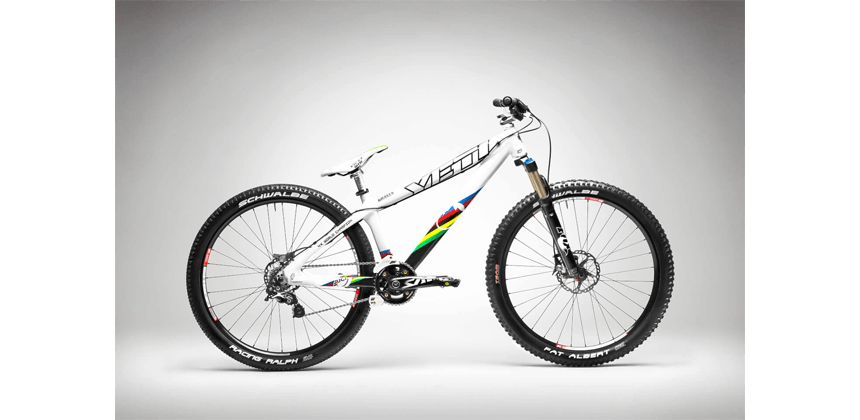 DJ World Champs
2010
This was the peak of the DJ's prowess and to commemorate Yeti Factory Team rider Jared Grave's victory at the World Championship, we detailed a custom rainbow-striped paint job.
The DJ was the weapon of choice for World Cup 4x racer, Jared Graves. Based on his extensive feedback, we completely redesigned the frame to maximize rear-end stiffness, and provide a platform that felt at home on a World Cup race course or at the local dirt jumps. The DJ featured oversized tubing with a tapered head tube to provide stiffness and strength. The dropouts were fully adjustable – with over 25mm of adjustment— so you could dial in the chainstay length you prefer or easily run a singlespeed setup.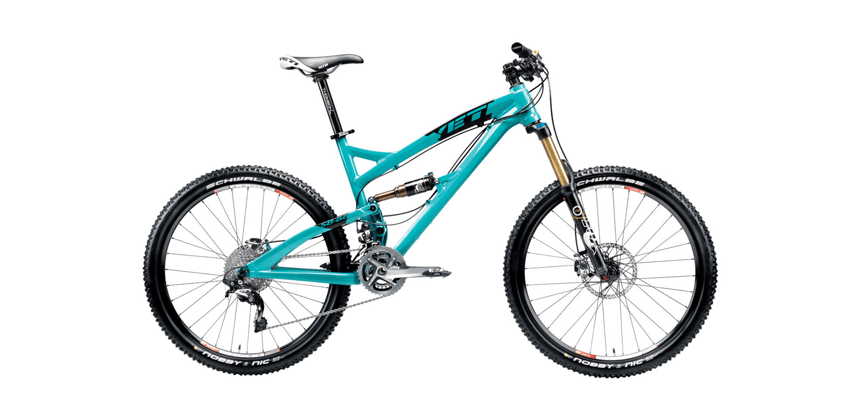 SB66
2011
The SB66 marked a whole new way of thinking about suspension design, as it was the first model that incorporated our revolutionary Switch Technology. It utilized an eccentric mechanism that switched direction as the bike moved through its travel. Built into a compact assembly, the eccentric created a micro-link that continuously repositioned the lower pivot of the swing arm, allowing us to create a suspension system with no compromises. It achieved what other manufactures could not with their clunky link-based designs.
The SB66 touted 6 inches of "Switch" enabled suspension, aggressive enduro inspired geometry, custom butted hydro-formed tubing, a tapered inset headtube, and oversized pivot pins to connect the front and rear triangles. The bike became an instant classic and raised the performance bar industry-wide. This model also marked our transition away from building downhill specific bikes and our focus shifted to crafting one-quiver bikes that could handle all conditions.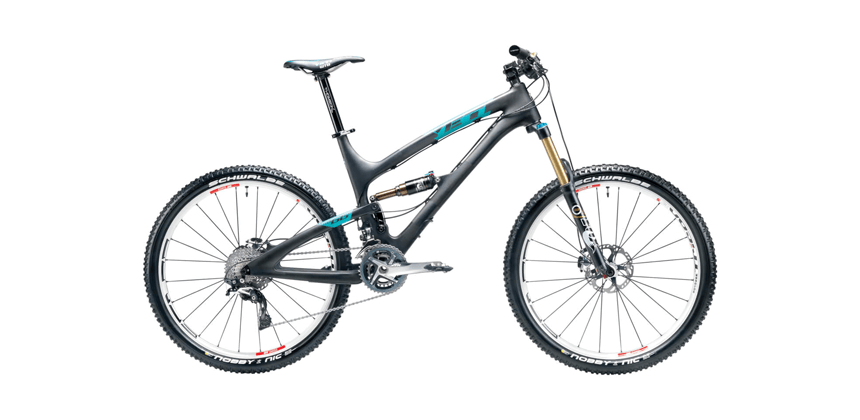 SB66 C
2012
The SB66c was the next evolution of the Switch Technology platform, blending all the technological advancements of the alloy version into a carbon fiber build. Weighing in at a svelte 6 pounds while still boasting 6 inches of travel, the SB66c was the pinnacle of high-end performance. The light weight of the frame coupled with our new Switch Technology made this one of the most capable all-mountain rigs on the market. A testament to its legacy is the number of these models are still seen on the trails today.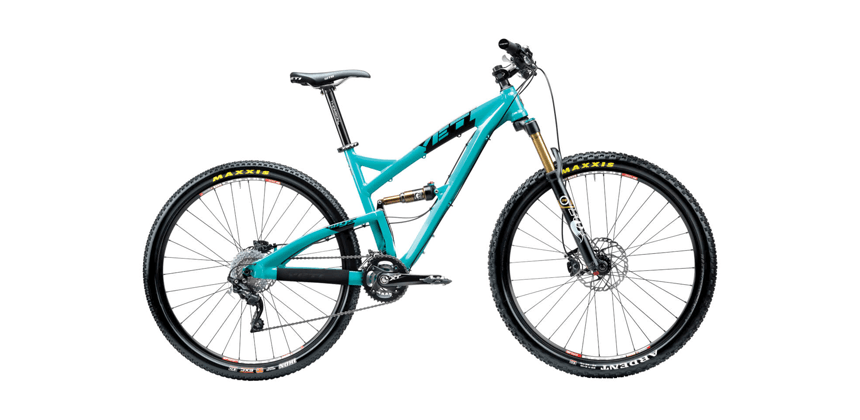 SB95 Alloy
2013
Admittedly, we were a bit late to the game on embracing 29'r platforms. It took us three years and countless prototypes to create a bike that we felt embodied the characteristics of a true Yeti trail bike. The SB95 was the first time we mated the Switch Technology with 29" wheels.
We started with our new Switch Technology to create a platform with crisp pedaling and efficient bump absorption. Our unique suspension design was coupled with a progressive geometry (slack and low) that gave the bike a lively, yet planted feel on the trail. The net result was a bike that climbs extremely well but descends even better. Additionally, our suspension platform and its unique wheel path allowed us to build the SB95 with very short chainstays— key to achieving ride characteristics that we were used to on our 26" bikes. The result was a 29-inch bike with a decidedly Yeti feel.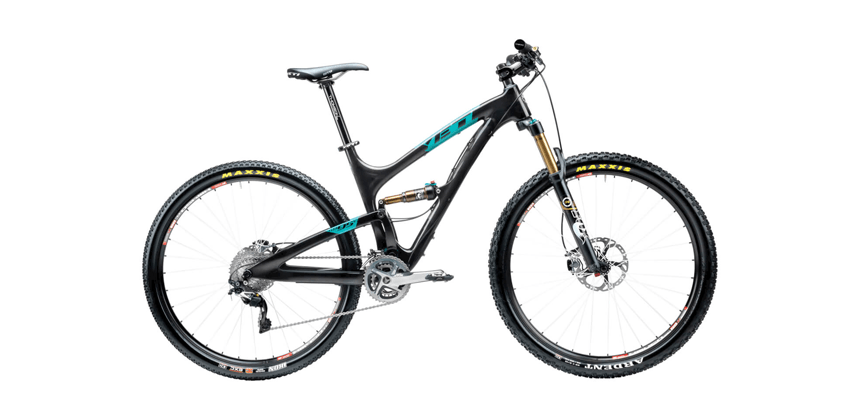 SB95 C
2013
The SB95c was the culmination of more than six years of work and testing on the SB platform. It carried the same progressive geometry, short chainstays, and five-inch travel of the SB95 alloy version, but was wrapped in a light, stiff high-modulous carbon frame. All of this combined with the Switch Technology platform, created what many felt was the best bike we had built to date.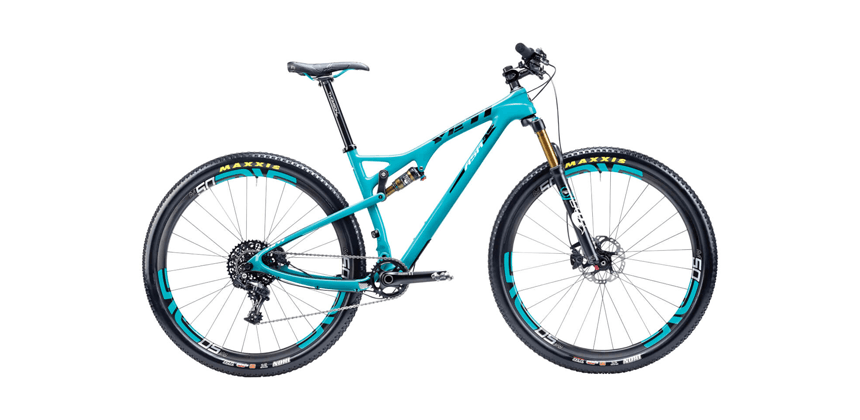 ASR C
2015
This iteration of our legendary cross-country ASR platform was the pinnacle of a single-pivot bike. Every part of the bike was optimized to achieve and incredibly lightweight frame (4.2 lbs), so it rocketed efficiently uphill keeping with its world cup heritage. The suspension had been optimized for shorter travel with an updated modified single pivot design that was honed over the past decade.
When you look closer, you can see the enduro influences. Rather than make a squirrelly xc bike, we chose to inject it with personality so it railed the downhill. The progressive geometry was relatively slack (68 degree head angle), it had a long top tube so you can run short stems and a low bottom bracket to kept you planted in the turns. In capable hands, like that of former World Cup racer and longtime Yeti freak Paul Rowney, it could still beat longer travel models up and downhill.
SB5 C
2015
We took everything we learned from our popular Switch Technology and merged it with our bump smashing 303 Rail Technology to come up with a completely new suspension design called Switch Infinity. The SB5c was the first model to incorporate this new Switch Infinity technology and was our interpretation of what a trail bike should be— lightweight, great pedaling uphill and a screamer going down.
This new system allowed the suspension to achieve seemingly contradictory characteristics. In the early stage of travel it displays superior pedaling efficiency and excellent small-bump sensitivity. As you move deeper into the travel, it's supported and responded effortlessly to square-edge hits. This bike set the mold for all future models developed under the Switch Infinity platform.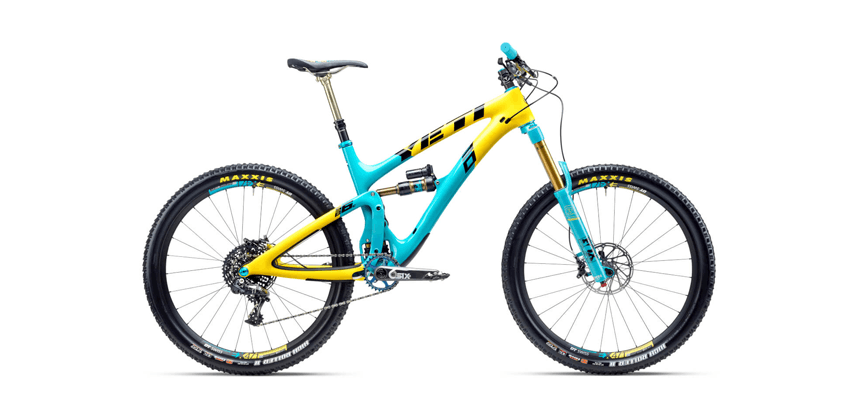 SB6 C
2016
The SB6c was built as a pure enduro race machine and proved its mettle before it even went into production, winning two consecutive rounds of the Enduro World Series. At the core of the SB6c was our new Switch Infinity suspension, which allowed the bike to have incredible pedaling characteristics and controlled, bottomless feel as you moved deeper in the travel. It proved ideal for enduro racing, lift-served riding, or long days in the backcountry.
Long-time Team Yeti rider, Jared Graves was critical in designing this bike. He worked with our engineers to create the ideal leverage curve and was instrumental in nailing the geometry— long, slack and low. The 65.5 degree head angle is slack enough for the steepest terrain and the long top tube demands a short stem and wide handlebars.
To commentate our 30th anniversary we painted the SB6c with our heritage colors.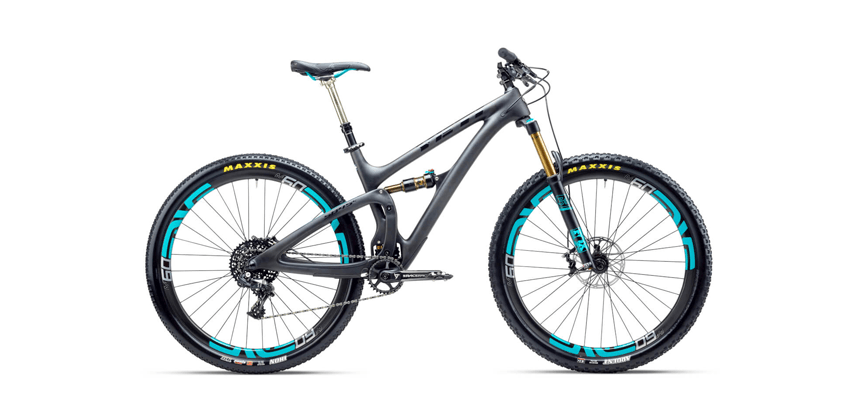 SB4.5 C
2016
The first 29'r adaption of our award-winning Switch Infinity platform was the SB4.5, transforming expectations for big-wheeled trail bikes. It was our answer for riders looking for a versatile 29'r trail bike. The SB4.5 frame was optimized for 29" wheels and had a distinctly different personality than previous 29'rs, ensuring that the rider feels perfectly balanced between the wheels– not top heavy or lumbering. The proficient Switch Infinity suspension platform and short chainstays made this bike feel effortless on climbs and lively and plush on descents.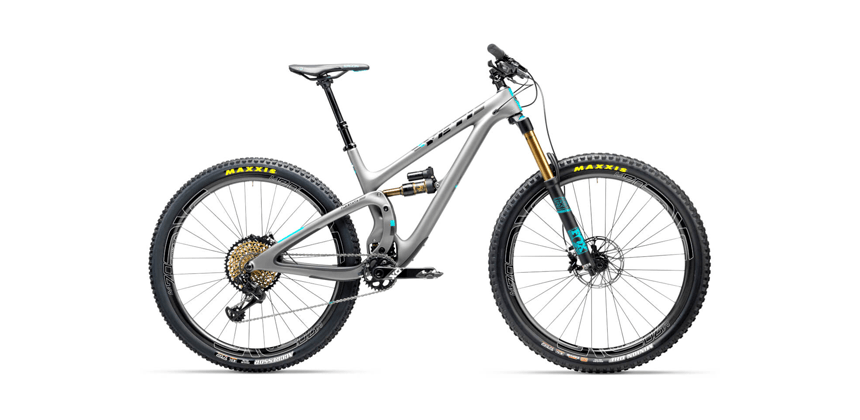 SB5.5
2016
Quite possibly the finest bike we have ever made, the SB5.5 is where trail, all-mountain and gravity bikes intersect. Tried and tested under the likes of EWS World Champion Richie Rude, and our in-house test team, this lightweight bike eats up grueling technical climbs, and hauls ass going downhill. Forget any preconceived notions about 29'rs. Thanks to an impeccable frame design, shortened chainstays and aggressive suspension spec, this bike is easy to maneuver and feels lively and quick on the descents.