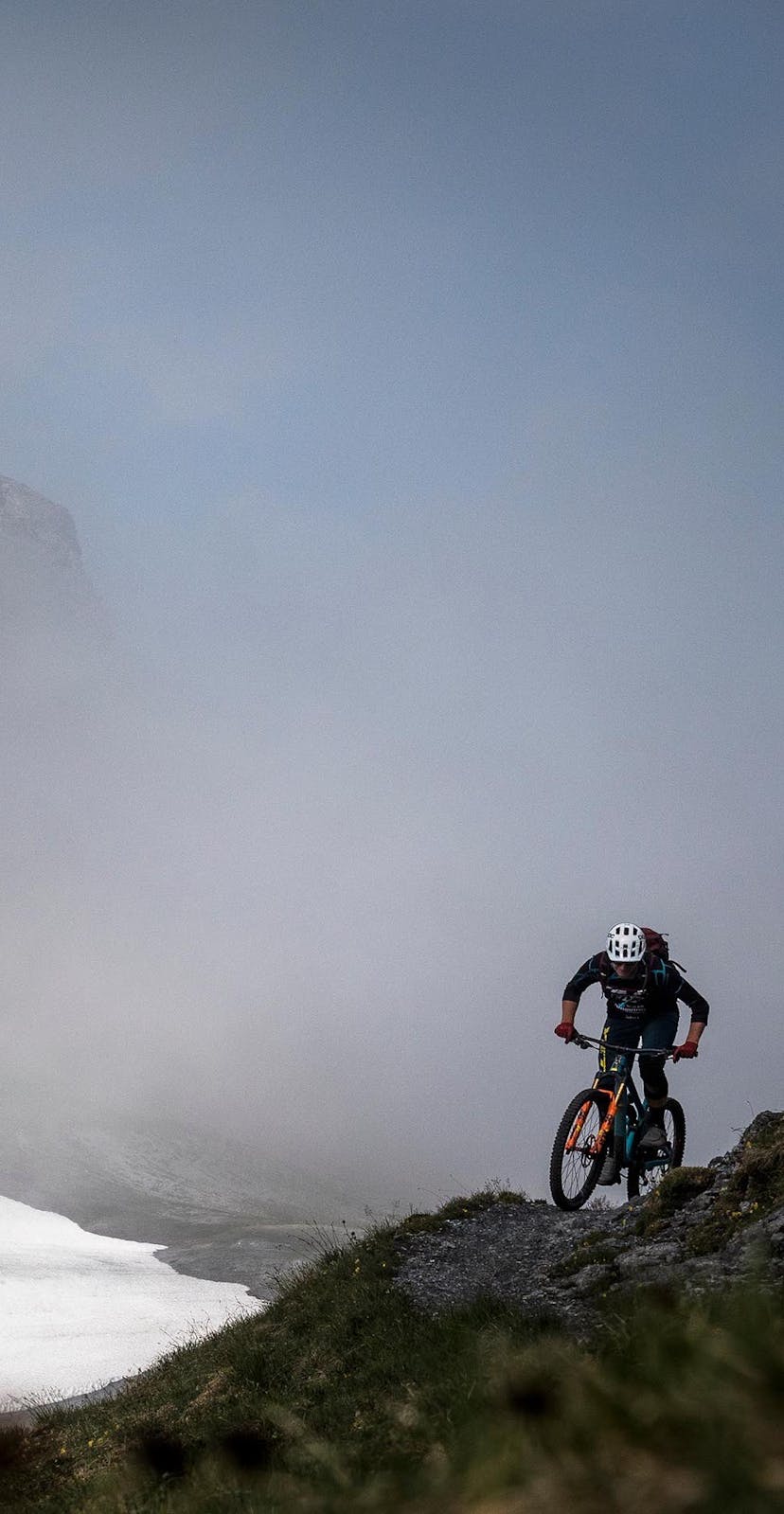 gatherings
INT'L GATHERING
SWITZERLAND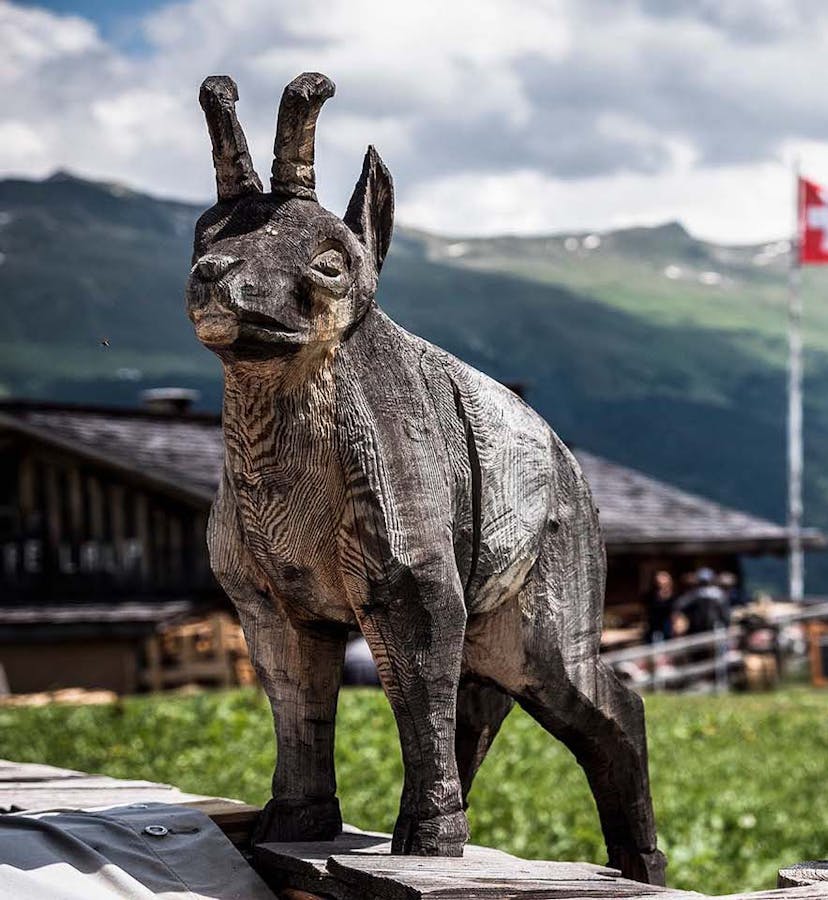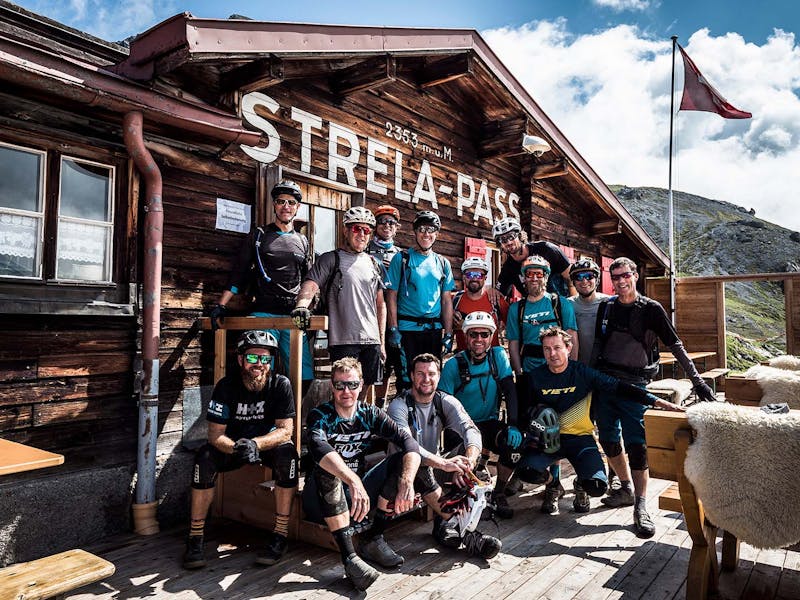 5TH ANNUAL INTERNATIONAL YETI GATHERING
Words & Images by Dan Milner
That was the toughest twenty minutes of my life!" says Joao, when we finally pull to a stop. Joao's expression suggests he's not spouting hyperbole. I wouldn't go quite so far, but I'm sharing a heck of a lot of his pain. The last twenty minutes saw me clinging desperately to the rear wheel of the rider in front of me —as if sitting in his slipstream would magically drag me along, effortlessly and without a single pedal stroke. It didn't. Instead I found myself digging deep for energy reserves that had long run dry somewhere during the last thrash along a rollercoaster traverse high above St Moritz. So, I'd disconnected and spun my cranks mindlessly, longing for our hotel to loom into sight and with it the promise of a cold IPA. Oh, for that IPA. But what, according to our local guide Dave Spielman, was to be an easy twenty-minute spin along the bottom of the broad U-shaped Engadin valley, soon became thirty minutes. Then forty. .
I was toast at just fifteen.
SWITZERLAND KNOWS ABOUT STOKE. HALF THIS LITTLE COUNTRY —ABOUT A TENTH THE SIZE OF CALIFORNIA— IS BURIED UNDER FROSTY PEAKS THAT SOAR TO 13,000 FEET AND PLUNGE STEEPLY DOWNWARDS TO KISS EMERALD GREEN VALLEYS, THEMSELVES DOTTED WITH THE KIND OF RUSTIC OLD BARNS AND AZURE BLUE LAKES THAT MAKE IT POSTCARD PERFECT.
CERTIFICATES OF STOKE
This punch of lactic acid was candidly handed out at the end of the fifth day of the Yeti International's Gathering in Switzerland. It was a day that started in Davos and finished in St Moritz; a day that had crammed in cable car uplifts and minibus shuttles to ride furious descents from wild, high mountain passes followed by long, undulating XC-style traverses. It was a day of countless roots and grinding climbs, and of sweat flowing as freely as cider at a youth club disco. Hectic. Long. A little punishing. And it had ended in that twenty-minute slog. But whatever the level of suffering, it had been a day I'd grab at again and again, any time, like a perverse masochist's dusty groundhog day. And I wasn't alone. Around me IPA's were now being washed down with smiles. Broad, proud, bewildered smiles. Certificates of stoke.
Switzerland knows about stoke. Half this little country —about a tenth the size of California— is buried under frosty peaks that soar to 13,000 feet and plunge steeply downwards to kiss emerald green valleys, themselves dotted with the kind of rustic old barns and azure blue lakes that make it postcard perfect. Actually, it's so damned visually perfect that it's a surprise that Switzerland hasn't trademarked the picture postcard itself. And it's among these living, breathing 3D postcards we ride for eight days; meandering between countless towering peaks and traversing vast, steep sided valleys that were once the domain of vast, un-sailed seas of ice.
For eight days the Eastern Swiss Alps resound with cheers of laughter —and a few yelps of pain— as eighteen Yeti riders pedal, push and freewheel their way along Switzerland's finest trails. And it's a journey for everyone involved. Beginning among the jumps of Lenzerheide's bike park and finishing in the dusty, Mediterranean-like rock gardens of Poschiavo, these riders, from six different countries and whatever their backgrounds, will become united by their love of rock gardens, forest loam, ribbon-like singletrack, and an appetite for new experiences.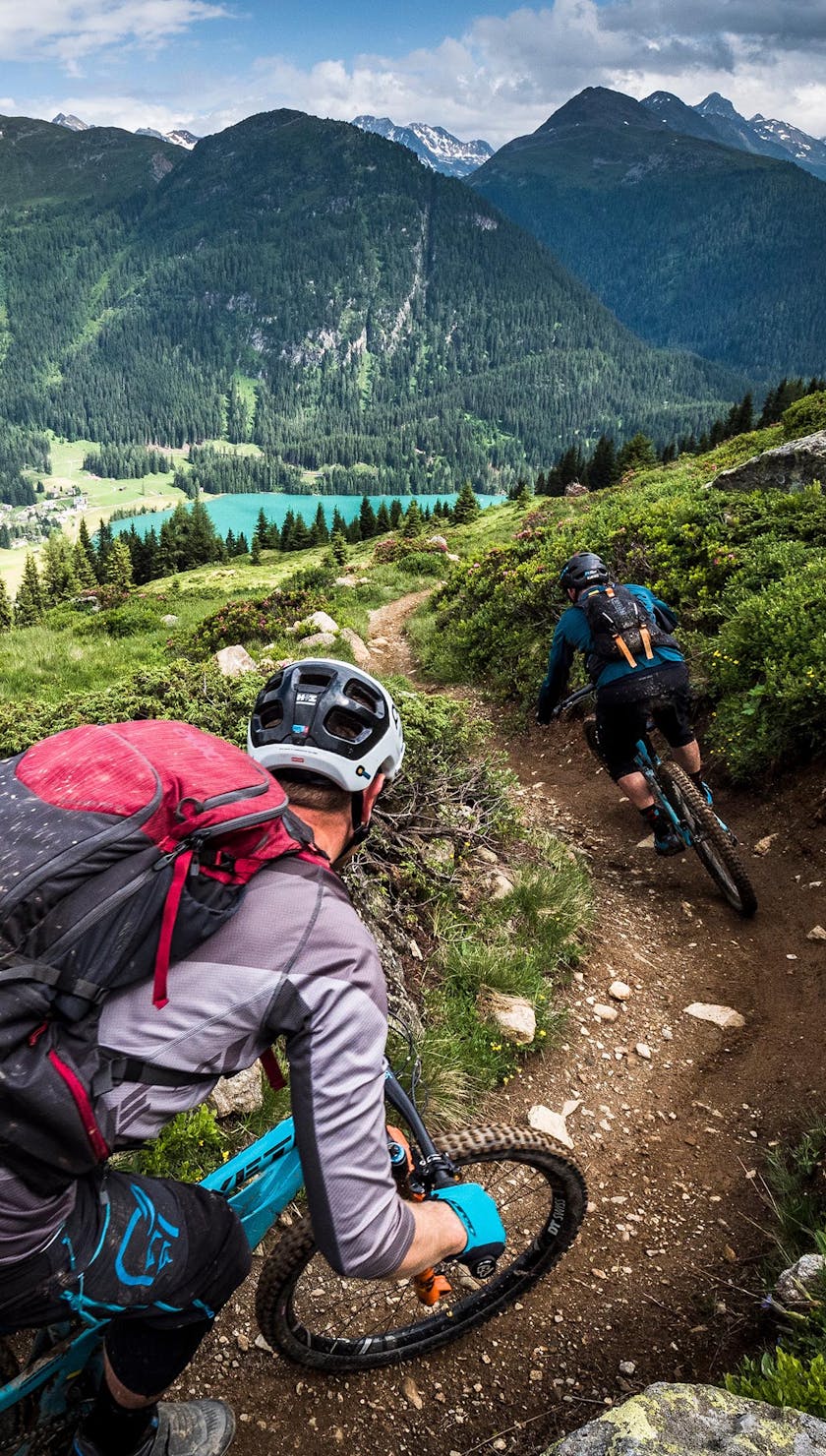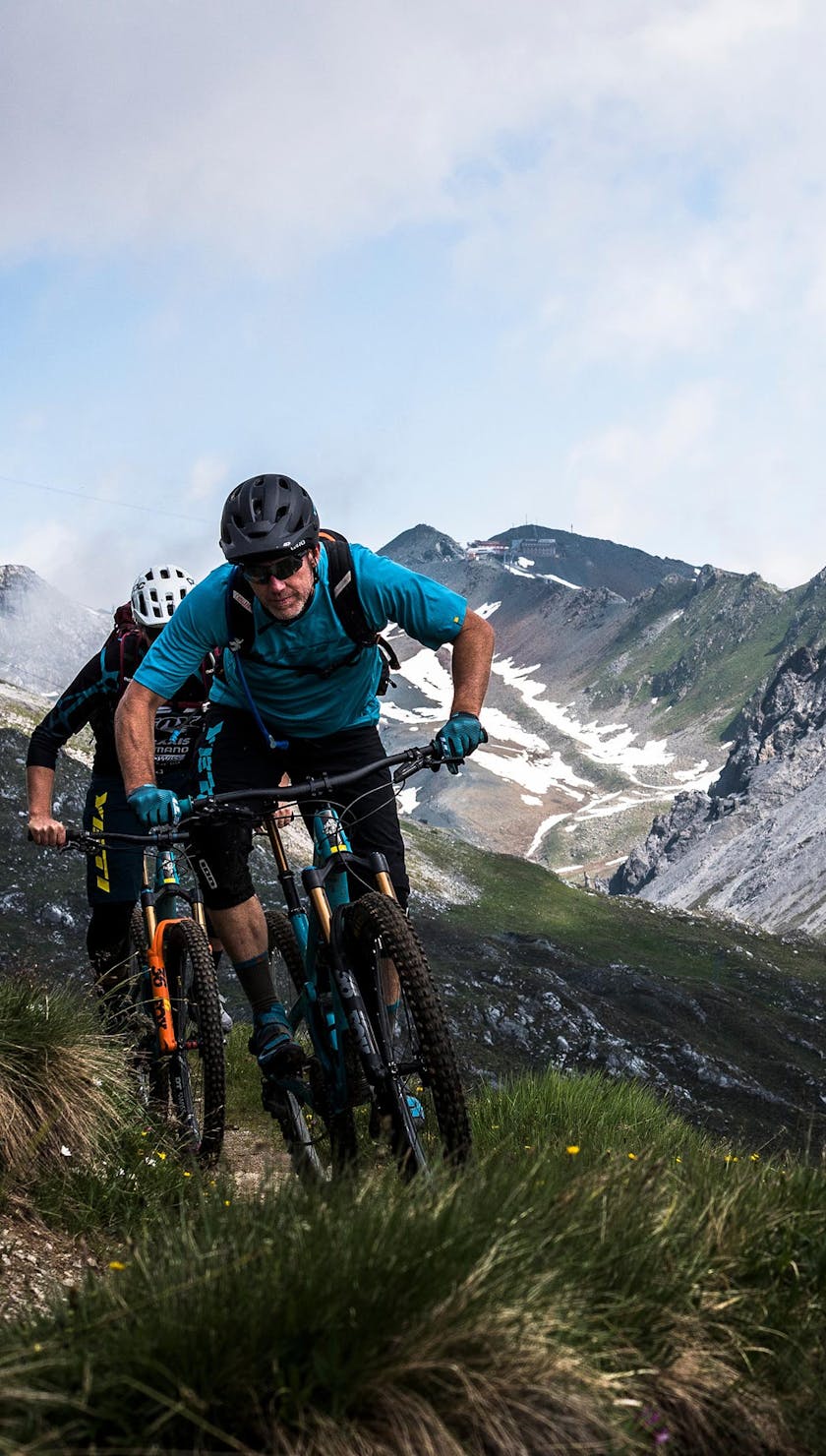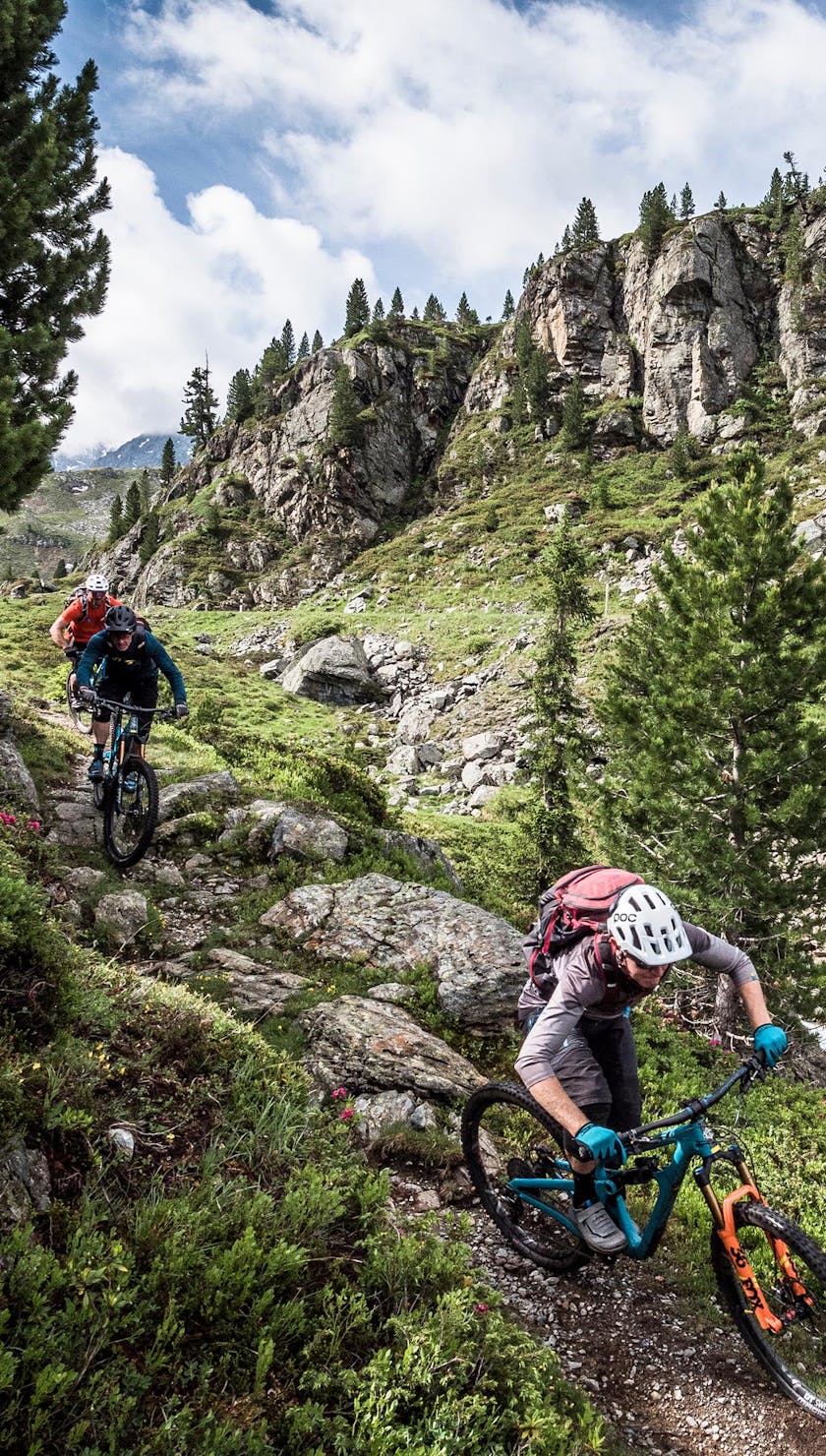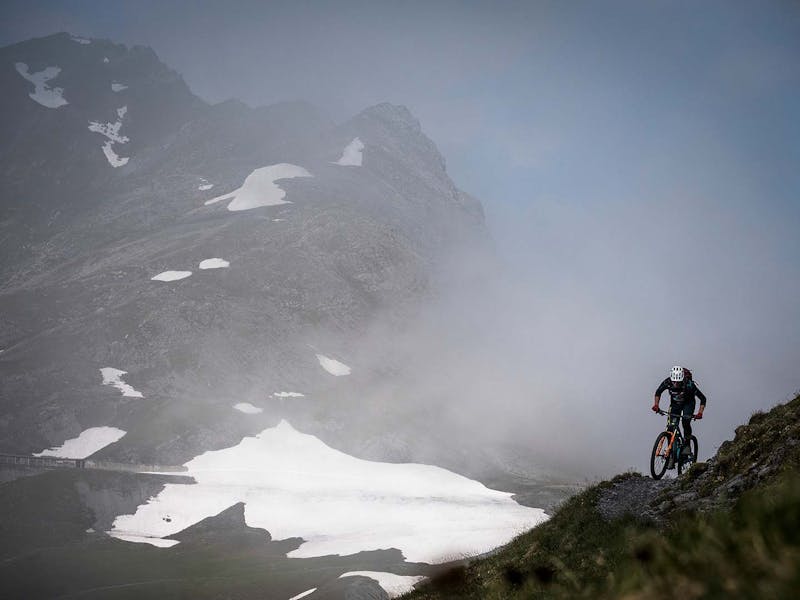 FINALLY THE DRIVER STEPS IN, LOOKING AT LEAST SEVENTY YEARS OLD AND I FIGURE THERE'S PROBABLY NOT MUCH HE HASN'T SEEN BEFORE, NO MATTER HOW MODERN HIS TRAIN IS.
The Swiss do public transport well — too well in fact. But today it's a reputation that's come back to bite them in the ass. Gathered under the harsh, functional strip lights of the Parsenn funicular train we watch the minute hand tick on, unrelenting, to leave the scheduled departure time far behind. Bikes are lubed and lined up and our eagerness to ride cracks through the air like static before a lightning storm. 'This is not very Swiss," says Dave with a hint of the awkward, stealing the comment from everyone's lips. We laugh, joke and stand patiently. And then stand some more; a jetsam and flotsam of grubby jerseys and pungent kneepads washed up among the brushed stainless railings and shiny red livery of a state-of-the-art train. Finally, the driver steps in, looking at least seventy years old and I figure there's probably not much he hasn't seen before, no matter how modern his train is. For a brief moment he seems to ponder the controls, presses some buttons, flicks some switches… and then without an explanation of the deviation from normal Swiss punctuality, we're off.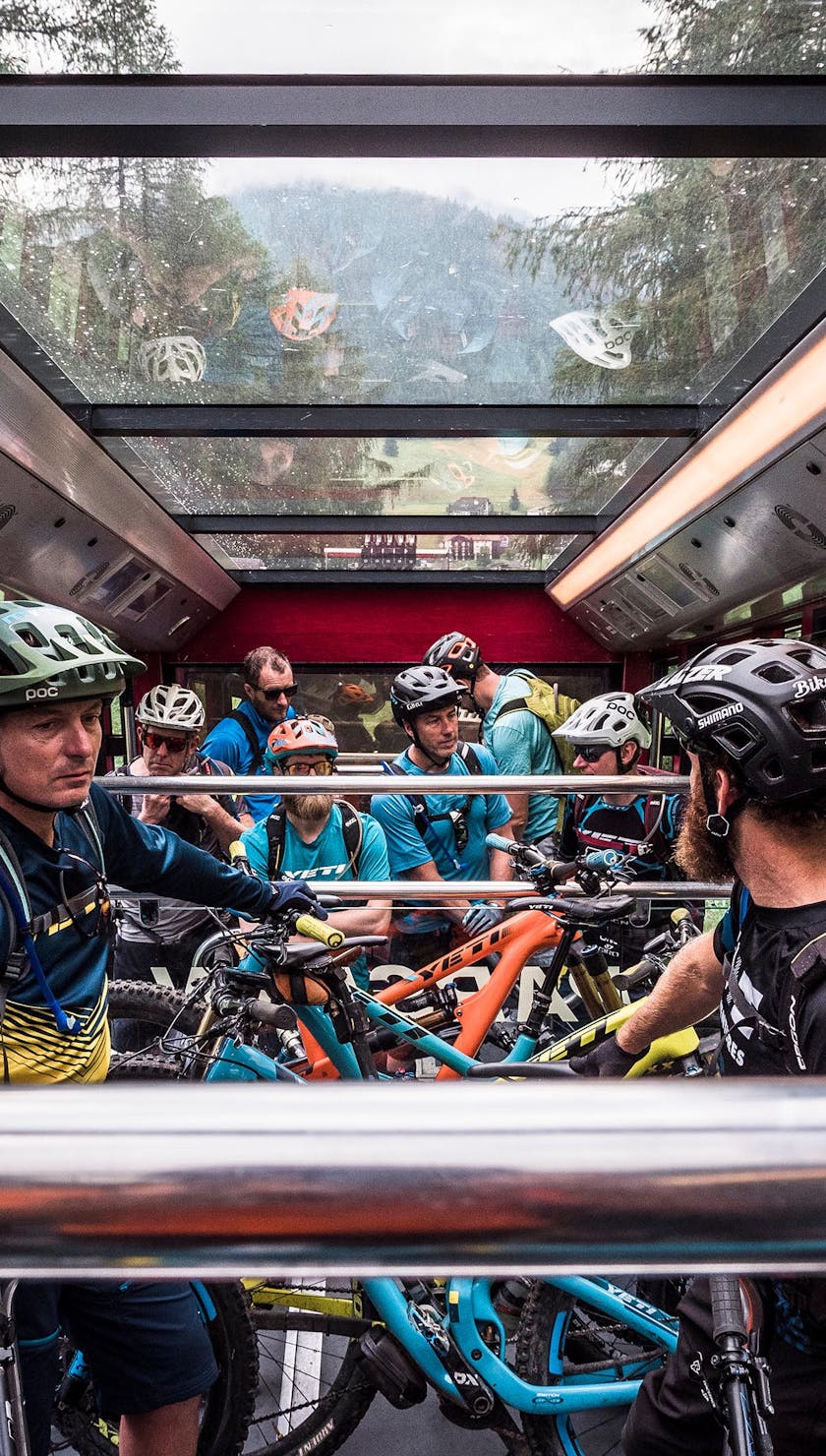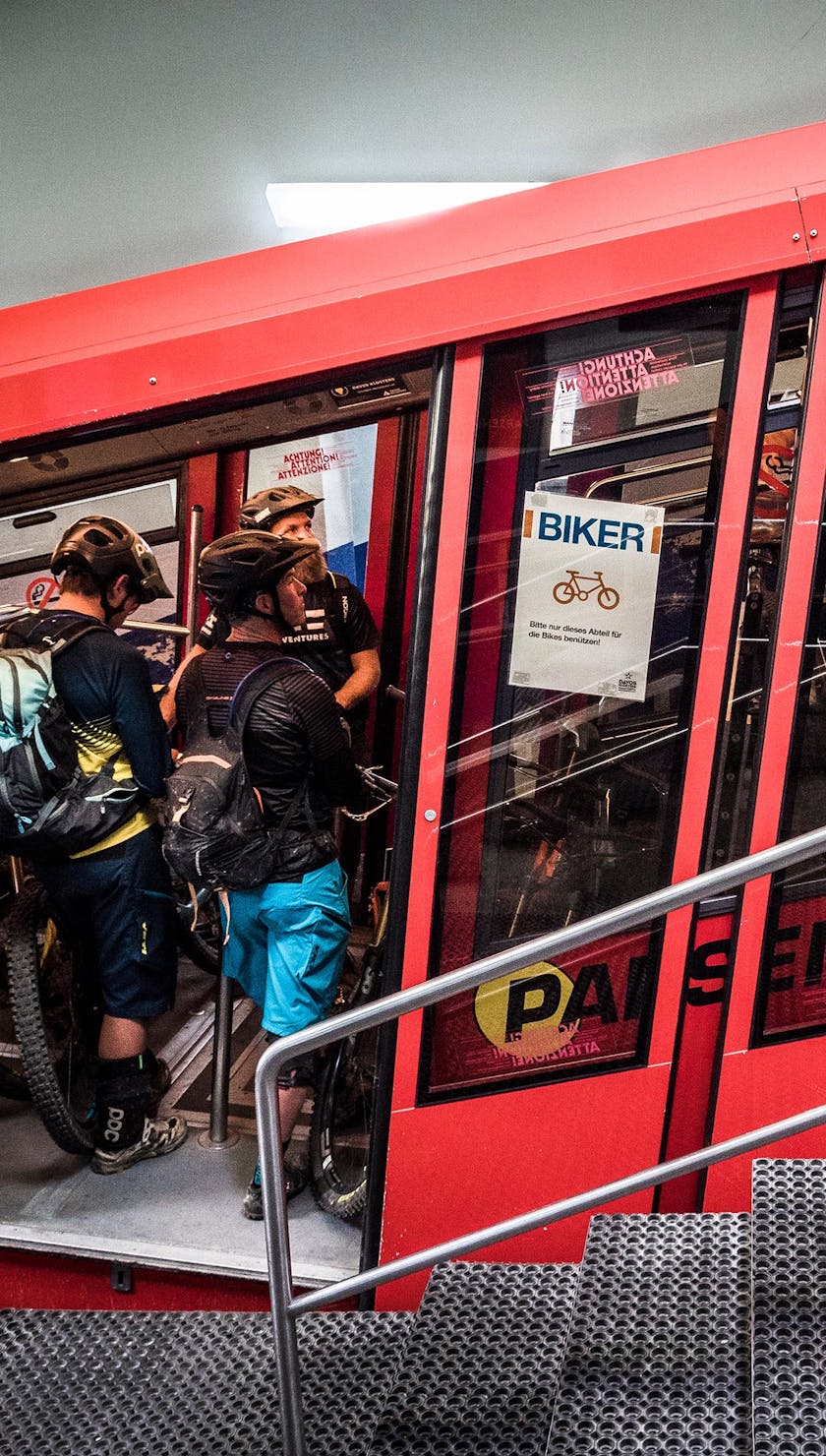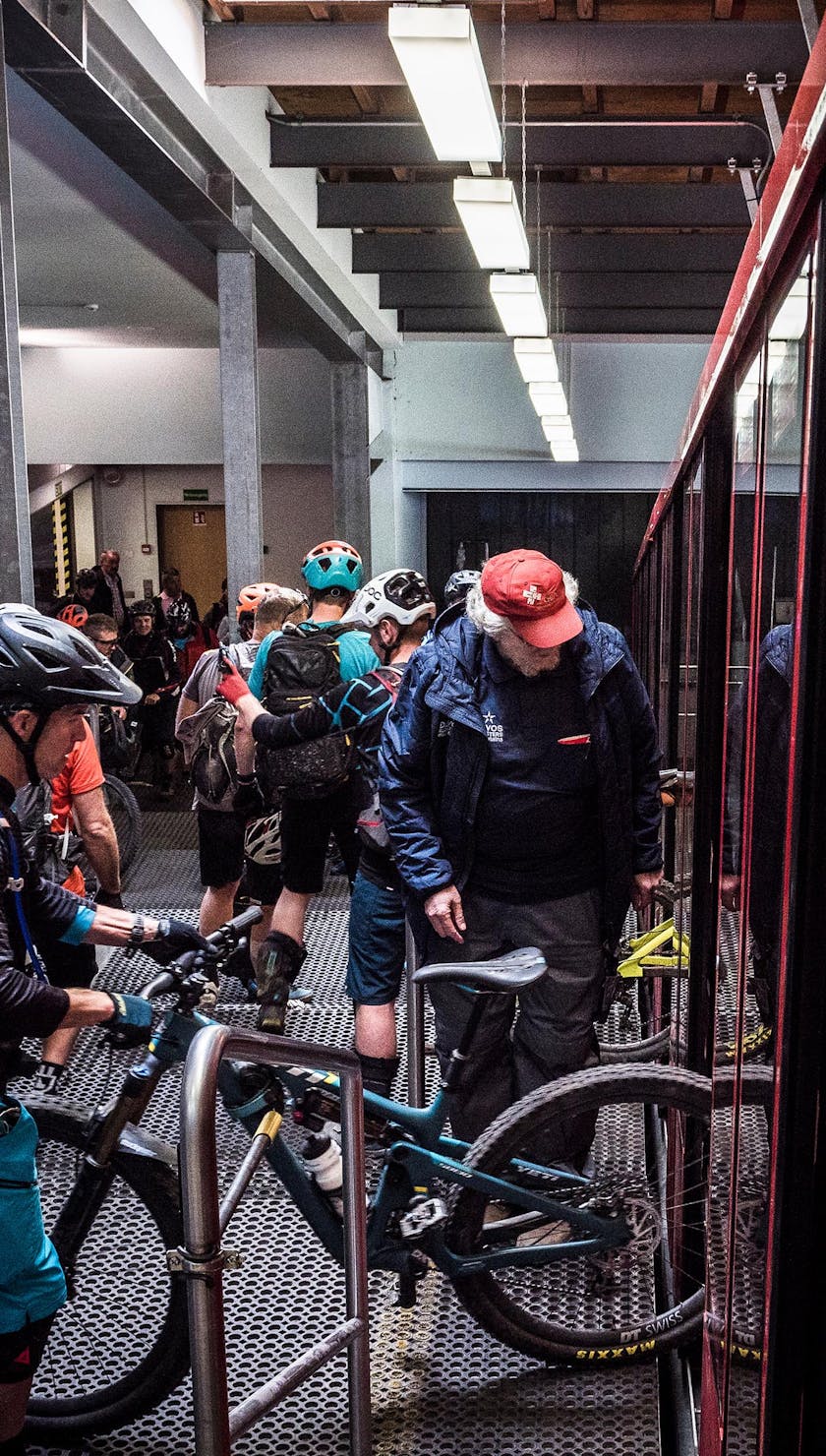 IT'S A DAY THAT, LIKE ALL OTHERS ON THE TRIP, WILL BOAST AN ALMOST INEXHAUSTIBLE VARIETY OF TRAILS — A FIVE-STAR, EAT–ALL-YOU-LIKE BUFFET FOR THE DIRT HUNGRY.
THE PAYBACK IS WORTH THE WAIT
The payback is worth the wait. Our funicular glides effortlessly up 2000 feet of impossibly vertical mountainside, without so much as a rattle — as only a Swiss train could do. It burrows through thick fog to deliver us to the start of yet another day's riding. It's a day that, like all others on the trip, will boast an almost inexhaustible variety of trails —a five-star, eat–all-you-like buffet for the dirt hungry. Still enveloped in fog we stumble from the train straight into 45F temperatures and a steep gravel climb that quickly levels the whole group to labored breathing and some to pushing bikes. But this rude wake-up call is mercifully short. It leads us into a buff, undulating traverse that cuts west, winding its way through lava-lamp clouds that tumble and billow unpredictably across stark limestone buttresses. Riding in Switzerland is never boring. And thankfully, rarely without a mountain restaurant nearby for a re-fuel either.
We regroup at the Strelapass hut as the sun hounds the last dregs of moisture from the hillsides. Coffee is slurped and apple strudel gulped, while Swiss flags and marmot whistles fly in the breeze. Caffeine fix ticked, we hike a traverse across winter snow pockets too stubborn to yield to summer's demands, before pushing up a steep ridgeline trail to reach our hard-earned reward; a long winding descent to Stoffelalp on a singletrack trail that cuts back and forth across a vast rolling meadow. This is fast, wild riding; a carefree sprint that can't be careless. Here exposure hides in wait for the over-reaching, lurking behind boulders and blind corners; true all-mountain style. Our trail drops and rolls in a hundred or more pump bumps, before twisting and spiraling like a tormented eel fished out of water, plummeting ever downwards into the dark of a forest littered with roots and painted a thousand shades of green.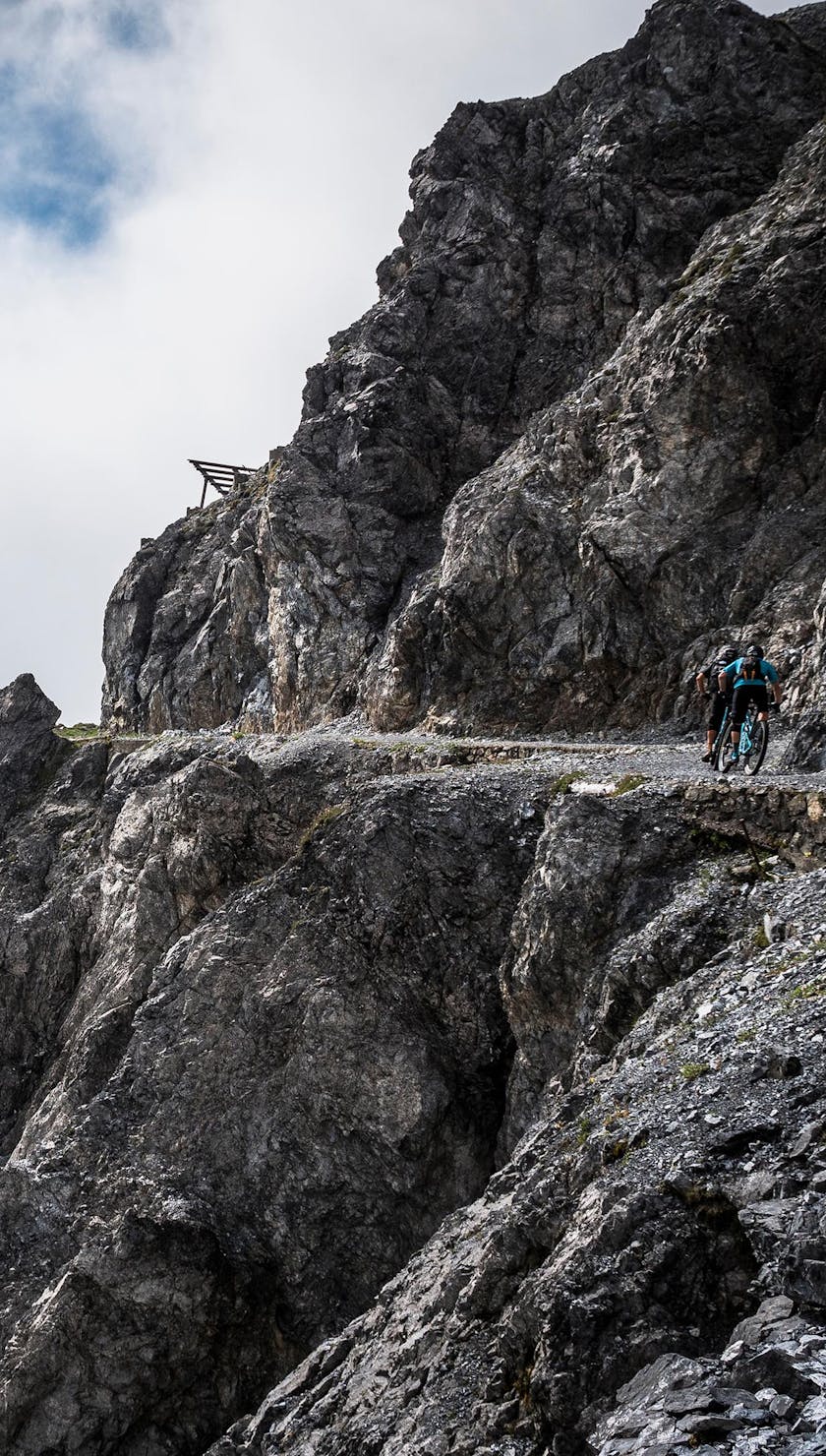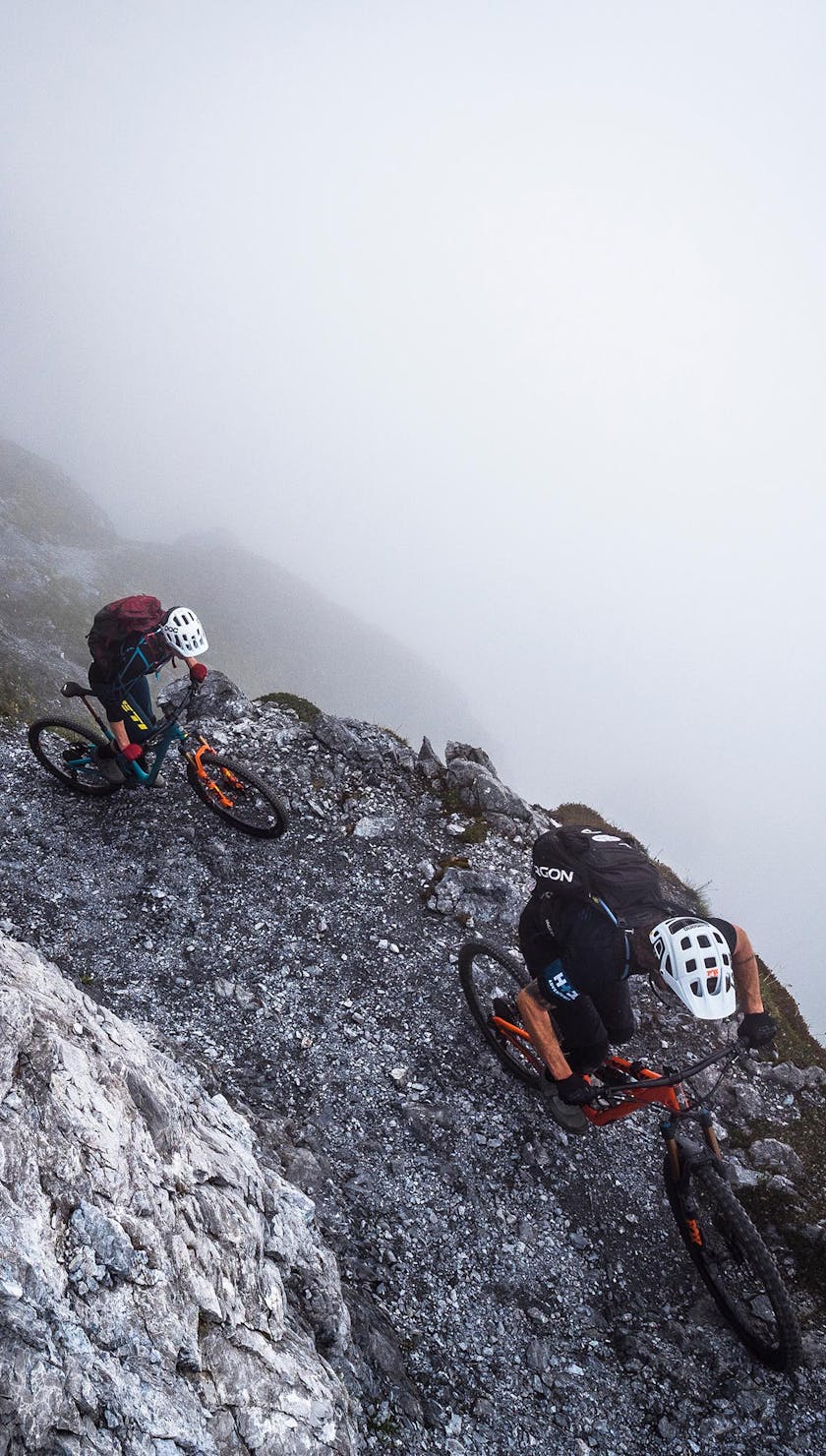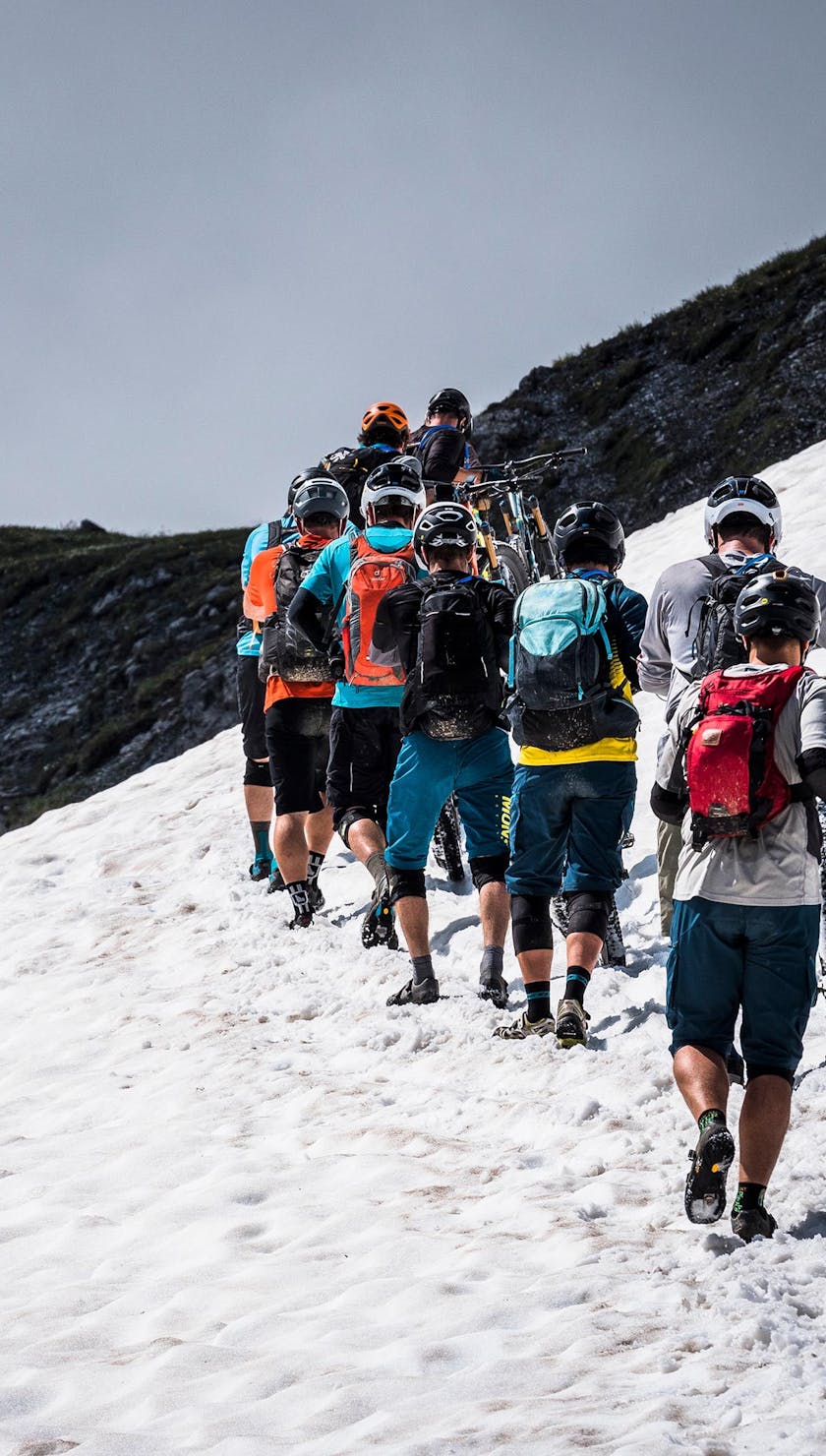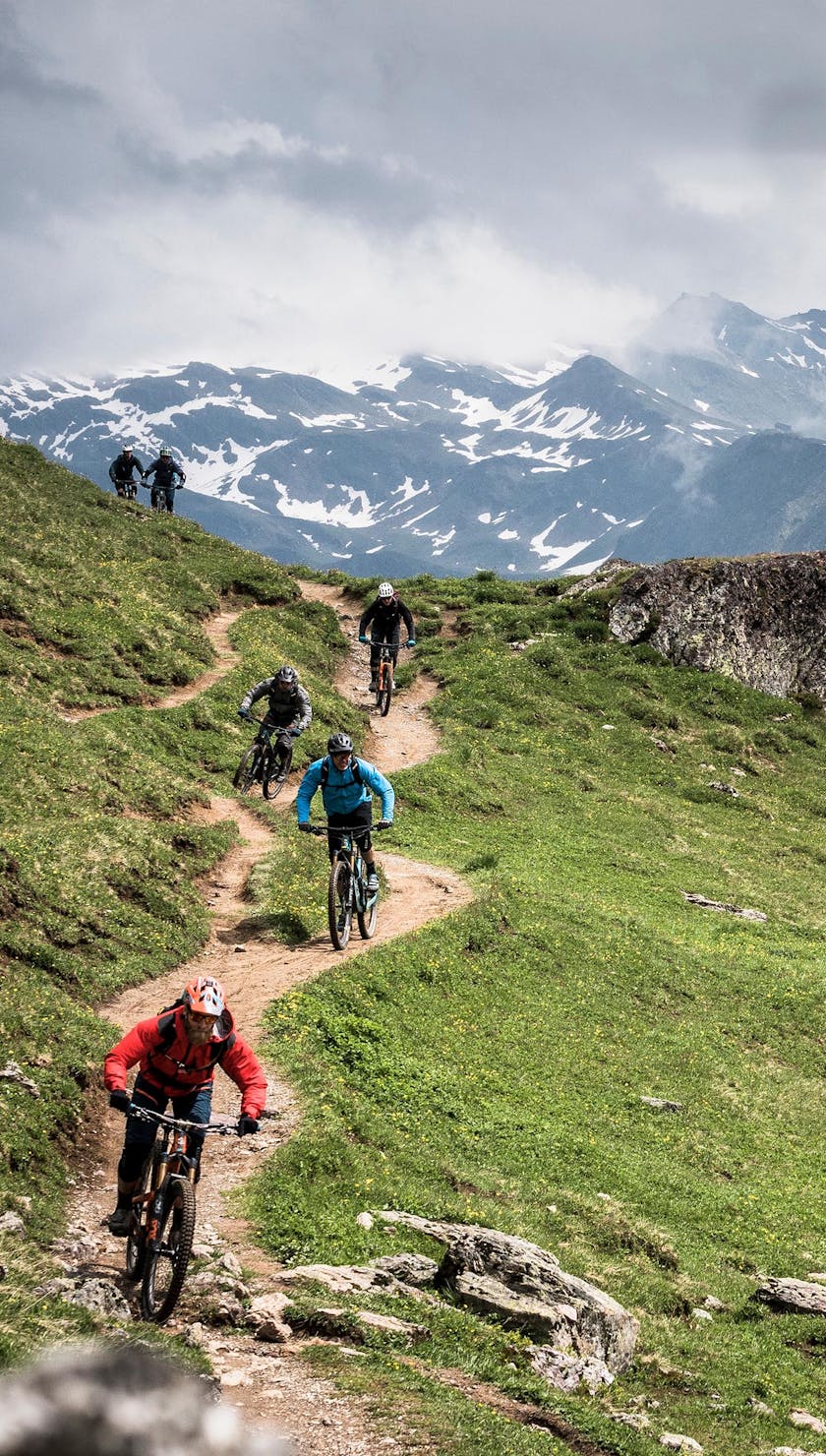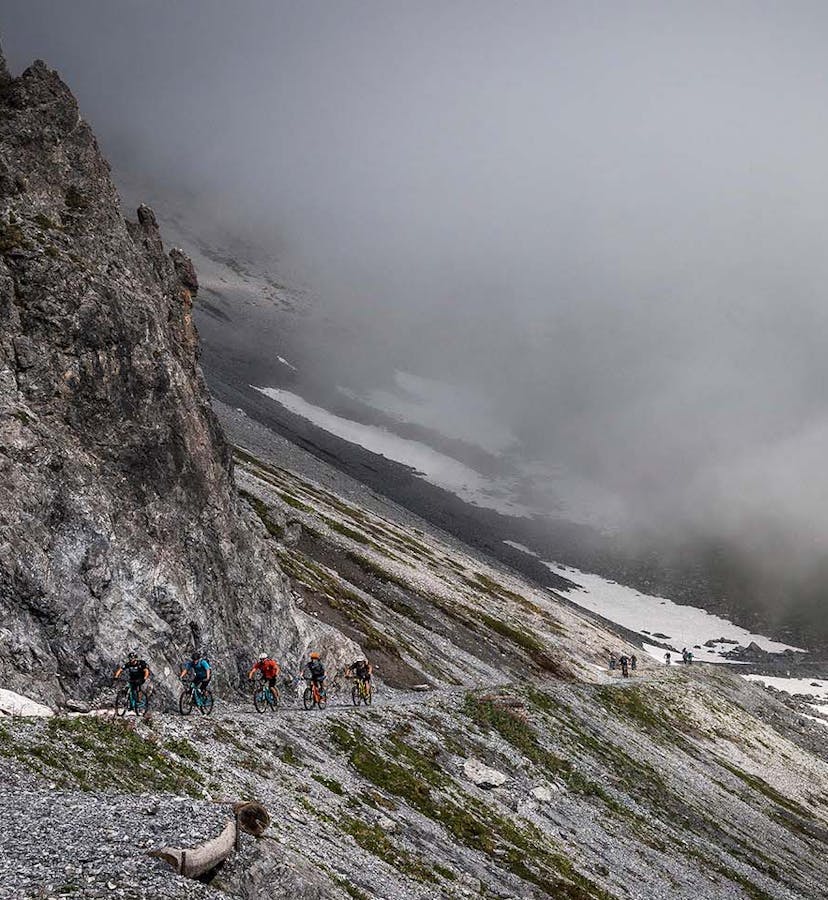 WHEREVER YOU COME FROM, WHATEVER YOU HAVE RIDDEN PREVIOUSLY, DAVOS WILL RE-WRITE YOUR ALL-TIME LIST OF TOP-FIVE TRAILS.
The vast, hulking Jakobshorn cable car easily swallows us, our eighteen bikes, and at least another twenty camera-toting sightseers. At its 9000 ft top station, this ephemeral collision of different worlds returns to binary. We leave the other tourists to their ice creams and selfie-sticks and dive headfirst into a sea of endorphins —and what everyone will agree is one of the top five trails in the world, anywhere: The Alps Epic Trail to Sertig.
Two thousand vertical feet of sweeping natural berms and punchy rock gardens is as much a full-body work out as a mental one. Focus is interjected with laughter, calculated line choices spliced with reactive self-preservation. How long can a mere two-thousand vertical feel? How much fun is guilty? How can we hotlap it? Wherever you come from, whatever you have ridden previously, Davos will re-write your all-time list of top-five trails; and the Alps Epic will be one of them.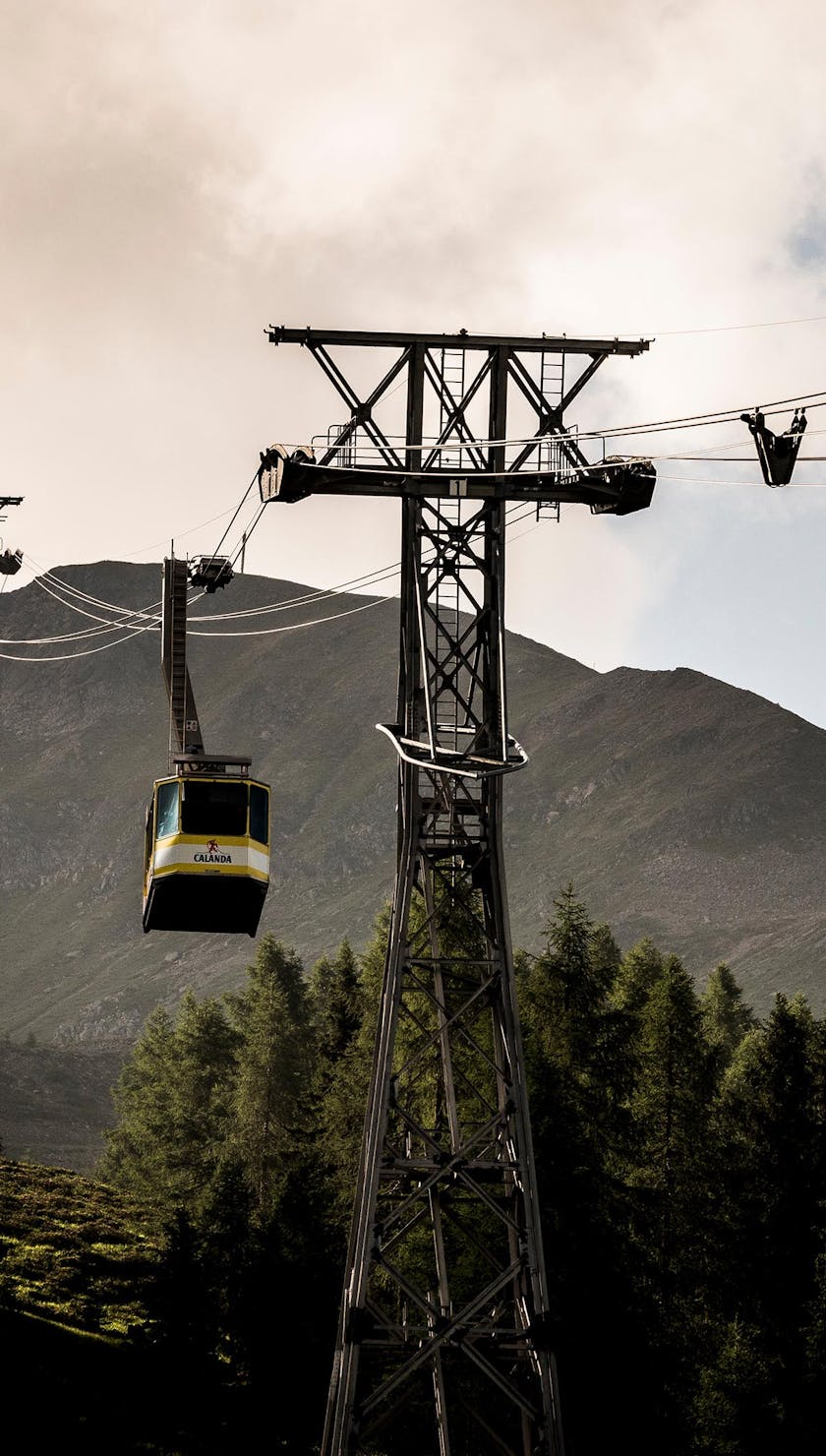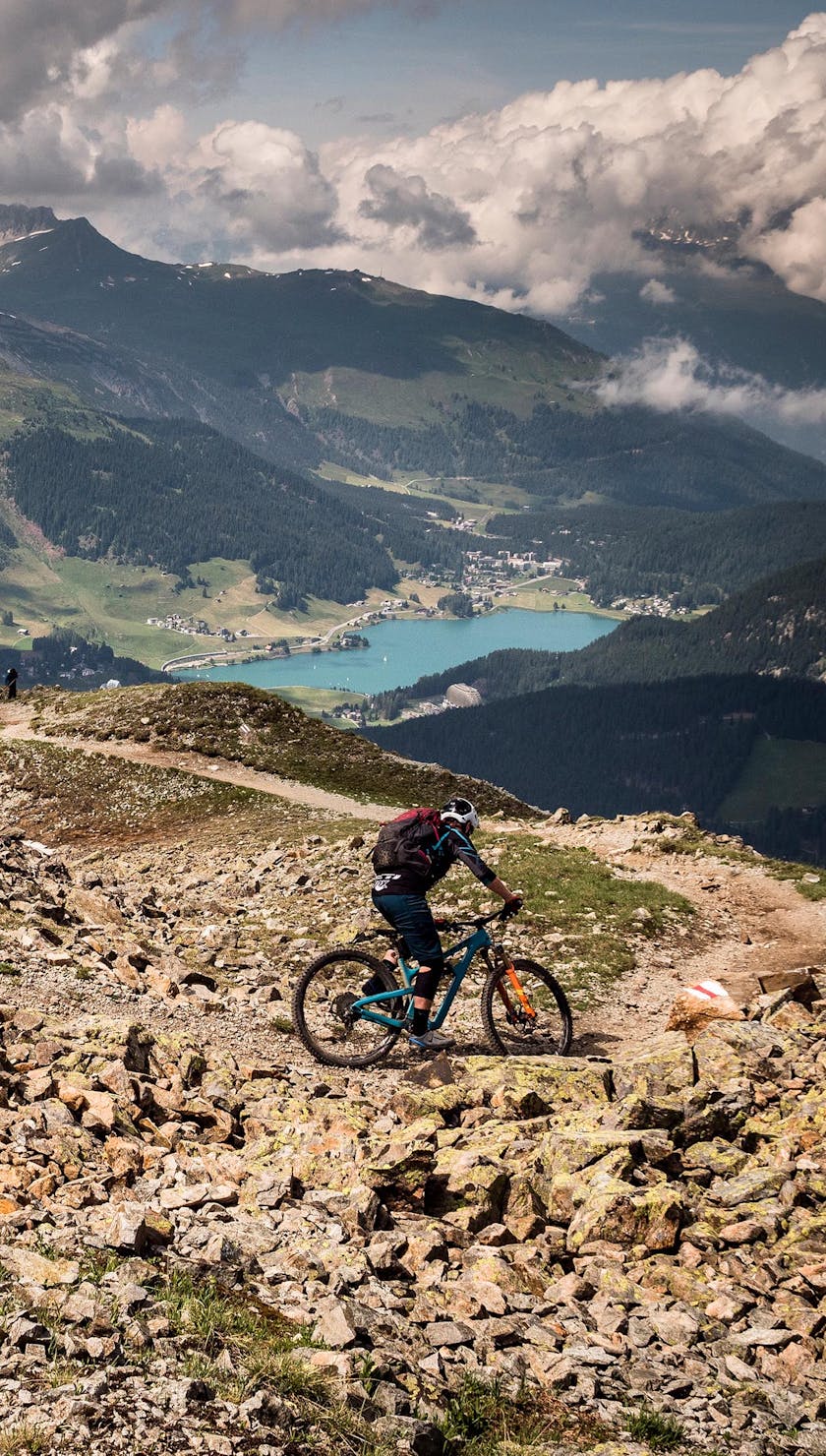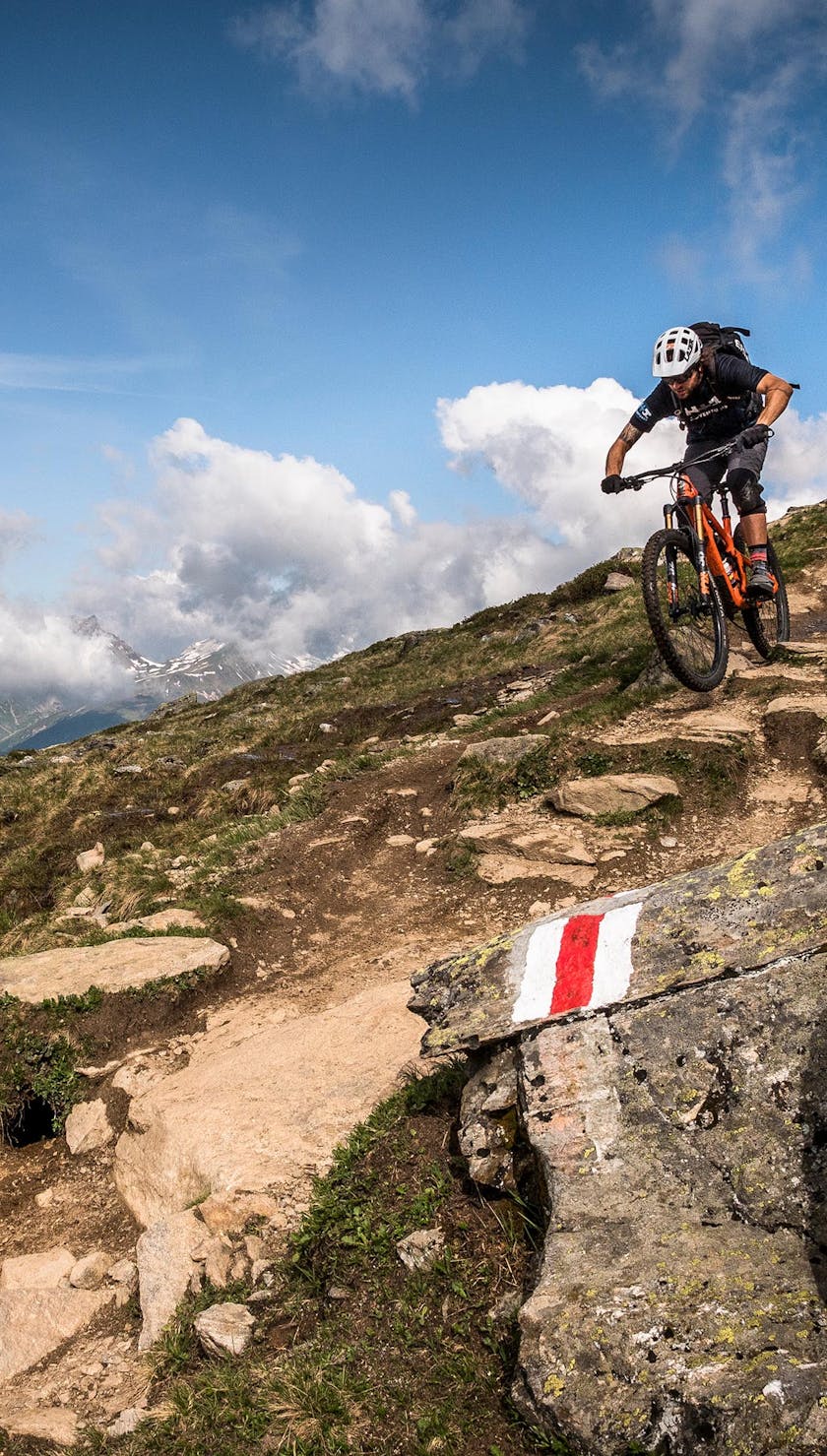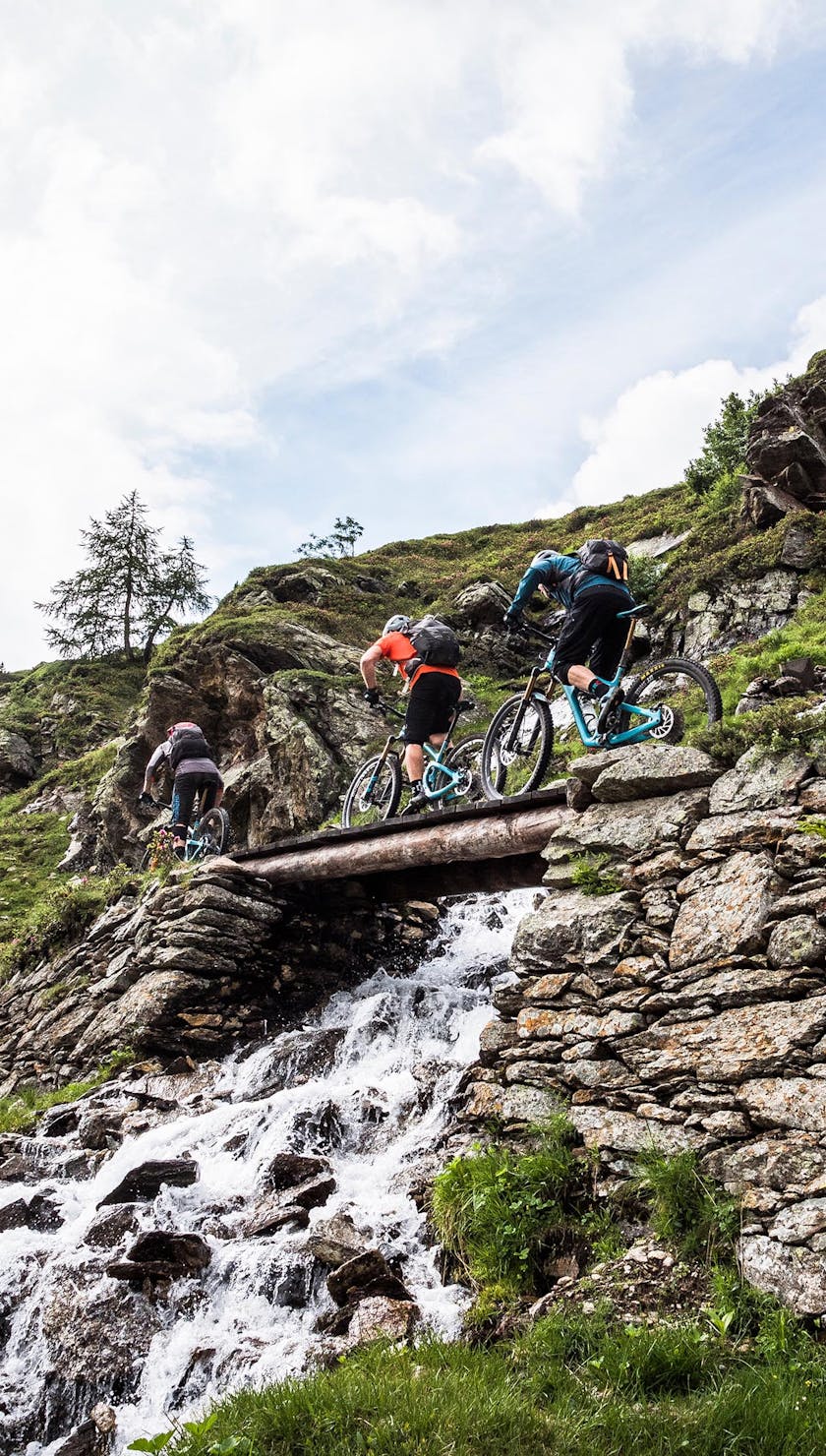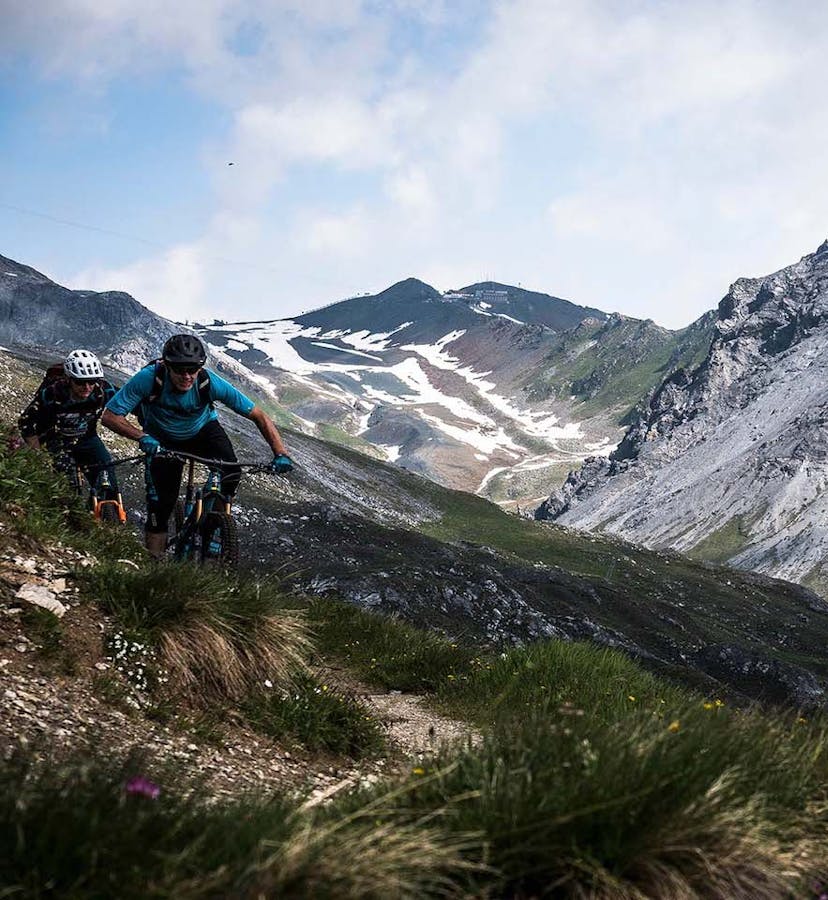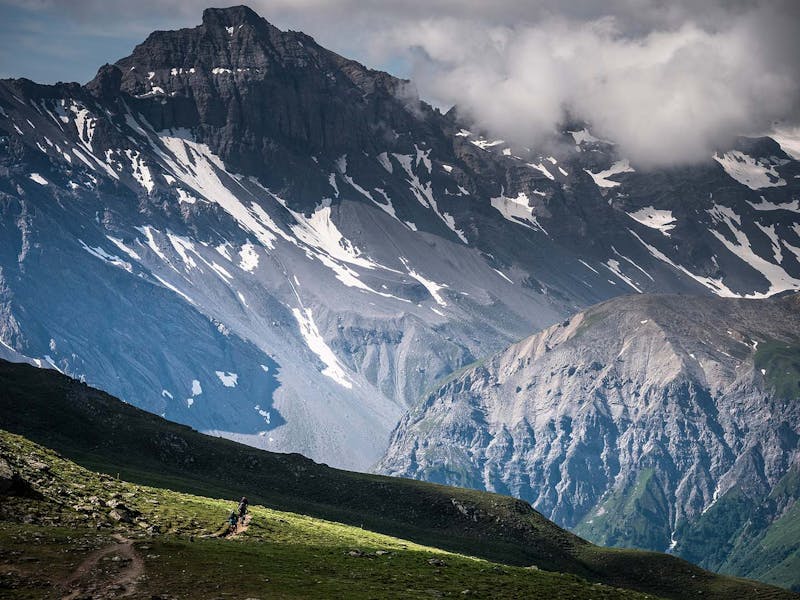 ALL 18 OF THEM
Separating the eastern Alps from nearby Italy, the Bernina Pass is no stranger to travelers who have braved its challenges, to smuggle or trade, to colonize or conquer. And it's on paths trodden into the dirt centuries ago that we now ride, dropping south from the pass towards Poschiavo. Old mule tracks, now broken and littered with jumps and myriad opportunities for snakebites, lead us onto a twisting singletrack so dry it billows dust clouds with every passing tire. And after 2200 vertical feet of descent we find ourselves rolling cobbled streets of a 1200-year-old town. We ride between ancient churches painted in pastel hues —flavors of Italy— before sitting down to the kind of hearty lunch that Italian culture knows too well. We may still be in Switzerland, but the legacy of the remote Bernina Pass has ensured this southern corner of Switzerland has historically been aligned with Italy. It is an enigma.
WE RIDE BETWEEN ANCIENT CHURCHES PAINTED IN PASTEL HUES —FLAVORS OF ITALY— BEFORE SITTING DOWN TO THE KIND OF HEARTY LUNCH THAT ITALIAN CULTURE KNOWS TOO WELL.
There are uplifts and there are uplifts. And there are trains and then there is the Bernina Express: a 109 year old, UNESCO caressed railway that crawls its way over the 7300 ft Bernina Pass, high above St Moritz.
The pass is a land of tumbling ice and milky glacial lakes, of stark, barren rocky hillsides and the uncompromising feel of remote. Dominating the skyline is the Piz Bernina, 13,023 feet of glacier-savaged rock and knife-edged ridges. Now the four-star hotels of St Moritz that were our home last night might as well be another planet. Instead robust, brave outposts of inhabitation cling to this harsh landscape, their chiseled granite forms becoming physical incarnations of human ambition— or foolhardiness, perhaps.
We hurriedly pull our bikes from the train —all 18 of them— our waves goodbye carried after it on a breeze that undoubtedly blows incessantly across this pass. And at our feet is a trail.
IT'S BEEN A JOURNEY. BUT NONE WOULD HAVE DONE IT ANY OTHER WAY.
But then Switzerland itself is an enigma. Sitting at the heart of Europe it has remained apart from Europe's long, gradual unification. A country of 8 million, Switzerland is easy to pigeonhole into images of chocolate and Heidi-like milkmaids and fondues —lots of fondues. And those are images that the Swiss like to peddle, if for not other reason than it brings the tourists by the busload. But scratch a little deeper, perhaps by scrubbing a tire around a corner or dripping sweat onto deep trail dust and you'll find a land that is brimming with stoke. And now, eighteen more mountain bikers, armed with a quiver of Yetis, some new, some dated, have found that too. It's been a journey. But none would have done it any other way. And they have their certificates to prove it. Certificates of stoke.